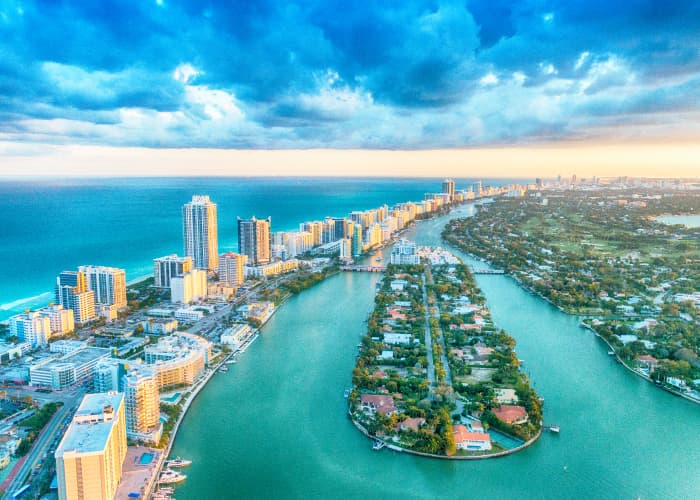 Check Out These Great Date Ideas in Miami
Discover and Enjoy the Best Places to Meet Women in Miami
It is a great city in Florida and has lots of opportunities for fun. If you are single, there are several spots you can go to meet other singles in the city. From bars to night clubs, popular cute places that are tourist attractions, parks, and the beaches, the list of these places for hunting women is endless. While hunting, you still have a chance to land a beautiful girl for dating. After getting your girlfriend, there are also a lot of fun things for couples to do.
Some of the best clubs for hunting girls in the city include Rockwell, Nikki Beach, Gramps, LIV, Club Space, and Basement. Others are Floyd, Heart, Story, Mango's Tropical Café, and Better Days. Get your game on top by dressing up for the night to attract the girls. Share drinks and get tipsy ready enough to hit the dance floor. The whole point is to have fun while hunting for the finest girls in the city.
There are opportunities for exciting hunting too. The places you have to check out single women during the day include the daytime pool parties like The Clevelander, 1 Hotel South Beach Rooftop, and The Standard. You can find some girls on the beaches too. Go to Hollywood Beach, Sunny Isles Beach, and Fort Lauderdale Beach, and you will meet singles hanging out for the sun. You can also check shopping areas like Midtown, Design District, and Bayside Marketplace.
These Unique Date Ideas in Miami Are Going to Help You
The nice weather and beaches make this city with many cool places to visit. You can take your girlfriend to unique spots or venues for your meetups, or engage in fun and adventurous activities. There are plenty of places to see in one day, and you can always change your venue for the next date.
Glass Bottom Boat Ride
Take your girl for a boat tour while riding at a high speed. Let the adrenalin rush hit you hard as you enjoy the ocean breeze. It's also a great opportunity to see coral reefs filled with ocean wildlife.
Bowling
Show your bowling skills at Kings Dining & Entertainment. In addition to bowling, you can do karaoke and cocktails. If you feel like dancing, there is a rum lounge.
Little Havana
There is a big Latino community in the city. Discover the Cuban culture by visiting little Havana, located in a colorful section of the city. Get into it by engaging in Salsa dance with their lively music at night.
Vizcaya Museum & Gardens
One of the great spots for hot dating in the city is Vizcaya Museum & Gardens. Colorful manicured gardens surround the Mediterranean-style mansion. Take your girl for a stroll along with the expansive gardens of the Villa. The museum itself is an architectural masterpiece to marvel at.
Knaus Berry Farm
Go for strawberry picking at Knaus farming. Get you and your girl a strawberry milkshake while being there.
Exciting and Romantic Things to Do in Miami
Romance is always in the air in this city, and there is no shortage of lovely places you can visit.
Port of Miami
This place is one of the most romantic spots in town. The ships at the port are a sight to behold. Picture yourself seeing these ships depart from the patio of Perez Art Museum. The museum is a glorious architectural piece that creates the right lovely ambiance. You can take your girl for a walk at the Museum Park or the lush hanging garden. Alternatively, you can sit on the steps. The day doesn't end without a meal at Verde — the museum's restaurant.
Miami Riverwalk
One of the best ideas for dating is going for a walk along the Miami River. The river is a famous destination for many people, and don't be left out in enjoying the scenery along the river. Take a stroll with your girl as you enjoy viewing the city's most iconic cityscapes. Go in the evenings for the best experience, with the city lights shimmering on the water's surface.
Candlelight Dinner
Nothing can be more exciting than a candlelit dinner at the waterfront. This is the perfect definition of romantic dining in the city with bay views. Book yourself in any of the waterside venues like Rusty Pelican or at Crazy About You. Dinner in these venues ranks as one of the most wonderful things to do in the evening.
These Are the Best Restaurants and Bars for Dates in Miami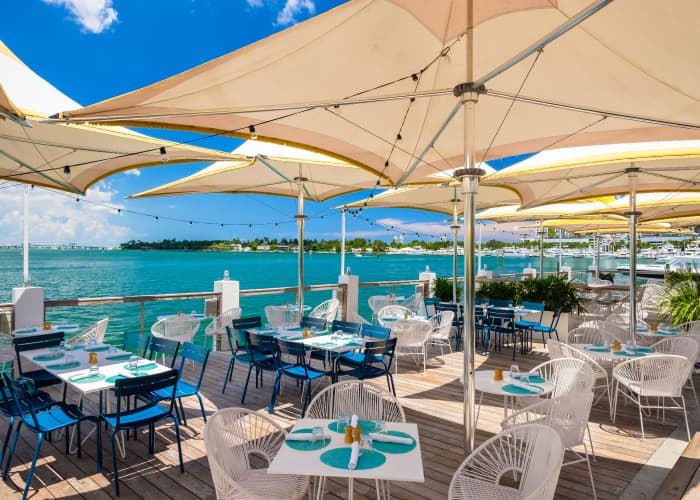 This is a vibrant city with lots of dining and entertainment spots. Miami dating can offer different options if you are looking for a nice place to take your girl for a meal or drink.
Café Roval
This is one of the best date spots in the city. The antique chandeliers and coral-rock walls create a fantastic ambiance in Café Roval. Add to that the European vibe, and you get yourself a real intimate atmosphere for your meetup. There is a lush patio that extends with palm trees and greenery.
Le Coqtail Bar & Lounge
This breezy joint next to Le Chick is the perfect place to wind down your evening with drinks. This 2,000 feet outdoor drinker has an amazing menu too.
Jaguar Sun
This is another great drinking spot in the city. The sleek cocktail bar is located at the downtown residential building X Miami. They offer unique selections of artisanal spirits in a minimalist but modern setting. A visit to this joint is one of the best date night options you should not miss on.
Mandolin Aegean Bistro
This is a Greek/Turkish restaurant with an amazing menu and a warm ambiance. Going here feels like a pseudo trip to the Greek Isles. It has a spacious outdoor blue and white design to enhance the Greek Isle illusion.
Cecconl's Miami Beach
Enjoy Italian and Mediterranean dishes at this place at Soho Beach House. Enjoy the music as you gaze at the ocean while enjoying your favorite food.
List of the Best First Date Ideas in Miami
The first date is a time when you are supposed to create an excellent first impression. Yet, first dates are sometimes filled with tension because you are meeting a 'stranger'. These best first date spots are good enough to ease the tension and give the two of you a lovely environment for conversations.
Ice Cream Outing
Go for an ice creaming outing with your soon-to-be girlfriend at Lulu's Ice Cream. Keep the traditions going by visiting this spot as you engage in conversations. This is one of the best activities in this area you should consider for the first date.
Bill Baggs Park
Watch the sunset at Bill Baggs Cape Florida as you engage in conversations with your girl. This is one of the city's public access beaches and is, therefore, an affordable option if looking for something with a low budget. Find a lone lighthouse at the end of the park for beautiful views. You can pack your picnic bag as well if you plan to hang out for long.
Niu Kitchen
Go to Niu Kitchen for a great first date experience. They serve delicious meals, and you will also love their intimate setting. You will have a unique environment for conversations with your new girl as you get to know each other. This is a great first date idea for foodies.
Micro Theatre Miami
Watch a play at Micro Theatre. These micro plays are quick but intimate. It is like speed dating for lovers.
Try Meeting Girls in Miami Online
Meeting girls in this city is not hard if you seek the easiest way — online. Whereas the thrill that comes with the traditional face-to-face first-time conversation with catchy ice breakers may be unmatched, opportunities for such meetups are limited. Maybe you have a job that takes a lot of your time, leaving no room to go to clubs. You should try using dating sites. The online dating vs. traditional dating debate has been ongoing for a long time, but online dating always wins with modern lifestyles and living ways.
A good dating site allows you to meet girls miles away without leaving your home or office. You can chat with these girls through the dating platforms and plan for the first date. Furthermore, the platforms help you to quickly find what you are looking for through their search filters. Rather than club hopping as you desperately search for a BBW that is less than 35, log in to your favorite dating service and use the filters to find them.
Traditional dating may have its own unique allure, but it is slowly losing touch with modern living, especially among the Millennials. You may meet someone in a bus, park, or club, but most of your engagements afterward will be through online platforms — social media. Get yourself registered in any popular dating site and meet singles for dating within minutes or hours.