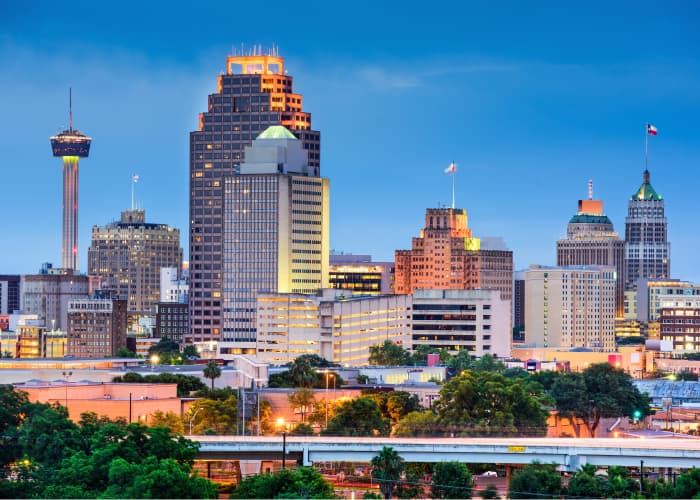 Check Out These Cool Date Ideas and Date Spots in San Antonio
Our Dating Guide Tips: Best Places to Meet Women in San Antonio
If you are a healthy person who knows your personality, what you have to offer, what your boundaries are, and what you value in others, you're ready to find romance online. For many, online dating is the fastest way to meet singles living near you. When the conversation heats up between you and another member of our platform, you'll need potential places to meet and how to spend time together. If you're looking for cute places to take a first date you've been chatting with online, look no further than these fun things for couples to do in San Antonio.
Instead of asking yourself, "Where can I go on a date in San Antonio, because I am single!" plan to meet her outdoors. This Texas city has walkable spaces, including Brackenridge Park with riverside views, walking trails, and tiny train rides. Pick up takeout or pack a picnic and meet her after work or over the weekend for a casual gathering. Being in the fresh air is great for you both!
Denman Estate Park is on the northwest side of the city and is perfect for being a serene setting. It's easy to have an intimate chat!
Try These Unique Date Ideas to Wow Her
In fact, using our guide of dating tips to spend the day together in proximal locations is ideal. This city is home to over 1 million people. For places to see in San Antonio in one day, think like a youngster who would want to take in as much as possible while staying in the area. We love these fun things to do in San Antonio in a day:
Go on a free walking tour of the city for a single person, couple, or group to explore Texas landmarks such as The Alamo, which were crucial to the Texans' fight for independence. Use a guide on your phone.
Visit the Briscoe Western Art Museum, a key window into frontier America. Explore the locations and displays explaining how the West was settled. This perspective differs from Hollywood versions. It might open your eyes and provide an excellent conversation for future dates.
Let your inner child come out at The DoSeum, which is a unique hands-on venue. Although it is intended for kids, it is fun for all ages to try these cool exhibits on for size. If she has kids, they would be very occupied while you two get a chit chat.
Explore the City - Romantic Things to Do in San Antonio, Texas
In America, everyone has different goals for dating site activity. What starts out as potentially having drinks can soon lead to discovering how many things you have in common. While you might have been mildly attracted to her at first, now you might sense she could become more than a good friend. On first dates, you want to make an excellent first impression. Choose from our romantic date ideas to keep the conversation going:
Stop by the visitor information center and learn about local events at San Antonio Walks. Collect brochures and save them for future reference. The displays will provide a visual impression of the city and its hidden treasures. You will be surprised which romantic things to do in San Antonio at night and other events pop out on the map.
Sit down for a casual meal at Rumble, and people watch until they need your table for the next group. This restaurant is part of a mile-long strip of diverse bars and eateries. The going-out-at-night lifestyle is always a great conversation starter.
Your potential love match might be passionate about the performing arts. Treat her to a show, such as a Broadway or off-Broadway hit, at a venue like the Woodlawn Theatre or the Majestic Theatre. When the lights go down, you might make plans to hold her hand. You also get to hear her rave about the actors' performances after the show in these most romantic places.
Be Seen in The Best Date Restaurants and Bars
New lifestyle trends in spirits and dining will tend to hit this metro before smaller cities because it is in the top tier of cities nationwide by size. You and your partner definitely want to check out these best date spots in San Antonio. Who knows where the night can lead? We love these popular restaurants because they provide no-brainer date night ideas. We hope you enjoy these dating hot spots:
Make plans for a trademarked experience at the Hard Rock Cafe before midnight. There will be a bit of a wait, but a glimpse into the rock-and-roll lifestyle is unbeatable. Perfect for the music lover in her! From burgers to salads, there are American-style dishes for everyone on the menu!
If you will visit The Alamo as part of a walking tour, stay for a nice meal in the Oro Restaurant and Bar, which is based in a hotel and offers scenic views of the area.
The Zinc Bistro & Bar is open late, even midnight, and is located near the river, offers its unique form of Southwestern cuisine that is so popular in Texas. You will have plenty of things to do nearby after eating in this trendy restaurant.
If you love the search for a dark and intimate atmosphere, invite your partner to meet at The Esquire Tavern. It has a reputation for great food and also features a patio dining area. You can unwind after a long workday in this kind of vintage eatery.
For an activity indoors or outdoors, make plans for The Cherrity Bar, which proudly serves Japanese dishes to please the palate.
You Can't Lose With These First Date Ideas San Antonio
Sometimes, in your search for romance, you find the pressure to share about yourself while also taking the time to listen to what makes her unique. If you don't handle the conversation right, she might lose interest or get spooked. That's why it might be better to meet first for coffee and then take a trip into nature. Some best first date spots and San Antonio day activities cost nothing more than a half-tank of gas. One idea is to invite her on a scenic drive away from the city to the Lost Maples State Natural Area near Vanderpool, TX. During a long drive, there are different rules than bar meetups. Let the conversation fade away at times as you take in the scenery or rock out to oldies tunes on the radio. Don't be afraid to show her your spontaneous side or regal her with past embarrassing dating experiences. Enjoy some unplanned stops to appreciate the sights! Meeting Girls Through San Antonio Online Search Activity We often get asked if online dating through our platform is an effective way to find a good match. If you live in this area and want to meet local women interested in sharing experiences in your free time, then online dating is the fastest route. It beats hanging out in bars and talking to strangers week after week! In the greater scheme of things, when considering online dating vs traditional dating, keep in mind that singles can be whoever they want to be on dating sites. They may portray themselves in one fashion, but getting to know them in real life is a whole different story. We hope you check out these cool user profiles to meet singles for casual or traditional dating San Antonio. As you begin your search, feel confident when messaging men or women who spark your interest. Be yourself, and let the good times roll!