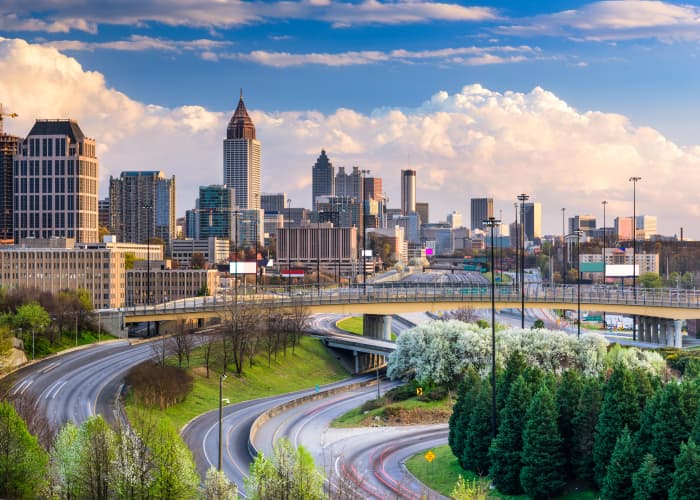 These Are the Best Date Spots in Atlanta to Try
Follow This Dating Guide for Searching Singles in Atlanta
This part of Georgia has many cute places to take your girlfriend for dates. But what if you are still single and searching, do you know where to find girls in the city? Well, you can try the popular nighttime spots like Suite Food Lounge, Havana Club, Loca Luna, Noni's, MJQ Concourse, Northside Tavern, and The Blind Pig Parlour Bar. You should check out other night clubs and bars for single women, including Hole in the Wall, Compound, Tongue & Groove, Aurum Lounge, and Ravine.
There are also a couple of places you can check out if you prefer hunting for girls during the daytime. Right spots for daytime hunting include Cumberland Mall, Perimeter Mall, Phipps Plaza, and Lenox Square. You can also join the city's famous dating sites and meet all types of singles, Black, Asian, White, BBWs, Petite ladies, among others.
Now you have a girl, but you ask yourself, "Where can I go on a date in Atlanta?" Depending on your preferences, there are several options for you — both indoor and outdoor. We have sampled several places in the city and bring you our recommendations for unique date ideas, nice places for the first dates, as well as places and activities for an intimate meetup.
There are lots of fun things for couples to do in this city. These activities offer you and your spouse an opportunity to bond as you have an excellent time outside your home. Atlanta dating is about to surprise you!
Unique Date Ideas in Atlanta – Impress Your Partner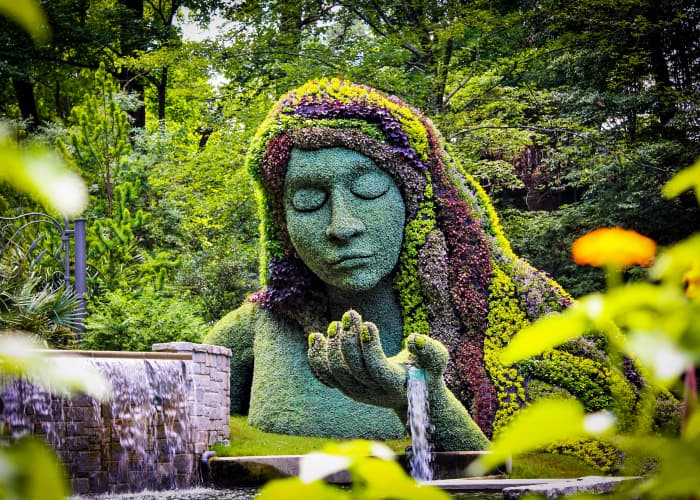 A unique date idea means something out of the ordinary. It is something different from the usual coffeehouse or restaurant setting. There are many things you can do in a day that will count as a unique meetup.
Cooking Class
Rather than going out for dinner, how about you and your girl sign up for a cooking class? Create fantastic memories as you learn about preparing different meals. You can try the cooking class at Irwin Street, which offers lessons on African cuisine, Thai cuisine, and healthier soul food.
Vietnam-Era Helicopter Ride
Get a lifetime experience by taking a ride on the Vietnam-Era helicopter with your girl. The Army Aviation Heritage Foundation offers these rides for free and gives you affordable flying options. The ride lasts about 10-12 minutes, and you will experience the deep turns the helicopters experienced during the Vietnam period.
Porsche Experience
You can take your girlfriend for a perfect daytime experience at the Porsche Experience Centre. You will enjoy a simulated experience of riding the Porsche as you tour the facility. There is a rooftop bar that overlooks the track. This is one of the best places to see.
Salsa Dancing Classes
Take salsa dancing classes and get in shape while at it. Here, Salsa offers dance lessons on Sundays. There is also a three-hour salsa boot camp every third Saturday of the month.
Some Romantic Things to Do in Atlanta for Both of You
Many beautiful spots will make your day amazing and lovely in the city. These places will impress your girlfriend for sure.
Georgia Aquarium
Meet a penguin together at the Georgia Aquarium. You and your girlfriend can sign up for an animal encounter experience at the aquarium and explore various sea otters and sea lions, among other aquarium species, on the location. You'll also learn more about the underwater ecosystem, Georgia Aquarium's research, and aquatic creatures' biology.
Four Season Hotel
Dinner at Four Season Hotel is one of the most wonderful things to do at night. The marble accents and grand entrance will make you and your girlfriend feel like king and queen. This luxurious hotel is located in the Midtown business district, making it a great and convenient location.
Atlanta Botanical Garden
Take a walk with your girl as you stroll hand in hand at the more than 30-acres of the botanical garden. The garden features trees and shrubbery that are expertly designed into figures, characters, and works of art, making it one of the most romantic places in the city.
Starlight Drive-In Theatre
A movie session at the Starlight Drive-In Theatre is something you should consider for your lovely dating plans. Cozy up with your girl and watch the latest Hollywood blockbusters.
The Wren's Nest
Enjoy the joys of storytelling at the Wren's Nest. Catch a fable or two with your girl delivered by eclectic storytellers.
Restaurants and Bars to Make Dates in Atlanta Unforgettable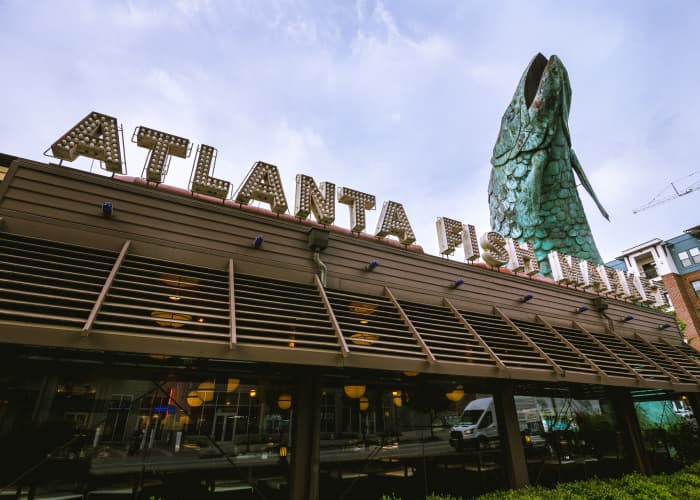 There is no shortage of beautiful restaurants and bars to take your girl for a date night. This is a list of some of the best spots for dating in the city.
Atlas
Atlas is a nice spot for lovebirds that are looking for a luxurious dining setting. With rich green and caramel hues as well as dim lights, the place has a serious vibe that goes along with it. Enjoy the amazing food while looking at the works of Picasso, Monet, and Chagall.
Battle & Brew
This is a video game-themed place, making the best date night idea for video game lovers. Get into some bouts of fighting games as you enjoy your favorite drinks with your girlfriend. Food is offered too.
Rooftop Bars
There are a couple of rooftop bars in the city where you can enjoy drinks and cynic views of the city or neighborhood where the bars are located. You should try out rooftop bars in the city include WETBAR, Six Feet Under, Corner Tavern, Fado Irish Pub, Estrella, and Der Biergarten. The views from these bars make them some of the best fantastic spots in the city.
W Hotel
It is not only one of the best places for a lovely dinner, but also a good option for couples looking for a place to stay. Go to the Buckhead location if you are into beautiful designs and would like a rooftop bar that overlooks the city.
The First Date Ideas to Help You with Dating in Atlanta
Got yourself a girl and wondering where to take her for the first meetup? Don't worry, we got you. Read on to discover the best first spots for dating in the city.
Boating at Lake Lanier
Engaging in some fun activities makes the mood less tense when you are both strangers to each other. One of the local day activities you should consider for your first meetup is boating at Lake Lanier. This is one of the most beautiful lakes in the United States. There are plenty of recreational options at the lake too. Some of the activities you can engage in with your girl include kayaking, water skiing, and fishing.
Live Comedy
Urban Tree hosts comedy shows, which you can catch up with your girl and enjoy some laughs on your first date. There is also Hot Mic comedy at the same location for only $10. Buy the tickets in advance online for better offers — almost half of the fee charged.
Fox Theatre
You can also opt for a show at the Fox Theatre. This classic theatre has regular schedules of shows that include symphony operas, various Broadway musicals, comedic acts, and dance performances. Check the show schedule in advance and choose something that works for both of you.
Piedmont Park
A picnic at Piedmont Park is also a nice option for the first dating in the city. Enjoy the quiet and tranquility of the park as you engage in conversations with your girlfriend.
>Can Not Wait to Meet Girls in Atlanta Online?
Meeting girls online remains one of the best things that can happen to men in current times. A single guy with a hectic work schedule cannot imagine how he could have met girls for dating if it were not for online dating sites. Comparing online dating vs. traditional dating in modern times is, therefore, a comparison that yields an obvious winner — online dating.
There are several benefits that come with online dating and therefore making it a better option among singles. For example, some of the dating sites do matchmaking, enabling everybody to meet singles that match their tastes and preferences. Besides, the dating services give you a lot of options to choose from due to the large membership base.
Perhaps one of the biggest benefits of online dating is that it gives singles an opportunity of meeting people they would otherwise never have met. These could be people in a different city, career, or country, and your paths would never have crossed. People have met online and ended in long-term relationships and marriages.
Traditional dating may still work for everybody. However, you will take longer to discover if you have mutual interests, goals, and perspectives, something you can quickly do on a dating site before you decide to meet the person.
Jennifer Lorusso is a recognized dating and interpersonal relationship expert. As a woman with Psychological degree, she utilizes both her whole life training and her incredible life experiences to serve her readers. She is known for her approachable manner and empathetic abilities. She trully believes that everyone can find true love as long as they believe it is available to them.
Sign in