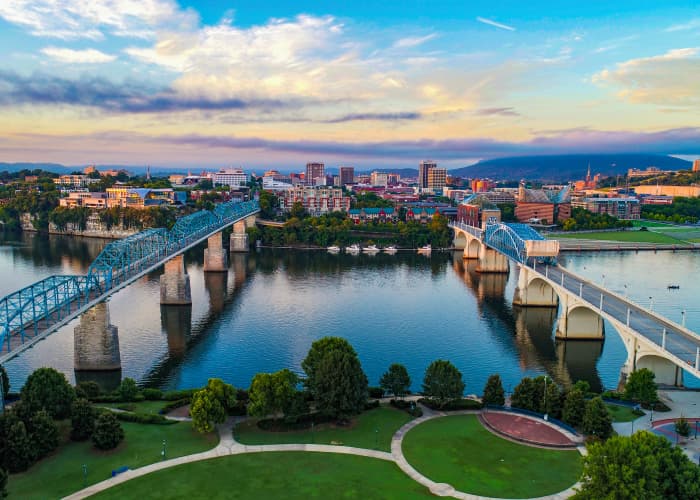 Explore Date Ideas to Succeed in Chattanooga
Follow the Date Guide to Meet Women in Chattanooga
If you aren't sure where to meet other singles or take the girl you met online, we recommend checking out this guide for Chattanooga singles. When you try these cute places, you will get to relax in a great atmosphere and learn more about the other person. We hope you like these fun things for couples to do in Chattanooga:
Hop on down to The Honest Pint, which is a local interpretation of a neighborhood pub she will love. You can grab your choice of adult beverages and chit chat any day of the week.
If you aren't sure and ask yourself, "where can I go on a date in Chattanooga" see which places get the best reviews from local critics like the Hennen's, which is a bit pricey.
Ask her if she would prefer something more casual like Community Pie.
Arrange a Perfect Chattanooga Date with Unique Date Ideas
Honestly, not everyone feels comfortable eating in front of a total stranger. They have a low-key lifestyle like walking around a city festival or sharing a couple of drinks after work. Taking her out for a night on the town could include a restaurant or bar meeting, but these aren't the only options. You can change it up. Here are places to see in Chattanooga in one day that won't break the bank:
Check out the exhibitions at the Hunter Museum of American Art, perfect for a Saturday morning meeting.
If you want other things to do in Chattanooga in a day, try the Songbirds: by day it is a top-notch guitar museum with, as they claim, the largest collection in the world! And by night, it is a music hall with live concertos in a fantastic atmosphere.
If she has to bring the kids, they will love the Tennessee Aquarium. Gigantic aquatic collection and quiet hallways among the water world coming alive around you will create a romantic and surreal vibe.
Find New Romantic Things to Do in Chattanooga
Sometimes, you need romantic date ideas in Chattanooga that aren't cute little bars or restaurants. If you want to mix things up and make her feel special, invite her to meet for a picnic meal of wine, cheese, and fruit at the family-friendly riverfront park, Tennessee Riverpark. You might be surprised that this park offers sensory gardens, eateries, and more. You could literally spend the whole day here, talking and getting to know each other and keeping yourself alternating between the shady spots and the blazing sun. We like parks because here is where you can lose track of time and share stories. Don't forget to be clear about what she wants in a partner. Give yourself plenty of frequent pauses to be a good listener, so she will want to hang out with you again! While this is one of the best places to have a first kiss by the river, there are other romantic things to do in Chattanooga at night if you keep reading below!
Add Best Date Restaurants and Bars in Chattanooga to your List
This is your only chance to make a good first impression, so you don't need to rush this meeting. Ask her for a couple of potential days when she can meet and then tell her you will get back to her with possibilities. We struggled with choosing the best five spots for your date night, but these are known for their easy conversation and pleasant atmosphere:
St. John's Restaurant is known for its fine dining. If she wants to get dressed up and have a quiet dinner, it's a great choice!
Ruth's Chris Steak House is known for its amazing steaks. However, you can also keep the meeting shorter by ordering drinks at the bar and sharing a tiny appetizer. If you are trying to catch a theater show, call ahead for a table!
Bluegrass Grill is more laid back than these other restaurants, but it has that atmosphere where she can be herself.
Acropolis is a healthy option, especially if she loves salads or lighter meals.
Last but not least is Naughty Cat Cafe, where singles and couples can sit and play together with adoptable adorable cats. Food, drinks and bakery are all on the menu too.
Check out these best date spots in Chattanooga when you are fresh out of date night ideas and are bored with the same romantic spots in town.
Carefully Select Best First Date Spots in Chattanooga
The first plan to meet is a big deal because this is when you assess if there is any chemistry between you and your potential partner. You could make yourself really nervous over creating the best plans. However, she should already have shared her hobbies with you, making it easier to research a get-together. If you aren't sure that you can keep her entertained until midnight, think again! It's a matter of trying our recommendations or using Google search. Ask her what kinds of Chattanooga day activities she has already tried and look for other best first date spots. Fortunately, you'll find some women are newly single, and that's not a big concern. This city is in the heart of Tennessee, which is home to many cultural points of interest. Ask her if she feels comfortable meeting you first at a coffee shop, talking for a while, and then traveling together along the Lookout Mountain. As you drive slowly through the countryside, let the conversation go where it may. In the warmer months and the fall, enjoy a great combination of lush vegetation, soaring slopes, and valleys. Pack food and an extra blanket in case she asks to stop somewhere and go walking for a nature hike.
Meeting Girls in Chattanooga Online is Convenient
We often get readers and dating platform users asking whether the activity of online search is easier to meet single men and women in bars and clubs or through online dating. When it comes to online dating vs. traditional dating, you should definitely start within your comfort zone and branch out from there. For example, some people feel more content building a profile and gradually exchanging messages with other singles. Others find using a dating site to meet singles intimidating or foreign to their unique lifestyle and would rather meet people organically at the bookstore or the dog park near the bay area. As always, both ways of dating in Chattanooga work better together - introduce yourself to a partner online, get to know each other, and then explore the city. Make plans with friends, join civic organizations, volunteer in the community, walk through special events, and go to parties in the street or at your place of worship. Walking is a great exercise! Dating in America is a challenging activity because you lead a busy life, but you want to fall in love. You aren't sure whether virtual experiences lead to meetups. To search for a loving partner, become more confident when talking to strangers. The more single people you meet online or face to face, the better chance you have to find a local match. Single male and female users in the USA want different things from dating - friends, long-term romance, or an activity partner for the night. After introducing yourself, the rest of this unique search is up to you!