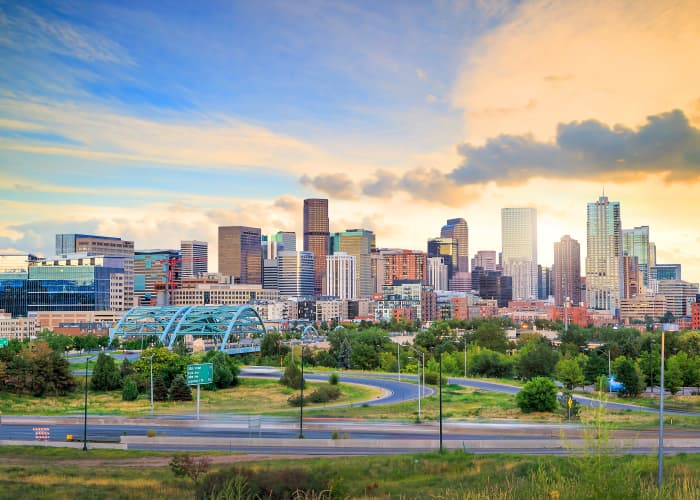 Date Ideas in Denver - Hot Date Spots
The Best Places to Meet Women in Denver – Enjoy the Time
We have some Denver dating tips for you to decide where to go; and enjoy fun things to do here in Colorado. Enjoy the time visiting the must-go areas if you're here for a short while and romantic restaurants that will light your soul and taste buds. This city is known more for its outdoors because of the fantastic countryside with natural phenomena like mountains, creeks, and rapids. It's a haven for nature lovers, and many recreational sections and other fun activity related businesses have taken advantage of this. You can never go wrong with choosing any of these outdoor facilities for your date, whether for hiking & trekking, picnics in the wild, spas, shooting range, etc. If you love the outside and adrenaline filled stuff, then this would be great for you.
Amphitheaters, historical & art museums, aquariums, and historical monuments are other joints that you can go to. Depending on your and your date interests, cute places to go are not in shortage. Nice hotels, trendy upmarket bars, and wineries are also available. We shall look at some of the best ones, and you'll ultimately decide where you can go.
Unique Date Ideas in Denver for You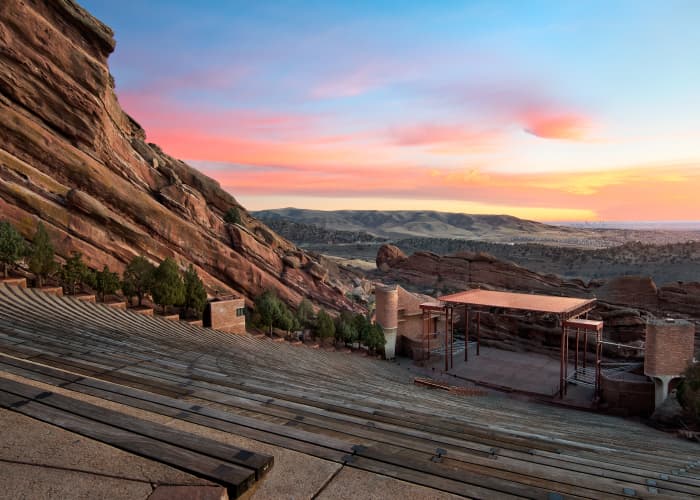 Visit Cherry Creek
Just a few minutes from the town, Cherry Creek hosts many places that specialize in different cuisines, both local and international. Dining options are not an issue, and you can check their catalog and learn where to go. The catalog has pictures and location details, so you can learn pretty much everything about a certain place. Cherry Creek is a must-visit for you to experience several different cultures and learn their art and food. Steaks from the best beef in America and fresh seafood are available at certain cafes. Wagyu beef at the Japanese joint was a favorite, but it's very pricey.
Red Rocks Park & Amphitheater
Partly natural and human made, the amazing Red Rocks is an open-air theater with a natural setting never seen anywhere in the world. It's one of the most iconic music venues in America, with remains of ancient animal and plant life worldwide. It's a historical monument as much as a theater masterpiece. Newcomers are usually surprised that bad weather doesn't stop the show here, so come prepared to avoid surprises. It's up there among the things to do in this city, and both of you will definitely enjoy it.
Romantic Things to do in Denver
Water World
Located in a 60-acre piece of land, it's a lovely option. It's not just a typical park. There are curated activities for couples, first-timers, and even friends. Get into fun water rides, slides, and more fun related events. If you are not a big fan of the water, there are other sections you can visit and play other games or even take a horse ride into the Savannah terrain. There are also courts to keep you well-fed with tasty food. You only need to pay for the day, and you'll have access to most of the stuff to do there. It's one of the most romantic places you can go for a date in the city, away from the noisy town.
Vinyl
It is one of the best upmarket clubs with a rooftop lounge where you can view the city's amazing skyline. It's not only good for couples, but you can also go there to meet local singles. It's trendy and popular with a posh setting and private cubes. The music is great, and so are their burgers. It's a romantic thing to do at night as you see the city's nightlife come to action.
The Best Date Restaurants and Trendy Bars in Denver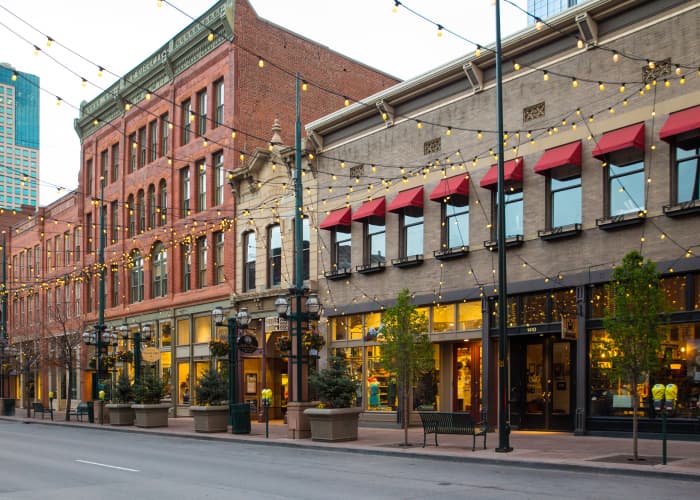 Gold Point
This cocktail bar is perfect for a date night idea. They have a variety of cocktails and wines. The environment inside is cool and conducive for conversations and exciting time. They also make cocktails down to your specifications. There are also light bites to accompany the drinks and a live band on weekends.
Odyssey Italian Restaurant
It guarantees a special dining experience, and it's located at the heart of the CBD. Choose between different dinner packages. Their services are top-notch, and there is no better Italian restaurant. The pasta is prepared by hand, and the seafood is procured fresh daily.
Barolo Grill
With a comfortable, relaxing atmosphere, Barolo Grill is one of the city's gems. Enjoy steaks from different parts of the world, prepared by a world-acclaimed chef. It's one of the best date spots in Denver, Colorado, and it's not expensive. Their wine cellar has over 10000 bottles of different classic wines. You will like it!!
The Green Russel
This popular bar downtown is fun to be at and have a lovely time at night. There are specials and happy hours all the time. Draught and local beers are in plenty, and sports lovers would appreciate the number of screens installed. There is grilled meat, burgers, and pizza to taste and enjoy.
Finn's Manor
Visit Finn's Manor for a quiet and relaxing evening at the South West overlooking the mountains. Their selection of drinks and music is excellent!!
Start Your First Date Ideas in Denver Right Now
Take a Stroll
Most people, especially men, overlook some areas as potential joints to have a date. Taking a stroll is a nice day activity in this part of Colorado because there are many parks, natural and recreational where you can have a nice time outside of the metropolis. The outdoors has a way of connecting everybody during the day because they tend to ease the tension. There is also less pressure to impress as you can experience or learn new things together. Build that connection by taking a nature walk in one of the many parks.
Watch a Movie, Musical or Play
If you are a lover of the arts and stage, then a theatre is among the best spots you'll get in town. Watch a movie, play or musical with your partner, and discuss it afterward over dinner and drinks. You can check which shows will be aired and plan accordingly. The weekends are especially dedicated to lovers, and only love related content is screened or played. It's perfect either in the day or at night.
Try Meeting Girls in Denver Online
Websites are the best at finding singles and going on dates. Hookup websites and apps have an advantage now over traditional dating because many young people have joined the wave. There is no longer a need for a talking stage, and guys can go straight into checking whether they are compatible. It makes online dating much faster, showing why many young people prefer it over looking for love in reality. Another good thing with apps is that you can search for women specifically suited to what you want. Search options with filters enable users to find compatible matches easily.
Impressing women for the first time is mainly based on your physical appearance and presentation. However, online, you have more arrows in your pocket to impress women before eventually a real meeting. Traditional dating vs online dating is here to stay, but at the moment, the latter is the right thing to use now. Meet girls easily by joining a popular site and creating an excellent profile.