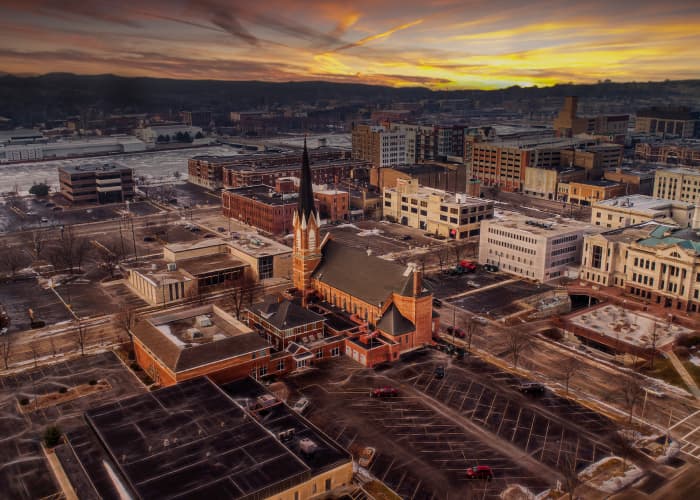 Top Date Spots And Date Ideas In Green Bay, WI
A Guide That Provides Best Places To Meet Women In Green Bay
Every date is unique but discovering real experiences and date ideas helps. Green Bay is packed with cute places and events that deliver dating ideas for all. Discover fun things for couples to do in Green Bay, WI, and impress your partner. Finding that perfect date is easier than before. Trust our guide and find something unique, like plans for going out and good ideas. Your date deserves the opportunity to understand more about you. Ultimately, finding love is about impressing people and providing experiences they'll love. This guide provides information that's trustworthy and real. You won't have to search for ideas. We provide expert opinions that ensure your date is successful. From that perfect restaurant to an activity that keeps you entertained - we ensure couples discover special experiences that create the perfect dating journey. Follow our guide, and you'll create the perfect rendezvous every time. It's about fun and excitement, thrill and love; capture these things and win her heart. Don't overthink things, keep it simple, and put our ideas to use. It's easier than you think, and we're with you every step of the way. Don't wonder "where can I go on a date in Green Bay, WI?" Let us take you on a journey that'll blow her away and impress her.
Unique Date Ideas That'll Win Her Over
With excellent ideas and top locations, Green Bay, WI, is a dating hotspot. Take her to memorable dates and experiences that she'll love to seal your bond. Create that romantic night out or a day exploring the city. There is an activity for everyone and unique opportunities to learn all about here. Put plans in place and show her a good time with our top ideas. There's plenty of places to see in Green Bay, WI.
Keep date simple with a trip to Green Bay Botanical Garden. With lots of hidden locations, there's time to explore some privacy. However, it's romantic, and you'll search for plants and wildlife. What's more, they hold events and classes too.
Looking for thrills and excitement? Spend the day walking around Bay Beach Amusement Park. It has loads of rides, so keep things simple and impress your partner with this fun date idea.
Wine tasting at Captain's Walk Winery is sophisticated and exciting. The place is packed with wines and places to relax. Dates don't get better than this!
Book a romantic dinner with the Foxy Lady Day Cruises. Experiences don't get better than this! Spend the night indulging in delicious dishes as you cruise along. It's fun but completely unique.
A good date idea is to hire a Segway! Tour the city on two wheels. It's better than walking! You'll learn about the history as you search the streets together. This is one of the top things to do in Green Bay in a day.
Perfect Romantic Things To Do In Green Bay
Romantic date ideas in Green Bay can help you discover true romance. Not every date has to be adventurous. You can put plans in place to impress her and encourage her to learn about you or simply improvise. People in America expect unforgettable dates. Whether it's walking under the stars at midnight or indulging in a dreamy restaurant experience, explore the most romantic places in Green Bay. These romantic date ideas in Green Bay will wow her! Dinner and a show are the perfect date night! Meyer Theatre is stunning and the ideal place for an exciting date. There are loads of shows to explore, so dress up and spend quality time together. People love spending time outdoors. So, pack a picnic, some nibble, champagne, and head to Bay Beach Wildlife Sanctuary. Enjoy the moment together, spend time chatting, and search for wildlife together. This is a top wildlife park in America, and it's guaranteed to impress. Wine tasting is sophisticated yet unique. Life is too short to avoid these special moments, so head to Aardvark Wine Lounge. This restaurant-come-wine bar is perfect for a memorable date together. Chat until midnight, try wines and create a night to remember. A farmer's market it strangely romantic, but it works. Walking around hand in hand is about spending time together. The Downtown Green Bay Farmer's Market offers fresh produce and gorgeous items. Search for some goodies and enjoy the experience. This is one of the most romantic things to do in Green Bay.
Pick The Best Date Restaurants Offering Delectable Dishes
One of the most enjoyable experiences in life is dining out. This single date idea of booking a restaurant always works. Some of the best date spots in Green Bay include top restaurants. There are romantic spots where you can dine and finish off at a bar. Impress her with these top date night ideas and explore her desires. The Rustique Pizzeria and Lounge has a stunning ambiance. An elegant decor is an ideal place for a romantic date. The food is out of this world, and with plenty of options, you're sure to find something tasty. Three Three Five is a restaurant with a difference. Single-handedly, this could be the best restaurant around. There are concerts and private events on offer. You'll explore a multi-course, gastronomic delight. Experimental dishes and unique flavors make this a quirky experience. Italian cuisine has something special about it. Head to Angelina Restaurant and explore the menu. The relaxed setting is ideal for getting to know each other. Cozy up, enjoy delightful dishes, and round it off with some wine. For fine-dining, Chefusion is the place. You'll find a unique experience from the moment you step through the door. There are delectable dishes available, including lobster and pork belly, while the live music and mixologist create a memorable atmosphere. An adventurous dating experience awaits at Hinterland. The cuisine will tease your taste buds with local ingredients included in every masterfully crafted meal! This culinary delight will impress in every way.
Impressive First Date Ideas In Green Bay
Win her heart with some top Green Bay day activities and idea. Whether it's a drink at a bar or something more energetic, these best first date spots simply work. Connect with her instantly and show her what you're about. These thrilling ideas provide the ideal opportunity to discover new things together. Avoid the single life and give her something to remember. Who doesn't love a Zoo? The NEW Zoo & Adventure Park is the perfect day date. With hundreds of animals, it's going to impress her. You can even adopt an animal together! Laughter is always a great ice-breaker. Whisk her off to Comedy City Improv and spend the night laughing together. Enjoy top comedians and jokes before taking the date elsewhere. If the sun is shining, pack a picnic and head to Ashwaybomay Lake. The lake is gorgeous, and the setting is to die for. The sandy shore is perfect for kicking back together. Enjoy a day of sunshine and chatting. It's really that simple. Green Bay Botanical Garden is the ideal spot for a date. It's free to enter, but the wonderful flowers and plants are mesmerizing. Wander aimlessly, hand in hand, and make this a magical experience.
Online Dating Is About Meeting Girls In Green Bay Online
Sometimes it's challenging to fit dating around your lifestyle. The experience of meeting people in America can prove challenging if you stick to traditional meet and greet. You'll spend time scouring bars and clubs for singles and waste time. Along with this, you'll become frustrated and bored with the experience. The good news is it doesn't have to be this way. Online dating vs traditional dating is something you should consider. Traditional dating is old fashioned. For modern dating, you need to meet singles online. Thousands of dating sites across America bring singles together in a simple and rewarding way. Meeting up online is about being yourself. Singles seek the same thing online, so there's no time-wasting. It'll fit around your lifestyle, and you'll use top features. Chat rooms connect singles where tips and advice help you meet people successfully. Every service is wholly accessible and exciting. Meeting singles shouldn't be frustrating, and that's why online dating in Green Bay works. Signing up takes seconds, but you'll get access to thousands of friendly singles. Whatever your needs, you'll experience a bespoke opportunity to connect. Like-minded people come together every day. If you're seeking success, searching online is the answer. It'll blow you away, but it's a fact that more people find their dream partner online.