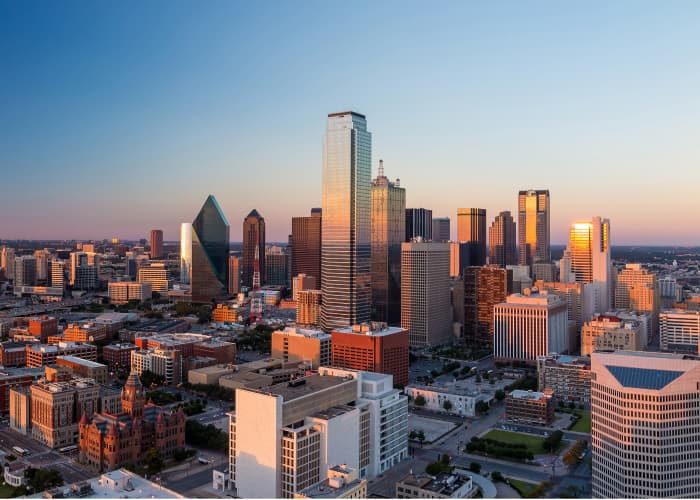 Great Date Ideas in Dallas Start With These Date Spots
A Dating Guide of the Best Places to Meet Women In Dallas
If you've ever asked yourself, "where can I go on a date in Dallas?" is the guide for you! There are many fun things for couples to do in Dallas , Texas, & this article will give you a lot of inspiration for cute places to take your partner. While it is possible to develop a good idea on your own, it is a lot easier when you have a reference point to follow. You can find the perfect place, bar, events, or experiences for couples by reading this article. Chances are, your date has been all over America, so they've probably been on a lot of dates. Meaning, it's vital that your rendezvous is exceptional! Fortunately, there are many different ideas that you can turn into reality to ensure that your date falls in love with you by midnight (or at least before the night is over!). Even though Dallas doesn't have any beaches, it is still a great place to meet singles. There are many shopping malls to explore, restaurants to go to & local activities to do together. Meet someone online, then read this article to make sure your date is a success!
Make Your Date Memorable With Unique Date Ideas
Discover calming, exciting, bonding, and all other things to do in Dallas in a day. This Texas city has many options, from walking around shopping malls to something more unique, like listening to music while enjoying a wine tasting. No matter what your date is into, there are many places to see in Dallas. In one day, you wouldn't be able to see them all, so this fun city will keep you coming back for more day & night. If a wine tasting at the Checkered Past Winery doesn't sound like something that your date would enjoy, consider a romantic evening picnic on a sailboat. If neither of the ideas sounds acceptable to you, there are always more traditional options as well. Search around & you are sure to find a bar you both love (and meet new people along the way!). No matter what place you decide to go, the fact is there is an almost unlimited number of places to go out. Once you have an idea of where you want to go, plan the rest of your day around that, & you are sure to have a date that you both will remember for years to come!
There's Plenty of Romantic Things to Do in Dallas
If you need romantic date ideas, Dallas has a lot of options! There are many activities to do during the daytime, but there are also many romantic things to do in Dallas at night. Here is a short list of some of the most romantic places Texas has to offer.
Your search for the perfect date will have many ideas. A great one is the Farmers Market. This unlikely choice is a great opportunity for love. This place offers many different unique items to browse through, & it will be easy to find a place to eat with all the stalls around. No matter the lifestyle, everyone can find something useful at the farmers market. After your search for great little trinkets & treasure is complete, you can wander off to a local bar to continue the night.
Sunsets are always romantic! One of the unique (& fun) ideas Dallas offers is finding love on a boat. Enjoy a view of America (White Rock Lake to be specific) on this romantic activity. Although you are not allowed to bring alcohol on this trip, you two can enjoy a lovely picnic together, then spend the evening walking on the paths around the lake. This is a great experience to add to your plans.
Museums are a great place to find local events. They are a great way to spice up your plans and connect with new people. Some are open to midnight, so be sure to search around for the perfect museum to add to your dating plans.
Planning the Best Date? Restaurants & Bars Are Important!
If you're looking for date night ideas, try out these best date spots in Dallas! There are many different romantic spots that you can visit, but restaurants & bars are exceptional because you can see these locations in the day or at night. If you're looking to have fun (and romantic!) time in Texas, try any of the places in this short guide to make your date a success!
If you're looking for an expensive and elegant place, The French Room is the restaurant for you. Here you can enjoy excellent French food such as foie gras, caviar, or veal. Watch out, though - your date may be getting some ideas about the size of your wallet!
If you're searching for a cheaper restaurant, then Rise No. 1 may be an option for you. Although this restaurant only accepts reservations for parties of five or more, with a little planning, you & your friends can go here to enjoy soufflés and sandwiches on a triple-date!
The Mansion is another unique food option. They serve contemporary American cuisine & encourage you to refrain from extraneous activity (stay off your phone!)
The Grape Restaurant is an excellent option if your date loves wine. Every Wednesday, you can get 1/3 off of a bottle of wine (along with your food, of course!).
If smoking cigars sounds like a tremendous after-food activity, check out Javier's. This high-class Mexican restaurant has its cigar room.
Need First Date Ideas? Dallas Has Many Options
If you are in Dallas, day activities make great plans for a first date. There are plenty of fun ideas & locations to try. No matter the lifestyle, most people are awake during the day, which means it is a great time for dates. One of the things America is known for is its' love of shopping malls, & your city is no exception! Malls are among the best first date spots because they provide a low-pressure way to know your date. While many people don't start their quest for love until night, get ahead of the game by strolling around the mall. You won't need any guide plans for this venue; the date will almost run itself! You can use this activity to find out more about your date, learn about their life goals, and see if they would be a perfect match for you. If love is in the air, you have all night to continue the romance. Use our tips from this article, and your date is sure to succeed, so start it off right at one of these local places.
NorthPark Center
West Village
Galleria Dallas
It's Easy To Start Meeting Girls In Dallas Online
Many people debate on the differences between online dating vs. traditional dating. Regardless of your opinion, it can't be denied that dating sites are a great way to meet singles! If you are ready to start dating, Dallas has many potential options for you to meet. It's easy to find your partner online; don't waste your time in bars and clubs - online, you can filter through people to find your perfect person. Online dating makes your search for love easier. If you're single, it is easy to find someone new. These sites guide you towards other single people nearby, so all you have to do is filter through them to find a partner in no time. The best couples are ones that share a similar lifestyle. As you go through life together, you will share many different experiences, so keep this in mind on your search for love. Many couples meet online all the time. You can quickly become one of these lucky lovebirds with just a few clicks! Although there are many dating tips out there, keep this one in mind: Find someone who is the perfect way to start your day & an ideal way to end your night.