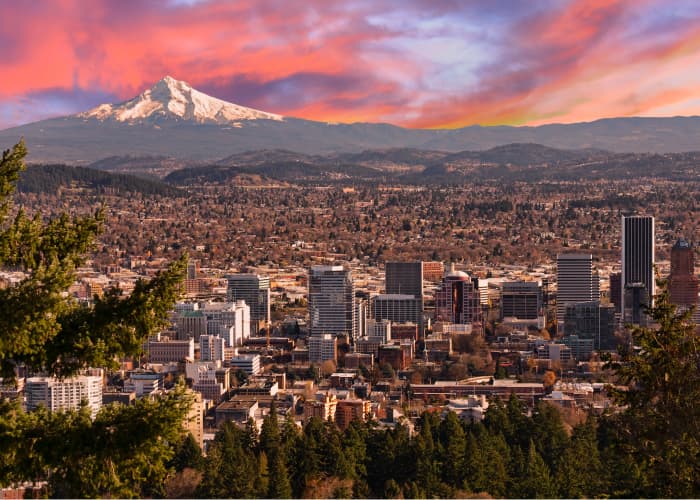 Search for Perfect Date Ideas in Portland, Date Spots Tips
Unique Dating Guide Tips, Best Places to Meet Women in Portland
Cute places to go, have fun & find love include the Killingsworth Dynasty, a diverse club where you can dance & mingle with singles. You can visit the Doug Fir Lounge to bond with someone over some music or chill by the bonfire. Or if your kind of music is more energetic, you can go to the fancy location - Jackknife for some DJ nights where you can have a drink & vibe with people just like you.
Seeking fun things for couples to do in Portland?
Get smart and go to the Oregon Museum of Science & Industry for an interactive experience with fascinating artifacts.
Breathe some fresh air at Washington Park. It is enormous and includes unique attractions like picnic spots, sports areas, & beautiful scenic areas to search & explore
You may ask: "Where can I go on a date in Portland?" You can go to the Oregon Zoo, where there are more than 2,000 animals of different species. We advise you to make plans to go to the Pittock Mansion, which sits at 1,000 feet above sea level allowing for some fantastic sightseeing. The Lan Su Chinese Garden can be explored for its Ming Dynasty Gardens & authentic Chinese atmosphere, letting you experience the Chinese culture & charming lifestyle & history.
Unique Date Ideas for Day, Night & Midnight Dates in America
There are tons of places to see in Portland in one day:
visit Portland's Living Room, which is located downtown & has exciting aspects that you can check out; these include the outdoor chess table, a fountain & events such as live concerts;
walk through the Urban Forest Reserve, one of the largest reserves in America & contains a park more than 8 miles long that you can go walking on or bird watching on;
or relax in the Portland Japanese Garden, which is split into different sections allowing for fulfilling experiences of witnessing Japanese style ponds, trees & bridges.
Not into relaxation? Another set of things to do in Portland in a day includes making plans to see the Cherry Blossom Bloom at the Tom McCall Waterfront Park, where you can also partake in your day or night jogging, walking, skateboarding or cycling. There is a stunning view from the parks of boats meaning that you can enjoy some scenery during the time you spend there. Or go to the roller skating competition at Oaks Park where you can compete, skate, join a few events, or do freestyle. There are also other attractions like roller coaster rides, mini-golf, or arcade games.
Guide for Romantic Things to Do in Portland, America Events
Romantic date ideas in Portland include going to the Portland Grotto. It is a shrine where you can go with your partner for some serenity & a peaceful picnic. The park is unique & offers excellent scenery of the Columbia River Valley. You can also see the coin that decided Portland's name in the Oregon Historical Museum, which hosts more than 80,000 other artifacts. There are countless romantic things to do in Portland at night. These involve going for a stroll to the Hoyt Arboretum at midnight, where there is also a picnic spot in the middle. You can visit the Portland Art Museum to see some of the oldest artifacts found in America; it's a great place to go to if you & your partner are lifestyle & history buffs. Most romantic places in Oregon are the World Forestry Center in Washington Park. This museum is a romantic sight that couples can visit to take some fresh air or enjoy the cool breeze from the forest. You can also take a raft ride in the forest to experience the beauty of nature. You can also make plans to go to the Museum of Contemporary Craft, where there are exhibits of historical & modern craft.
Best Date Restaurants & Bars for Healthy Lifestyle Choices
Some of the Best date spots in Portland are the Oregon Convention Center, where you can visit to attend a fabulous event in a variety of areas. Couples can go to the Portland International Raceway, which holds different activities each day, including drag racing, motor crossing, motorcycle racing, auto racing & cruise racing. Date night ideas in the city are having some drinks at the Aalto Lounge or having a cozy dinner at the Italian restaurant DOC. You can visit the Pocket Pub, which is open till midnight for a candlelight dinner that will put you & your partner in the mood for some romance. You can also plan to go to Jacqueline to have some yummy seafood that will refresh your mood. Another restaurant is the Mucca Osteria, which consists of authentic Italian cuisine & delicious desserts to bring a sweet end to your date. Lastly, you can go to the Bar Avignon, a European-inspired bistro full of a dark lit ambiance that will leave you & your partner feeling comfortable. Romantic spots include going to one of the locations where food cart pods are available to try a variety of foods, have some drinks at the Swift Lounge, or go for a coffee to the Tea Bar. You can also go to Forest Park for a stroll or the Living Room Theater to watch a cozy movie. Couples can visit the It's Gonna Be Okay, or Helium Club for some laughs & standup comedy, or go to the Slappy Cakes & try to make your pancakes. At midnight you can go to the OMSI After Dark for cool events such as bacon night or visit urban wineries for a tour such as the Southeast Wine Collective or the Teutonic Winery.
First Date Ideas Portland for America Fun Activity
Best first date spots include the South Park Blocks, where you can visit to take a romantic walk or take a look at the public art such as statues of Abraham Lincoln. There are also many beautiful trees in the blocks of more than 350 species, as well as numerous events held throughout the year, which couples can attend if one is happening on the first date. Some other activity ideas include going to watch a game of the soccer team Portland Timbers at Providence Park or going to the Crystals Springs Rhododendron Garden, a botanical garden full of stunning plants & flowers. If you or your date are of Jewish descent, one of the most interesting Portland day activities involves going to the Oregon Jewish Museum & Center. It is one of the biggest museums in America & home to some of the most interesting information about Jewish culture & their identity. Prefer the future to heritage? You can also go to the Oregon Museum of Science & Industry where tours of submarines are available to gain experiences inside a submarine & look through a periscope. Another good activity includes going to the Portland historic landmark Benson Hotel to see classic architecture or attend one of the events happening inside
Meeting Girls in Portland Online - Search Love in All Locations
Are you confused about finding love through online dating vs. traditional? Maybe a combination of both is the answer. Traditionally, people would have to meet to set a future date, which limited their options. Thanks to online platforms, you can now meet many people in a small amount of time & decide not to meet the people you are interested in. Instead of having to spend a lot of time on a date & still be unsure about whether it will lead to future dates, you can narrow down your requirements to determine whether you want to meet a person for a second time thanks to online dating. Dating sites let you easily date others in groups while also creating good friendships with people who you have the same interests with. There is another choice available to singles who want to try the online dating world before they take their relationships offline. It is easier to get acquainted when you join online sites to meet singles. There will be less apprehension the first time you meet someone & you do not have to worry about interruptions or to waste your time trying to cover the basics. The opportunity to start dating in Portland & scoring a match is now greater than ever! You can not only find someone surprising to share your personality with but also be well equipped to take your partner wherever you want in the city while knowing exactly what to expect from the location.