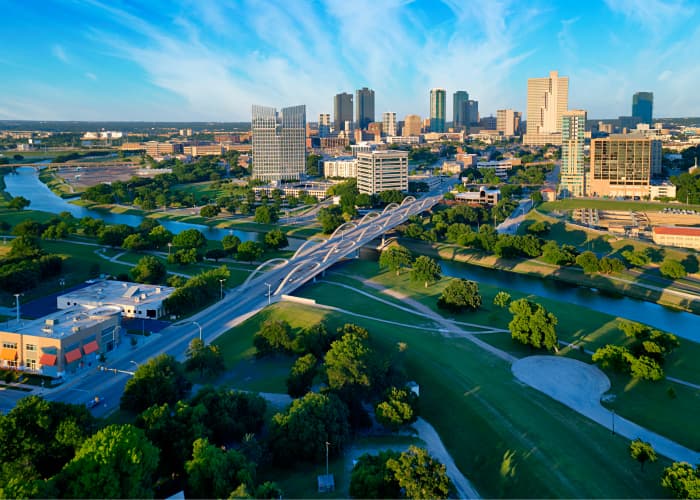 If You're In Fort Worth, You Have To Try These Date Spots!
A Dating Guide: The Best Places to Meet Women In Fort Worth
If you're looking for love in Texas, you've come to the right place. Have you ever asked yourself, "where can I go on a date in Fort Worth?" Fun fact - there isn't just one answer! There are loads of fun things for couples to do in Fort Worth, so read on to learn about all the great experiences you can share with your new partner. There are always new events to check out unique to this part of America. You won't find them anywhere else. Sure, you could just go to the bar (and that always is an option!), but the city has many options beyond the traditional dates. There are many cute places to go, such as the Botanical Gardens or the Sundance Square. If these ideas don't appeal to you, many couples also enjoy going to the movies at the Coyote Drive-In! You can have fun after midnight by spending a night together at the Omni Hotel. Of course, it's also a good idea to explore the city for yourself. You never know - you might just find a special place perfect for a first date! Regardless, as long as you keep the mood light & your date entertained, then you are sure to have a great time on your date.
In Fort Worth? Try These Unique Date Ideas
Are you struggling to come up with unique date ideas? Texas is a vast place, and even in this one town alone, there are hundreds of things to do. There are too many things to do in Fort Worth in a day, but to help you search for "the perfect date," we've compiled this list of places to see in Fort Worth. In one day, you won't be able to see them all, but that is a good thing because that leaves you with ideas for additional dates!
Going to a bar is a typical choice, but you can stand out by choosing the right bar! Pete's Dueling Piano Bar is a great way to make the night memorable. With live music, dueling pianos, & a singing staff of waiters, this place provides an experience you won't find anywhere else!
Instead of just walking around, surprise your date and take them to a cooking class! This is an excellent chance for you two to do something together & work towards a common goal. As a plus, you will also learn skills you can use for the rest of your life!
It's a fact that laughter is the perfect cure for boredom, so check out the Four-Day weekend, a comedy troupe that's made thousands of people laugh already. Your date is sure to have a great time!
There Are Many Romantic Things To Do In Fort Worth
If you are looking for romantic date ideas, Fort Worth has you covered! There are many romantic things to do in Fort Worth at night, but that doesn't mean there's nothing to do in the daytime. You want to have the perfect day leading up to the perfect night, so check out some of Texas's most romantic places. You'll be sure to have your date falling in love before midnight! While walking may be an expected date idea, it can be a great way to spice up your plans depending on where you are walking. If you're in the Botanical Gardens, chances are both you & your date are having a fun time! Although this place is not the oldest botanical garden in America, it IS the oldest botanical garden in Texas. If you don't mind being around other people, the Japanese Gardens or The Fuller are great ideas if you can't decide where to check out first. Another fun place to check out on your search for love in Sundance Square. This place is always bustling with activity, & many events are always going on here, so no matter your lifestyle, you are sure to find something to do! Simply find out what your date loves, and you can easily find something in Sundance Square to fit into your plans.
Planning the Best Date? Restaurants & Bars Are A Necessity!
If you're looking for the best date spots in Fort Worth, you will inevitably come across various restaurant locations on your search. Check out this list below to find some of the most romantic sites and best date night ideas that Texas offers! We know you will find this guide helpful.
Although Turkish food may not be the first thing that comes to mind when you think of Texas, the Istanbul Grill is a popular choice among the locals. This restaurant offers casual dining, Turkish food, & wine for a unique date night experience.
Aine Poke Co. is a fun place for you and your date to try Hawaiian poke, which is dried and diced fish (similar to sushi.) This is the perfect place for a day-time date!
If you're looking for a casual date night activity, perhaps you considered going out for Italian food. Campini's Fort Worth is a great option to check out. They serve pizza, pasta, Italian classics, and salads on their menu. While not the most "romantic" venue, this IS a great place to break the ice.
Want an activity & a dining experience all-in-one? Visit the Magnolia Motor Lounge. In addition to offering typical American food like burgers and hot dogs, they play live music.
If you're running out of ideas, you will inevitably look at a bar. Check out Thompson's, The Basement Bar, or the Tarantula Tiki Lounge.
Start Meeting Girls In Fort Worth Online Now!
Many people debate about the merits of online dating vs traditional dating. The fact is, in these modern times, dating sites are a great way to meet singles. If you're ready to start dating, Fort Worth is a great city to try online dating because of many single people who live here. Could today be the day you find love? You know there is a partner for everyone, so don't settle for being single. Jump online to find your special someone today! If you search online, you will find many different guides to online dating, but if you follow these tips, you can easily become one of those happy couples you keep seeing online!
Find someone with a similar lifestyle. Couples who do things together stay together.
Find someone who has had similar experiences to you. If you can understand each other, then you will be able to form a tender bond.
Find someone that'll make you dream about spending the rest of your life together. Too many couples these days break up because they are only looking at the present, not in the future. Sure, life may be great right now, but how will it be in ten years? Twenty? Remember, the ideal relationship will last a lifetime, so look for someone you want to spend the rest of your life with!