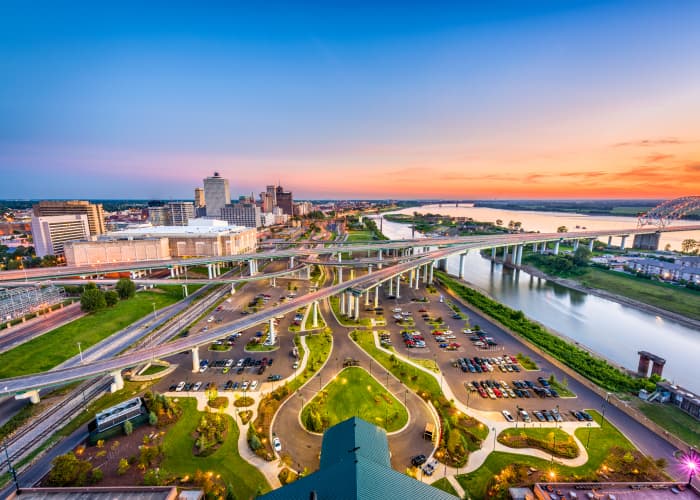 Enjoy These Time-Tested Memphis Date Spots!
Dating Guide to Find the Best Places to Meet Women in Memphis
Are you scratching your head and wondering where to meet other singles or treat a woman you meet online to a nice time? We get this important life question all the time. Please explore our unique dating guide for Memphis singles. It's easy to let your guard down a little in these hot spots, maybe enjoy a cocktail, get to know a new single woman, and see if there is any chemistry. You are not going to be living the single life forever, so have a blast using our list of fun things for couples to do in Memphis:
Meet her at Overton Park where you can walk around and escape the activity of the city. Check out the Memphis zoo. Bring the camera for beautiful pictures. Take a selfie of yourselves having fun! If she wants to bring her kids, this is the best place for good times!
Do you ask yourself "Where can I go on a date in Memphis?" You don't have to look very far for potential locations she will love. Ask her to walk through the well-curated exhibits of the Memphis Brooks Museum of Art near the park we mentioned above.
If she would prefer a unique location in a quieter spot near the heart of the city, ask her to explore the lovely Dixon Gallery & Gardens.
How to Enjoy Memphis Unique Date Ideas Together
Honestly, some couples find it hard to sit down and have a meal together. They would rather be in the outdoors, breathing fresh air, stretching their legs with and learning about their city firsthand. If you are a fan of soul for rock'n'roll or you're thinking about dating one, remember to visit various museums and locations dedicated to Memphis' large musical history. There are endless opportunities for an amazing conversation and seeing if you have any romantic sparks between you. Unlock the potential for true love while exploring all the historical buildings that witnessed the birth of the greatest hits of the 20th century that this city has to offer. Set the activity agenda for your first meeting after asking her about her hobbies. Try visiting our recommended places to see in Memphis in one day without straining your wallet:
Check out the lovely scenery on a drive from Memphis to Nashville, which is a great drive where you can keep the conversation light. Don't forget to pack a picnic meal. She might want to find a place to take pictures along the way or grab a romantic kiss under the hardwood trees!
If you want other walking events or things to do in Memphis in a day, suggest an activity like visiting the Elvis mansion - Graceland or the Sun Studios famous for all the record-breaking tracks made here. She might have visited these venues before, but she hasn't tried them with you!
If she doesn't mind the drive, a lifestyle trip from the city to Holly Springs National Forest is one of the best in Tennessee. Here, explore the forest, even go hiking if the weather permits, and rest assured the wildlife area is managed by the National Forest Service.
Think of New Romantic Things to Do in Memphis
Sometimes, due to a busy lifestyle, you are lacking for romantic date ideas in Memphis and other excursions around the beautiful state of Tennessee. It admittedly has more scenic drives than any other state in the USA in addition to countless hiking trails, waterways, and dense forests. You don't want to plan the first meeting to last all day because that might be too much pressure on both parties, but you do want to facilitate easy conversation. A potential Tennessee dating partner wants to find her compatible match and explore romantic things to do in Memphis with a great person like you! It's hard to know beforehand if a meeting will lead to a serious relationship!
Take a Bite at the Best Date Restaurants and Bars Around
In America, they say you only get the first date to help her decide if it will become more. It could be the right time to kiss her and confess how much you like her, or it could be time to take things slow so you don't scare her away. It depends on what signals you get during the meeting. When considering date night ideas in America, remember that a get-it-over-with-quick approach will feel too casual to single men or women. Instead, do some lifestyle research about our best date spots in Memphis. These restaurants are guaranteed to please your palate:
It is a unique city with amazing cultural attractions. Before you take her walking at night on the town to some place like Beale Street, stop in for delicious Japanese cuisine at Red Koi. Be sure to determine if you share any hobbies or passions.
Itta Bena offers a different type of ethnic experience for those who love exotic cuisine. Treat her to diverse menu selections!
While it might be closed at midnight, Andrew Michael Italian Kitchen is an affordable Italian restaurant with cuisine that will put her in a great mood. She might need to take a nap after consuming their amazing pasta dishes!
BABALUR is the perfect place for enjoying South American dishes. If she speaks Spanish or has a connection to this part of the world, this will be a great suggestion!
Last but not least, we know you might want to splurge on a romantic dinner at Flight Restaurant and Wine Bar. This offers some of the best fine dining experiences in this part of America!
Enjoy these best date spots when you aren't sure which date night ideas will work. If you give her a few romantic spots as options, she can make a choice.
Select Best First Date Spots in Memphis To Make Your Move
The first meetup is a big opportunity for a new potential partner to experience how amazing your personality is. You want to give her a chance to talk and help her feel comfortable. Be prepared to adjust your plans for the day or evening meeting if circumstances change. For example, a picnic before dusk might become a night at the movies if it starts to rain. If she likes to get dressed up, you can always invite her to a night at the B.B. King's Blues Club. You are going to get to show her how much you are interested by being attentive and letting the conversation flow naturally. If the romantic evening won't end at midnight, here's an idea - take her for a walk at Tom Lee Park.
See the Simplicity in Meeting Memphis Girls Online
We often get readers who aren't sure whether they should spend their search for love messaging other local singles through online dating experiences. When you aren't convinced which is the better choice between online dating vs. traditional dating, remember that matchmaking sites are simply methods for meeting male and female users in your area quickly. Each person has his or her own intentions for using an app. When you meet up in person, things can go very well and lead to future dates, or they can end quickly. For example, you might meet for coffee and discover there is no attraction, or the conversation is dull. Swiping left or right and talking to people online takes some patience. The results of your search could be an attractive woman you would never have met in real life without the site. If you don't like the results you get from online dating in the USA, you can always try hanging out in bars or bookstores and see who crosses your path! Having a large selection of local people to date is why many single men prefer the idea of online dating in Memphis. Be specific about what you want in a partner and take the time to get to know each person before the meeting!