1st Date Advice for a Fantastic Time
Everybody wants to know how to make a first date special as you want to ensure you can continue to get to know your date. It can be extremely disheartening for singles when they constantly run into people they're not compatible with or share an awkward first date with. For singles who want to avoid these issues and are looking for the best first date advice, our tips and hints will help you ensure that you have the most magical first date.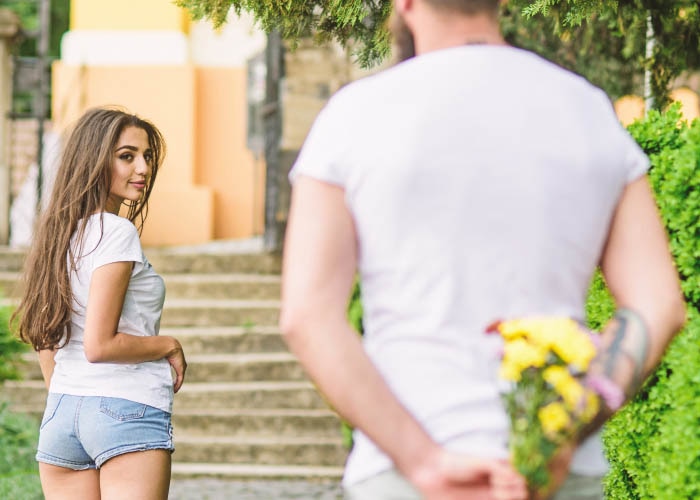 How to Make a Good First Impression on a Date
Making a good first impression is a must with a first date because – although our perceptions of people can and do change – you need to be able to connect in a deeper way before even thinking about the next date. Plus, you don't want your date to have their guard up the whole time, as it won't allow you to get to know each other in a natural way. Therefore, it is imperative that you make a good first impression and behave politely for a second date.
Manners Are Everything!
Treating your date with courtesy and politeness is a must-have if you want to make a good first impression. If you can't talk to them respectfully or think of them first in every situation, it will come across that you are rude and selfish. One thing that is key is not to mistake having manners and being respectful for being not true to yourself. Even as you get to know someone deeper, you should always endeavor to put them first and treat them with courtesy.
You can go with the 'like it or lump it' approach, but this is not likely to secure you a second date with anyone. Putting someone else first is the foundation of a relationship and, even in the smallest things you do, you should be looking to serve the other person and make them feel comfortable.
Dress Appropriately
Not every first date calls for a suit and tie, but that doesn't mean that you can dress as though you're sat in the house all day. By putting effort into how you dress for the date will show you care and desire to make the other person feel special.
Appropriately is the word you should take from this scenario as wearing brogues to a first date where you're bowling is redundant. So, think about where you're going and what you can wear to show your date that you care about them.
Leave Your Phone in Your Pocket
It is incredibly rude to keep checking your phone and spending an exorbitant amount of time on it. There will naturally be breaks in your date where you can check if anything urgent has happened, but you shouldn't be glued to your phone. If you need to check it, then ask your date if they don't mind you doing so. This will show them that you still care about their feelings even in a situation that requires your attention.
If you want to make a good first impression, then under no circumstances is it ok to be on your phone while they're trying to make a conversation with you.
Avoid Debate Topics
Naturally, you want to get to know someone, but there are certain things you should stay away from on a first date that may rile you or the other person. This is not because you're fake but because it is harder to have a healthy debate with someone who doesn't know you.
That is the caveat; this person likely doesn't know much about you. They don't know how you approach conflict, your background and how you think, so it is better to engage with those topics first before moving onto things that can be divisive.
How to Have a Great First Date with a Guy
Men and women are different, and we want different things in our relationships, so it is important for a woman to understand what will make a guy feel special on a first date. By identifying these areas, you'll be able to make him feel special and ensure that you're going to get a second date with the guy.
Respect
Respect is a major component many guys look for in a relationship (but don't always know that they actually seek it). Men like to feel that their opinions are heard and that they are respected enough for their thoughts to be taken onboard. Many men actually do not distinguish between love and respect, so when you're showing a man respect, you're actually also showing him love.
So, while on a date, don't just pass off his ideas or thoughts. Give them credence and engage with them properly. Ask questions and discover more about why he wants to do something or believe something. Allow yourself to be humble and genuinely digest what he is saying before leaping into what you want to say.
Be Engaged and Ask Questions
You may not know much about a topic he is talking about, but that doesn't mean you should pass it off. Engage with his interests and get to know more about him by asking questions. If you don't understand something, need clarity, or want to understand his thinking, then there is no problem – just ask.
This isn't just applicable for his interests either, as you can dive into past experiences and get to know more about his life by engaging, actively listening, and asking questions that provide more of an insight into his thinking.
Be Open and Be Yourself
One way or the other, you want a guy to want you, not the person you pretend to be. Plus, a guy wants to know he can be open and secure around you too. Being yourself is the best way to make sure you're both secure and are connecting at a genuine level.
Don't shut yourself off and try to think of responses that will please him. It is obvious by our body language when we are being guarded and purposeful; he will pick up on it and think of the date as being tense. Nobody wants to be in a stressful dating situation, so allow yourself the time and opportunity to relax and approach the date as calmly and collected as you can.
Don't Put the Pressure On
It can be tempting to analyze if this is someone you will spend the rest of your life with, but it is too early to tell! Don't put the pressure on yourself as it will mean you're constantly analyzing him instead of just enjoying the adventure of getting to know one another. You can't decide on a first date whether this person is right for you or not, so just enjoy it. There will be plenty of time to discover whether this is love or not as, after all, love is something you build together.
Tips for the First Date with Girlfriend
As much as the other tips and advice are useful for how you approach women, too, there are certain things women will treasure more than men. Knowing these things about women and using our first date ever tips, you'll have all you need to ensure that you have a great experience together.
Cherish Her
Just as men like to feel respected, women love to feel cherished by men they're interested in. Showing her that you enjoy your time together and that there is no place you'd rather be than by her side will make a woman feel incredibly special. Romance is key and, it doesn't have to be over the top, but little touches that let her know you treasure her. Buying some flowers or taking her for a romantic walk after your date just show that you're willing to go the extra mile for her.
Listen to Understand
Many of us listen to respond instead of listening to understand, which is not useful on a date. Yes, you may have some really interesting points, and you shouldn't stifle these, but you should be more interested in her than your own opinions. Try delving more into a topic and asking questions to engage fully with what she is saying.
When you start listening to understand, you'll notice that you're picking up on communicative clues much more than when you're in your little world. This will enable you to fully engage with your date and find deeper levels of connection.
Ask Deeper Questions
If she tells you she loves archery, ask her the thought process and why she got into it. Don't just ask about an experience but the interiority of her mind and her thinking. This will allow you to genuinely get to know one another and show that you have a deep interest in her life.
Don't Be Afraid to Say You Want to See Her Again
Most of the time, women like the guy to take the lead in these matters, so when it comes to a first date, don't be afraid to ask to see her again. After all, you're trying to get to the point of a second date, so why not be bold? If you have enjoyed your time and think this is someone you would like to get to know more, then there is nothing wrong with asking her about doing something. It shows that you care, that you're not out to play games, and that you had a really good time with her.
Enjoyed this article? Feel free to check out more relevant dating advice on our website!