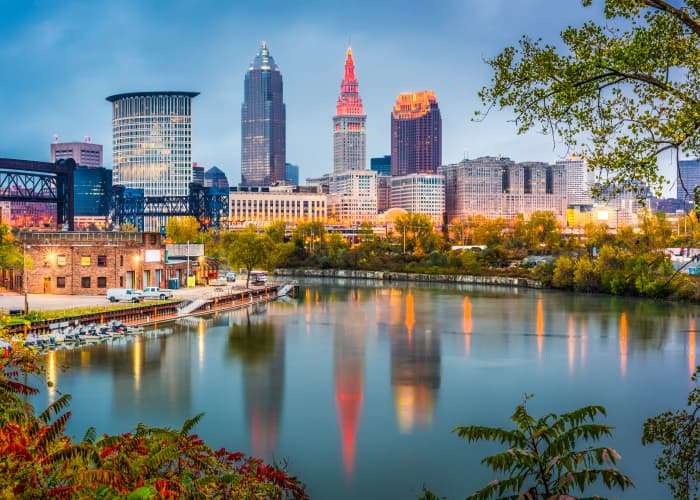 Find Real Date Ideas In Cleveland, OH That Work
Discover The Best Places To Meet Women in Cleveland, OH
There are loads of fun things for couples to do in Cleveland, OH. We're helping you find success with our guide to dating. When you meet people, it takes time to know them. It's a fact that the first date counts. However, what about other plans? You'll need to think about the second and third times you meet to hold onto your success. Don't wonder, "where can I go for a date in Cleveland, OH?" Use our fun guide and discover much more. We help you make plans with ease. There are activities and experiences for everyone. We help couples get together and discover each other. Across the city, there are many locations to choose from. Life is too short to waste on finding love. Get it right from the start and make it count. From a romantic idea to adventure, it's about trying new things. It's good to explore each other and discover more. Your partner will love the perfect & fun rendezvous and want more. From walking in the woods to a restaurant meal, we've got you covered. No regrets, just good decisions that work. Use our guide to search through every idea we think works. You deserve much more, so find your partner and impress them. That second date is waiting, so start making plans now!
Unique Date Ideas That Guarantee New Experiences
There are plenty of places to see in Cleveland. From a romantic place to date to excitement, it's got it all. With your partner, you have lots to explore together. As a vibrant city in America, Cleveland is one of those locations that keeps on giving. With special events or activities, you've got it all for things to do in Cleveland in a day. You can fill your day with experiences. Couples love mixing things up, so keep it creative and fun. Start your day at Sweeties Golfland. Put some fun rules in place to add something special. The loser buys the ice cream! If you love walking, then Garfield Park Reservation is the place. Every guide has to include a romantic experience in the woods. This is one of the top locations in the city and America. Find a picnic spot, and have one of the best experiences ever! No fun tour is complete without some bowling! Sometimes unique isn't what you need! Mahall's is an old bowling alley that also offers live music. You can bowl, dance, and explore tasty food here. It's old school but ideal for a day date that goes through tonight! With lots on offer, new experiences await you. Keep it fun and edgy - she'll love it.
Get Enough Romantic Things To Do In Cleveland
Cleveland has some of the most romantic places to date in America. Impress your partner with romance and intrigue, from a romantic restaurant to cooking schools and events. The city has lots to offer. With romantic date ideas in Cleveland, you're in for a treat. Start your day by getting creative together. Kitchen 216 is the perfect option. It's an activity you'll both love. Whatever your lifestyle, getting together in the kitchen is a winner. Create culinary delights and have fun. What's not to love? Romance can be fun too. At B Side, you can challenge your partner to some arcade fun. Play the machines and enjoy drinks from the bar. It's unique and memorable. Afterward, take a stroll around the city. Romance doesn't have to cost! Looking for something different? Bars and Prose bring poetry and drinks together, one of the most romantic places. This unique spot is ideal for a night out, as poetry is captivating and romantic too. Your partner will love the experience with you, make it last till midnight, and spend the evening getting to know each other. The Cleveland Museum of Natural History is perfect for stargazing. Is there anything more romantic? The open skies and glistening stars are a mesmerizing experience. On a Wednesday night, the Ralph Mueller Observatory opens. A perfect opportunity to search the night sky together.
Your Partner Will Love These Best Date Restaurants!
Cleveland is packed with gorgeous restaurants. It's traditional, but a delicious meal out works. What's better than delicious meals and chatting the night away? Search for the most suitable restaurant and get it right. Romantic spots come in many forms. However, restaurants always top the list. Book a table at Beau's on the River. Ask for a window overlooking the falls - you won't regret it. Search the menu for amazing dishes. This perfect dining experience is going to impress on every level. For a rustic experience, the Blue Canyon Kitchen & Tavern is a hit. It has a country feel to it. With large beams and an intimate vibe, it's a perfect spot. It's too easy to chat until midnight here. The food is good, the atmosphere thrilling - it's ideal! The French know how to do food. At this swanky restaurant, you'll find stunning dishes. It's inspired by France and it's clear to see. Romantic, intimate and unique. A gorgeous atmosphere matched with tantalizing dishes makes for a night to remember. Cocktails and food - the perfect blend. Dante covers it all, giving you a night to remember. Glass chandeliers create that classy vibe and the gourmet dishes blow you away. Eclectic dishes make Fahrenheit one of the best ideas for a time together. Amazing lighting, great service and unbelievable dishes will give you an experience like no other.
First Date Ideas In Cleveland You Can Count On
The first date counts for everything. From cocktails in a bar to walking through woods, every second counts. Impress your partner, give them excitement, and make them want more. With our guide, you can find Cleveland day ideas. Keep it unique at Tabletop Board Game Cafe. Stunning coffee is met with board games. Enjoy a game, a coffee, and the time to get to know each other. Fancy bright lights and excitement? The Superelectric Pinball Parlor is a throwback to the past. It's cheap, the games are fun, and it's just a great experience overall. Art doesn't have to be boring. SPACES Gallery is about art that pushes boundaries. It's guaranteed to give you something to talk about. Wander around, spend time with each other, and try something new. Take your SO to the cinema but do it differently. Cleveland Cinematheque is unique. With independent, foreign films, it's special. It's one of the best movie theatres in America. Get competitive at Mahall's with some bowling. An old-school bowling alley, it's an unforgettable experience. Grab some snacks and spend hours hitting those pins. Take a stroll around West Side Market. It's buzzing atmosphere will have you hooked. Grab some goodies, stroll lazily, and live in the moment.
Discover How Simple Meeting Girls In Cleveland Online Can Be
Online dating vs. traditional dating - something that keeps people talking. One has been trusted for decades. The other is relatively new. However, if you want to meet singles, online dating is perfect for you. Dating online offers simplicity and ease. Traditional dating is challenging, at best. Time-wasting singles, crowded bars, and muted conversations - where's the fun? Dating sites provide unique environments. You can be yourself, open and honest. Thousands of singles are looking for love online. You'll meet singles with ease. It fits around your lifestyle, and tips help you find success. Everything you need is in one place. Singles chat in chat rooms—search profiles for like-minded people. Share hobbies and interests and meet when you want. There's no pressure to impress either as online dating takes care of the hard work. It's a rewarding experience every time. From morning until night, singles seek love. It never stops, increasing your chances of success. You won't miss out or lack confidence. It's about finding out what works and online dating works! With categories and matchmaking, it's so simple. You can discover new experiences. Meet new people and find love. It's the go-to solution for millions of people around the world. What's more, it definitely works!