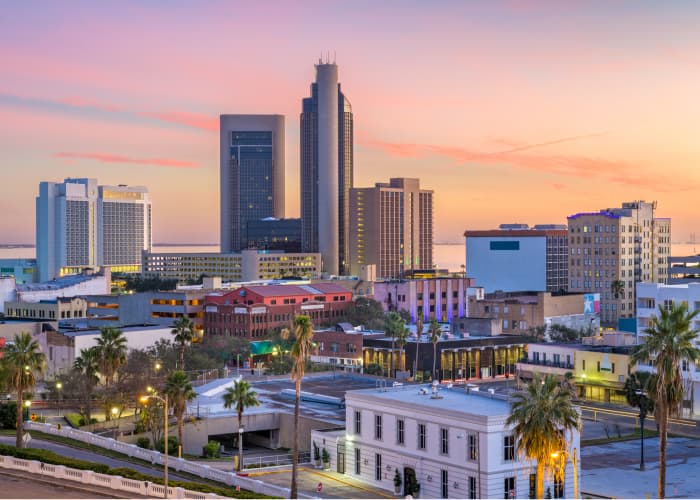 Date Spots & Perfect Date Ideas in Corpus Christi!
A Guide of the Best Places To Meet Women In Corpus Christi
No matter if this is your first time visiting Corpus Christi or living there for a while, it is essential to know the best ways to meet a partner & find love! If you've been asking yourself, "where can I go on a date in Corpus Christi?" then we have plenty of ideas for you. There are many fun things for couples to do as this part of America has many cute places you can go to impress your date and a variety of unique events & local experiences you won't find anywhere else. If your date loves to have fun, consider taking them to a beach or one of the local parks. There are many different options, such as Mustang Island State Park, Padre Island Beach, or Hurricane Alley Waterpark. If the nightlife seems like a good idea, you have many choices here to keep you out well past midnight! Couples love to go out to clubs, so consider trying Roper's, The Cove, or the Texas Nugget Nightclub. FLOCK is also a great bar to check out. Regardless of what you are looking to include on your date, Corpus Christi has more than enough options to keep you satisfied!
Unique Date Ideas to Impress Your Date
There are so many places to see in Corpus Christi in one day; you wouldn't see them all. Fortunately, we have this list of unique ideas that will serve you well for planning your dates. Different people like different things, so be sure to put some thought into your date idea. There are so many things to do in Corpus Christi in a day! Here are some excellent fun Texas date ideas to make sure your next outing is a success!
On the Search For Something To Do In the Day? Try These.
Walking around Five Points & going shopping
Find a place to sit & relax at Cole Park
Visit a museum! Some great options are the Corpus Christi Museum of Science & History or the Selena Museum. If museums aren't your thing, try the Texas State Aquarium!
At Night You Can Have Fun At A Bar Or A Nightclub
Search for love at Brewster Street Ice House, Twin Peaks, or Club Rio & Pure
If you are looking for a more laid-back place, give the Black Monk Tavern a try. This cocktail bar & grill has music and is a local favorite.
Try These Romantic Things To Do In Corpus Christi
If you are looking for romantic date ideas, Corpus Christi has you covered. There are many romantic things to do in Corpus Christi at night and in the daytime! If you are looking for some Texas fun, you are sure to find it in this city. Look over this selection of the most romantic places in America; this will give you some ideas! If you are going out on a date in the middle of the day, not to worry! You have many options to find love. If you enjoy walking, you may consider adding Heritage Park to your list of date plans. This historical park is a great place to go for a picnic, & it also hosts a variety of events as well. If you don't mind interacting with other people, Heritage Park also offers tours as well! If you are searching for night activity, the club lifestyle may be more your scene. On your search, you will encounter many options to keep you out after midnight, so just pick a place, add it to your plans and go! Club 54, Texas Nugget Night Club, & the Cove Club are all great options to add to your night plans if you love partying with other people!
Want the Best Date? Restaurants & Bars Are Perfect!
Restaurants & bars are some of the best date spots in Corpus Christi. If you're looking for date night ideas, this Texas city has many options for you (although you can also attend many of the locations in the day as well.) Luciano's Italian Restaurant may be a great option for a fun night if you hunt for the perfect romantic restaurant. This upscale Italian venue is a great way to start off your night before you go off to one of the many romantic spots that this city has to offer. If you're looking for something a bit more casual, give Landry's Seafood House a try! Either one of these places will make sure your rendezvous is unique. After eating, you will probably want to try another activity. Your date may guide you to something specific, but you can try many different ideas. Many Corpus Christi restaurants are near the water so that you can share a view of the Corpus Christi Bay or head off to one of the many bars that this city has to offer. Either way, with proper planning, your date night is sure to be a success!
Need First Date Ideas? Corpus Christ Has Many Options!
If you're looking for the best first date spots in Corpus Christi, you've come to the right place! No matter if it's day or night, there are many fun ideas that your date is sure to love. Some great Corpus Christ day activities include walking through one of the local parks, going to one of the many beaches, or visiting a museum! It's one of America's best cities if you want to try original ideas for your dates. If you find yourself looking for a place to take a walk, consider taking your date to Mustang Island State Park. This state park is over 3,952 acres in size & has a 5-mile-long beachfront, so there are many different locations to go just in this one place alone! If your date lives a healthy lifestyle, this is a strong contender to include in your date plans. To add a little of the beach lifestyle to your day, check out Whitecap Beach, North Beach, or many other beaches in the area. If you're willing to learn a little, a local museum trip can be a perfect date activity. Guide yourself through the ages of life at the Corpus Christi Museum of Science & History. You're sure to learn many tips & lessons about life that are still applicable today!
It's Easy to Start Meeting Girls In Corpus Christi Online
Many people debate about online dating vs. traditional dating. The fact is, dating sites are simply the best, fastest way to meet singles & find love today. Dating Corpus Christi singles doesn't have to be hard - today, finding a life partner is only a click away! While traditional dating has its place, it is not always the most efficient way to begin your search. You can meet many people in one day, but it is unlikely that you will share the same lifestyle of experiences as many of the single people you meet. The advantage of online dating is that you can guide your search results to only include single people like you, making it more likely for you to find love & become one of the many happy couples in just one day. Couples are always connecting online, so you don't have to worry about being single anymore. Follow these few simple tips on online dating, and you will be well on your way to finding love!
Be Friendly! No-one likes someone who comes off as rude or off-putting.
Take No. If someone is not interested, don't waste your time. Move on to the next person for faster results!
Learn. By learning more about your partner, you will find it easier to plan the perfect date!