Relationship Advice Questions and Answers
"People, depending on their goals, lie about the size of their lovers all the time," says Rachel DeAlto, an interpersonal specialist and author of Flirting Without Fear. - "A typical example: a man who wants to show himself as a "stallion" exaggerates the number of partners, and a woman, so as not to seem like a whore, understates. Society has always tacitly encouraged this lie."
Question: What is the way to inform a person about their feelings to them immediately after breaking with someone other?
"None of us want just to fill a temporary gap in someone's relationship," says psychologist Laurel House.- "To make it clear to someone that you are interested in him under such circumstances, you should act with a fair amount of diplomacy. Ask how the person is doing, hint that you are there to cheer him up. Be tactful when flirting so that it doesn't look like pressure."
Rachel DeAlto advises: "Suggesting to meet a person immediately after his separation from another is possible only on the condition that it is not a disaster for him. No one wants to enter into a relationship with someone who is emotionally unstable after a breakup. To survive it, some will need a day, others - a year. Start as friends, hang out together, and then see if it's worth moving on to something bigger."
Dating consultant Bela Gandhi notes: "There are many people who enjoy being in a relationship and don't want to be alone for long. If you like just such a person, then his separation from the previous partner will be an excellent condition to take an empty seat."
Question: Why do women attack other ladies regarding their appearance with harmful remarks and hits?
As a rule, women do this for two reasons: self-doubt and envy (jealousy). The object of their caustic nagging does not necessarily become too thin or overweight, very tall or short girls. You can find flaws to ridicule them with anyone. Julie Spira, dating consultant and author of The Dangers of Cyber-Dating, says: "This behavior is evidence of their own complexes. In this way, they convince themselves that their position and appearance are superior to anyone."
When people feel comfortable and confidently accept themselves as they are, they are much less likely to judge others and are less likely to be attacked themselves. If someone finds fault with you and thereby tries to humiliate you, know that this is not something wrong with you, but with them.
Question: Why does the young person I meet react too severely to our friendship with another boy?
"Everyone experiences the power of jealousy differently," says Bela Gandhi, - "Maybe your boyfriend is just jealous. Then he will be suspicious of all men with whom you will communicate often. Or it seems to him that you and your friend are not in a very platonic relationship, and one of the parties is experiencing sexual attraction. Provided that you and your friend have an extremely companionable relationship, try to spend time with the three from time to time, visiting different places. This can ease your boyfriend's anxiety and make sure there is no reason for jealousy."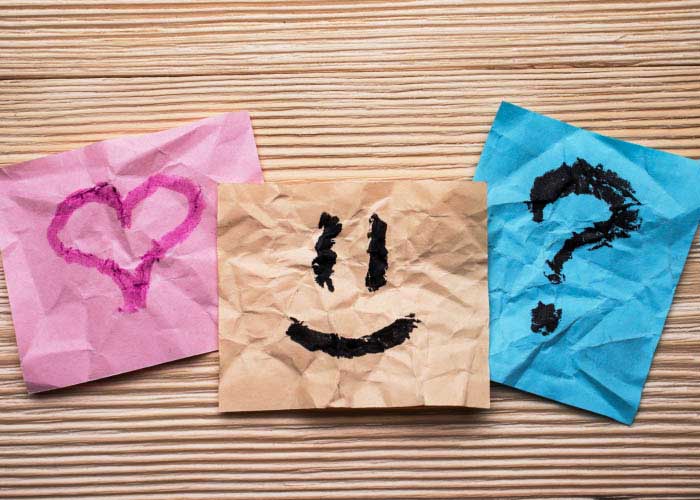 Question: Why do women quickly find some guys boring?
"Often, a girl begins to consider a man boring, not because he really is, but because he does not show how interesting. Maybe you are trying to match some ideal, from your perspective, image and trying to look cool, calm, or too fun. But this is not your real self, but this is really boring and easily forgotten." - Laurel House
Laurel House also notes that there is another possible reason: the lack of interpersonal chemistry, the feeling that creates excitement and attraction between two people. This chemistry is not subject to our desires, but it is not the purpose of dating, where we seek attraction and mutual interest.
Bela Gandhi says that guys are really very boring: "They just have to look for a woman who will not consider this quality a disadvantage." Gandhi also notes that after a long search for a partner and numerous meetings, dating fatigue syndrome can occur, which leads to clichéd conversations and boredom when meeting each new person. "However, there is a separate group of women," Gandhi continues, "who only feel comfortable in a dysfunctional relationship. For them, any normal guy will seem uninteresting because they are attracted to people who treat them badly. Such women find normalcy and kindness boring, and everyone should stay away from them."
What will help a couple find topics for conversation, get closer, get to know each other better, assess their chances of a serious relationship? Of course, questions about love. They perfectly illuminate the principled life views, the inconsistency of which can easily result in serious conflicts, betrayal, and other problems. What topics related to love can be brought up in the discussion? What is the wording? Below are 50 detailed examples of such questions.
Loyalty
Would you think a person who truly loves his mate commits adultery?

Can you forgive the adultery if it was committed under the influence of alcohol or a temporary breakdown? If a person has cheated but sincerely regrets it and does everything to make amends, not to repeat such mistakes, will you give him a second chance?

Where do you think cheating begins - sex, kiss, flirting, or even just thinking about another person?

Have you ever cheated on your loved one? Why? What was stopping or pushing you then?

If cheating was a one-time mistake that could ruin a happy family, is it worth talking about it? Or is it better to remain silent without risking well-being in a couple?

Are dreams about sex with other people just dreams, a subconscious desire for variety, or a direct precursor of cheating?

Is it possible to watch pornographic films or masturbate while in a relationship, especially individually? Or is it offensive?

Are healthy people with normal physical needs able to live together all their lives without cheating on each other?

What will you do if, in a long and happy relationship with me, you suddenly want to sleep with another specific person?

Family and future

What kind of family can truly be happy in your understanding? What is her hierarchy and model, especially in general?

How old do you want to get married or have children? If this is done, do you think you were in a hurry?

What principle do you want to bring up your children? Is there a specific model? Can children be punished with a spanking or belt?

Do you think you will be happy with me after 10, 20, 30 years of marriage? Why do you think so?

Is a wedding a sign of deep love and confidence in your choice, or is it just religious prejudice?

Is it possible to live happily in love without entering into a formal marriage? Would you like to live like this?

Can spouses live without love and still be happy?

Does a marriage of convenience have prospects for development? Would you enter into such an alliance?

Does a magnificent wedding signal a serious perception of an event and relationship, just a tradition or a waste of time, effort, and money?

A marriage contract is a common precaution, doubts about the feelings of a spouse or a sign of dislike and distrust?

Relationship history

When did you realize that you love me? Or when do you think this moment might come?

How do you feel when you are next to me, take my hand, kiss, hug?

Is, was it hard for you to admit your feelings? Is there anything I can do to make this situation easier for you?

What made you choose me and influenced your love experiences?

Is there anything you would like to change in the course of our acquaintance? Why?

What words, gifts, or actions from me made your heart beat faster?

You had moments when you doubted whether you should be close to me, fall in love with me, communicate further?

In what words would you describe your emotions about me on the day we first met? What has changed since then?

Did your feelings for me come as a surprise to you, or did you know that they would arise because I was your type or immediately made a good impression?

What do you choose: spend time with your loved one after work or work longer for the extra time off that falls on your couple's working day?
The relationship between a man and a woman is a whole science that needs to be studied. Members of the opposite sex are undoubtedly very different. Girls are emotional, and men are calmer. They look differently at different aspects of the relationship. However, this allows women and men to interact harmoniously and complement each other. This is the value of each person - in the uniqueness! Therefore, you should not try to adjust the soul mate "for yourself." Enjoy the fact that he is not like the others!