Effective & Cute Ways To Ask A Girl To Be Your Girlfriend
Men all over the world all went through a stage in their life where they were scared out of their wits in asking a girl out. It is just not you, so get a hold of your senses and concentrate on how to ask someone to be your girlfriend. And truth be told, regardless of age or how many times a man has a relationship, the first step in asking someone out is always frightful. Many men would prefer to jump off a plane than face the thought of rejection. But no worries. You are on the right track. We are here to help you prepare for a serious talk with your crush. Once you gain the skill to smooth talk a girl, use it only on the one who occupies your heart. Don't be a heartless Casanova, alright?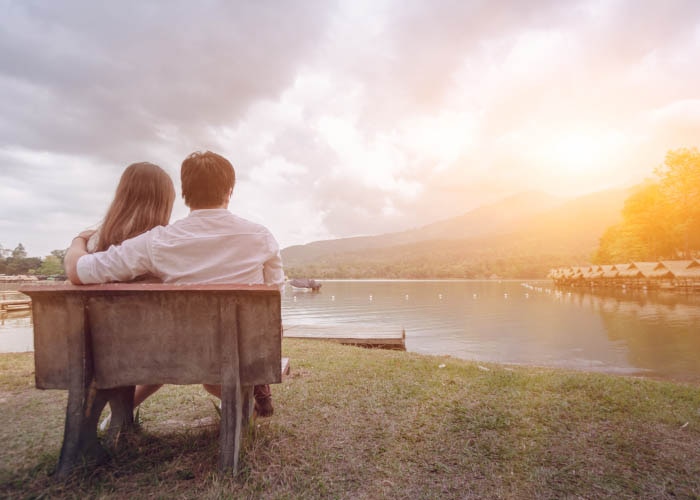 Will You Be My Girlfriend Ideas & Preparation For Execution
Okay, before you obsess over the cute ideas to ask a girl to be your girlfriend, you must prepare yourself emotionally and physically for what you are about to face. Asking a girl for a date is a huge ordeal, so be ready for it.
Self-assessment, Observation, And Analysis
Be wise about your actions and assess your feelings first prior to taking the plunge. Do your research to see if you are on the right path, and analyze the situation properly. You are bound to make mistakes just like every other male species who are crushing on girls. But the trick here is to make as less mistakes as possible.
Are you sure about your feelings? - you are clearly young and inexperienced. Make sure that you feel love in your heart, or at the very least genuine infatuation. Never waste time on a girl whom you don't really like.
Is she single? - well, unless you want to get your nose broken by a jealous boyfriend, check out first if your crush is single or already with someone. Know your boundaries and move on if she is taken.
Do you have money for a date? - obviously, you cannot ask a girl out and expect her to pay for everything. You need to have the means to splurge on your girl so get this settled down before you dream of a serious relationship.
Ready For The Good Ways To Ask A Girl To Be Your Girlfriend
It wouldn't hurt to seek advice from close men in your family or friends circle. But you need to understand that no matter how good the tips are, you may fail in your pursuit of love if you do not have the following traits:
Patient
Honest
Trustworthy
Understanding
Sweet
Caring
Loving
Thoughtful
Humorous
Fashionable
Sociable
Passionate
Driven
Respectful
If you have the good characteristics of a guy that most girls are looking for, then you are now ready to explore the amazing "will you be my GF ideas".
Best Way To Ask A Girl To Be Your Girlfriend
Looking for a funny way to ask a girl to be your girlfriend? No sweat. We have compiled a simple list that you can try to impress your crush and make her pay attention to you.
Simple Yet Cute Ways To Ask Someone To Be Your Girlfriend
If you are a traditional kind of guy, then these simple tactics may work best for you:
Sing a love song and ask her out
Attach your message to a red balloon
Send her a text with love emojis
Call her and ask her out
Creative Ways To Ask A Girl To Be Your Girlfriend
For men who like the flare of the theatrics, then a much more creative technique will surely suit your taste.
Write your words on a window or mirror
Organize a treasure hunt with her friends and at the end, ask her out
Ask her out through a poem
Make your own fortune cookie and insert your message
Announce your request on a local radio
Fact of the matter is, you need to find your own best way to ask her to be your girlfriend. Own your style and show confidence in your actions.
When To Ask A Girl To Be Your Girlfriend
Once you find the cute ways to ask her to be your girlfriend, you must not act on your feelings yet. Discover when is the right time to say the words and how long you need to wait for a reply. This method will allow you to plan carefully and gain better results.
When do you ask a girl to be your girlfriend?
Not all relationships progress in the same way, no matter how serious the couples are. Though you can learn of the clever ways to ask a girl to be your girlfriend, it is still best to know when to pop up the question. And to do that, there are some factors to consider.
Time spent - ideally, it is advisable to get to know a girl for up to four months before you ask her for a date. Start with friendship so you have a better foundation for your romance in the near future.
Secured emotion - once you are a hundred percent sure of what you feel, ask her out. Even if you have known for just a day or a week but your feelings are strong, then make your move.
Subtle hints - of course, if the girl you adore is giving you obvious hints that she wants to be more than friends, then take a leap and ask her out. No need to wait for months if this is the case.
How Long To Wait For A Response From The Girl You Like?
Some girls like to play hard to get while others are straight with their intentions. As a guy, you must know the signs of acceptance or rejection. You will know if she is ready to welcome you in her arms if your crush shows the following acts:
Body language - you can tell from her body language that she wants to be close to you. Her secret glimpses linger, her smile is sweeter, and other hints.
Invitation to family affairs - bringing you to a family event is a sure sign of her like for you. So never say no.
Introduction to friends - once she introduces you to her friends, it means that she is asking for their approval. So be good to them.
Opening of secrets - it is never easy for girls to share their secrets. When she opens up to you, listen and empathize. Never judge.
Talks about the future - well, if talks of the future is a favorite topic, then it is time to ask the question again and receive a whooping yes!
And so aside from knowing the ways to ask someone to be your girlfriend, be smart enough to read the signs as well.
Valuable Tips On The Sweetest Way To Ask A Girl Out
There are thousands of ways to ask a girl out to be your girlfriend, but nothing will work if you lack sincerity. Always have confidence in what you do and show her your genuine feelings. And if you have decided to pursue your happiness, then stick to your works and find love soon.
Best & Cutest Way To Ask A Girl To Be Your Girlfriend
In asking a girl out, you need to keep things simple, though a grand gesture would not hurt. Whatever is comfortable for you, do it with utter sincerity.
In person - texting, chatting, and phone calls are good ideas to ask a girl out, but nothing beats an in person declaration of intention.
Right timing - always choose the right date and time for your proposal. Choose a time when she is in a good mood and when you are in a proper place.
Clarity - be clear about your words and intention. Say the words out loud without mumbling. It is such a turn-off if a guy eats his words while asking someone for a date.
Confidence - nothing is more disastrous than a low confidence guy asking a girl out. Have the guts to say the words and mean them.
Right words - sometimes, it is not easy to find the right words to ask a girl for a serious date. But practice on your chosen phrases a hundred times.
Creativity - create your own amazing scene where you ask her out. Be creative and stray clear from the norm. But make sure to pull it off.
Good Ideas To Ask A Girl To Be Your Girlfriend
Now, you are definitely ready to proceed to the next level and actually ask your crush for a date. All you need to do is familiarize the words, make them yours, and modify them to your liking. Also, it would be to your advantage if you bring a gift for your crush. She is instantly in a good mood if you give her something special.
"Will you be my girl?"
"I can't stop thinking about you. Can you be my girlfriend?"
"I believe it's time to bring this friendship to the next stage. Be my girlfriend."
"If you have me as your boyfriend, I will make you the happiest girl in the universe!"
"We have known each other forever. I think we are fated to be lovers."
"I tried, but there is no other girl for me. Be mine?"
"I am in this for the long run. Do me the honor of becoming my girlfriend."
"I am so ready to announce to the world of our relationship. Just say YES!"
Thanks to the romantic ways to ask a girl to be your girlfriend, you are given ideas on how to land a GF in a short time. It is important to be dating someone who is like-minded, and try your best to keep the relationship long-term. Be the best version of yourself at all times so your crush will notice you and fall for you. And if your attempts to find a girlfriend in the real world fail, then you can always turn to the online dating scene. At TenderMeets, there are thousands of girls who are waiting for their knight in shining armor