List of What To Talk About With A Guy You Like Most
Girls nowadays are more vocal about what they feel, and they are even upfront about what they want. Indeed, your girly senses are working full time especially when you start to fall for someone. And when this happens, of course you would need to brush up on your smooth conversation starters with a guy. You always need to make sure that the connection you are building is not interrupted with a dried up conversation. So girl, hone you skills in subtle flirting, and start talking to the guy of your dreams.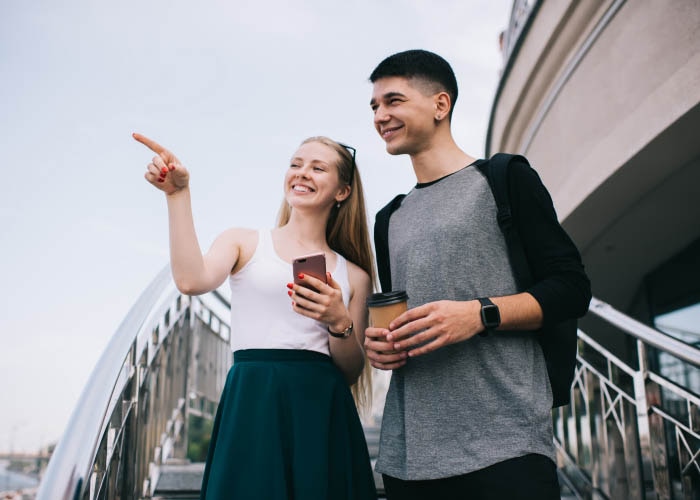 Topics To Talk About With A Boy Who Captured Your Heart
It is quite common for girls to list the things to talk about with a boy you like. There is nothing wrong with being prepared, and women are experts in that field. However, it is crucial to choose the right topics, and not just blurt out questions like in a beauty pageant or a personality quiz. You need to play out your queries like your life depended on them, but never show him how badly you want those answers. Show him some finesse, and never force a question to him. Keep the conversation flowing without trying too hard. More importantly, keep a list but never show it to him.
List Of Things To Talk About With A Guy You Adore
Wanna check out the fun topics to talk about with a guy? Read the list below and start planning your next conversation with your crush.
Hobbies - this may seem like a cliche to you, but talking about hobbies allows you to find out about the likes of your crush. It paves the way for a fun talk regarding what makes him happy on his personal time.
Career - most guys like to talk about their work, especially if they are proud of what they do. So ask him about his profession and he will tell you stories about his job.
Adventure - men like to go on adventures, and so it follows that they like talking about those times when they went on an extreme escapade. Talking about his travels and trips can lighten up the mood, so go for it.
Entertainment - topic about movies, TV shows, and celebrities never gets old. There will always be a favorite film, star, and story. Bank on this knowledge and converse with animation with the guy you like.
Food - well, who doesn't like food? There will always be something to talk about regarding food, so don't forget to include this on your list. It would be best if you can also cook the favorite dish of your crush.
Less Interesting Topics To Talk About With A Guy You Like
It is crucial to know the best things to talk about with a guy you have a crush on, but it is more important to learn what not to discuss. There are certain topics that you must avoid, especially if you are not close yet.
Bad habits - this is a big no for a conversation with a person you like. Have this kind of talk only when you are close already, but this is such a turn-off during the early stages. Eventually you will get to this part, but now now, okay?
Past experiences - there is nothing wrong with talking about past experiences, but do that in the advance phase of your relationship. Tackling this topic makes you look like you are trying too hard to know about his life. Focus on the fun part first.
Future plans - how about you concentrate on having a fun conversation at the present before you worry about his future plans? Guys like talking about the present, not so much about his past and future. So mind your chosen topics.
How To Skillfully Deliver Stuff To Talk About With A Boy
When you have something to talk about with a guy, you cannot just say them like reading a script or move on immediately to the next topic on the list. You must be a good listener and a great conversationalist in general in order to pull off a successful talk with your crush.
Include Good Things To Talk About With Your Guy Friend
In all your planned conversations to have with a guy you like, you must remember to act interested and display the following good traits:
Compliment - always give a compliment when your man tells you stories about his accomplishments in life, both in his private and professional world.
Appreciation - appreciate his efforts in making his life better, for being a good son, friend, and colleague, and simply about anything that is good about him.
Honesty - never lie to him just to please him or satisfy his ego. Be honest about what you think. He would really appreciate truthfulness than lies.
How To Communicate Exciting Topics To Talk About With A Guy
Not all girls have the opportunity to have a talk with a guy she likes. You are lucky if you never have to sit on the sidelines and watch the person you treasure live his life without you. So when you are presented with the chance to converse with your crush, then work hard to keep the talks healthy and fun.
Watch out for cues - while talking to the person you like, look out for cues from him. He would probably give a verbal nod, or a cue for you to ask more questions, or give you a sign that you are on the right track.
Listen with enthusiasm - when you listen to a guy talk, do so with enthusiasm. Do not act dead when he shares his stories. Let him see how interested you are in him and his life.
Full attention - of course, give your full and undivided attention to your crush. Set aside your phone and put it on a silent mode. Never allow anything to distract you, since you may not have the same chance again if he feels like you are not completely focused on him.
So when you have something to talk about with a boy, keep in mind that you must pay attention to his every word. Guys like girls who are good listeners, so listen well.
What To Talk About With A New Friend Over Text
Thanks to online dating, you can meet new people in the virtual setting and have things to talk about over text with a guy. The possibilities are endless when it comes to the topics, but of course, stick to the right ones. Always remember that aside from the topics of conversation or the fun things to talk about with a guy, you also need to abide by the rules of texting.
Unwritten Texting Rules For New And Old Friends
For sure, your chosen topics to talk about with a boy you like are exciting and fun. But no excellent subject can ever be good if you have no background in texting rules. Familiarize yourself with the unwritten rules of texting a guy so you can keep him interested in you.
Chill and wait - it's not all the time that he can respond to your messages instantly. He could be doing something else, so chill and wait for him to respond. Do not flood his phone with messages asking him why he is not responding. That is simply too clingy.
Always respond - of course, you will always wait for his messages. But if you happen to be busy, make it a point to reply within two hours. If you cannot hold a conversation long, let him know when is the best time to text.
Short texts - guys do not have much tolerance for long text messages. So do not write a novel. Keep your texts short, on point, and witty.
Text for text - it is quite tempting to call a guy after he texted you. But don't! If you badly want to hear his voice, then ask permission first. Never just call him in response to his text message.
No CAPS - it is simply rude to write all caps to someone. So please don't.
No K - no matter how busy you are, never just reply with a "k". It is unethical and again, rude.
Interesting Things To Talk About With A Guy: Keep Him Hooked
Sometimes, it is easier to plan things to talk about on the phone than being spontaneous. But of course you cannot always rely on your list of topics. What you can rely on though is how you treat each conversation so you keep your crush hooked to you.
Upbeat tone - guys like to talk silly and just have fun. It is not in their nature to be serious all the time, so keep your tone upbeat. Avoid boring topics, depressing texts, and negativity in your messages.
Witty responses - keep your responses witty and fun. No guy would ever want to reply to a dead serious text message when the topic is supposed to be exciting.
Feel special - make your crush feel special. Compliment him, inspire him, and lift his mood whenever he feels under the weather.
No drama - no matter what you do, do not insert drama into your conversations. Most guys hate drama queens, so stay on his good side. Be a friend who is always there for him, but never super impose on your importance.
Flirt - well, flirting is truly the name of the game. Send off a flirty vibe every now and then, but just enough to keep the talk fun. Do not overdo the flirting, or you may send him away. Indeed, subtle flirting will do.
When you have a list of things to talk about on the phone with a guy you like, then the conversation has a good chance of developing into something more than friendship. So if you want a serious relationship with your crush, focus on keeping him interested in you. And of course, if you want to have access to hundreds of potential male friends, chat mates, and text mates, then join the best online dating site called TenderMeets. You never lack options in guys through this site, so join now for free. The registration takes a few minutes only, and the rewards are abundant. Create an exciting profile today and meet new exciting people from all over the world.