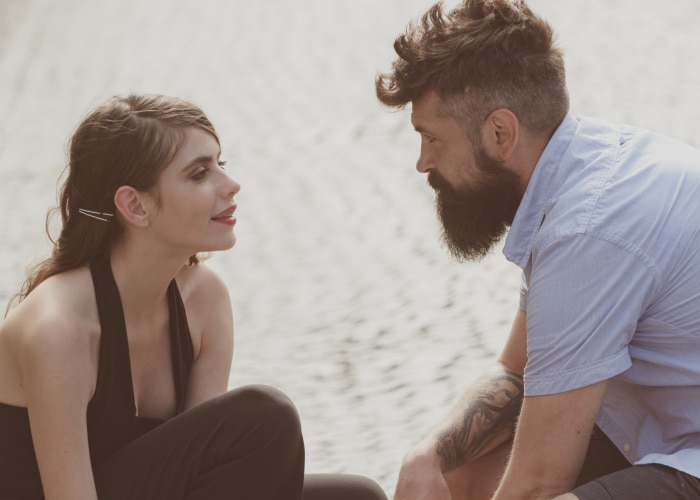 How to Seduce a Woman on the First Date: A Guide
So, you're ready to commit? Do you long for a romantic relationship with an amazing woman with a beautiful appearance? Do you hope to marry and have a family? Do you desire someone who will travel the world with you? It is normal for a straight guy to settle down into a relationship at different points in life, but it takes time to find a decent partner. You don't just wave a magic wand and order Mrs. Right like your favorite pizza.
What makes a guy succeed on a first date? Is it simply the knowledge on how to seduce a woman, or luck and a love at first sight? If you're focused on a single gal, it's important to create a positive impression. Improve your skills at how to fall in love with a new woman by providing the right feedback to her while moving at her pace. If you consistently engage in positive communication, she will light up when you smile at her and desire to know you better. How do you know if a girl likes you? Well, a lady enjoys a gentleman with good character because it brings out her best side and makes her feel content. If a single lady does not respond positively, shift your attention to a different prospect. Set yourself up to win in the game of love!
Honestly, guys and girls have a hard time finding love when there's a limited supply of quality women in their community, and once you meet them, you learn they're holding out for Mr. Perfect. While nobody is perfect, women must be selective until they find the right match among their lovers and friends. Otherwise, they waste time getting entangled with losers, which means investing time in a partner who won't meet their needs. If a woman puts her heart into the wrong relationship, she discourages the right type of man from approaching her and allowing romance to develop.
We're sure you have much to offer a lovely lady. You want to attract someone who will compliment your life, not fill it with drama or excessive demands. How to find a girlfriend starts with patience and continues with presenting yourself as a well-rounded person. A good man is open, tolerant, respectful, kind, and emotionally supportive, making a woman feel safe and let her guard down. This includes feeling like her past does not define who she is now, and she doesn't have to justify herself or her lifestyle choices. Essentially, love, at first sight, is possible when you're confident, have a good character, and know-how to approach a girl.
What to Keep an Eye On
When you go on a first date, watch for the typical signs that she's into you. Hopefully, it's a combination of physical attraction and personality matching. How to tell if a girl likes you includes if she smiles, responds to your questions, and says things to keep the conversation going. When verbal communication is limited, such as when she's constantly looking at her phone, she's not feeling it! You're better off moving on to the next girl!
When you're putting yourself out there on a first date, if you can get past the first hour of conversation, there's a good chance the connection will continue. Don't spend precious time overthinking questions such as how do you know if a girl likes you instead of focusing on chit chat. She's sending signals that she likes you, such as touching her hair, smiling, leaning forward, brushing your arm, giving you a hug, tilting her head, and walking away and looking back to see if your eyes follow her. She's gauging how her physical presence affects you. Are you getting more turned on by the conversation and her proximity? Or, are you just wanting to have a friendly chat and not really into her? She can sense what your overall assessment is of her. She will appreciate any compliments for women that you work into the conversation, including how you like her appearance or her mannerisms. Don't overdo these positive statements, but do make her feel good. She wants to feel reassured her that you're attracted to her just the way she is. A woman shouldn't have to try too hard to hold your attention. She desires a man with a powerful attraction to her that endures after the first few dates.
The Difference Between Love and Friendship
Do you believe in love (or life after love, as Cher once sang)? This is an important question to ask yourself because you do know that the Law of Attraction works. Whatever you are thinking about and reflecting on your words and actions will be the kind of romantic experience you attract. If you believe in love, you will know if a woman is a potential match when you meet her, and the path will become clear of how to seduce her. Becoming intimate must happen at the right time when both parties have gotten to know each other enough to feel comfortable and relax. If you're getting confusing signals from a female, it could be that she likes things about your personality, but your first appearance is putting her off. Or, she is not sure if she is going to act on the physical attraction because she has concerns about your character. A woman should feel that all green lights mean to go as she considers you as a whole package. She needs an intuitive feeling that it's okay to become sexually involved with you.
Your Appearance is Important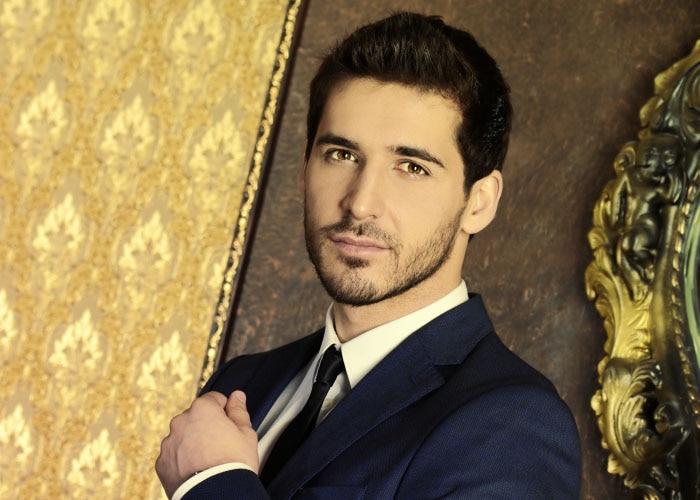 This is tough advice for single guys who are good people, feel that they know how to treat a woman, and are ready to make room in their lives for a great person. If it feels natural to make compliments for women, take them on fun outings, and develop friendly conversations, then you're halfway to your goal of falling in love. While you're waiting to meet The One, you can improve things about your appearance. We aren't recommending changing your looks into something that doesn't feel natural, but you should ensure you look good by today's standards.
Make time to plan your target number of calories to eat per day and plan balanced meals to reach your goal.
Visit your dentist and discuss cosmetic options to correct your smile.
Drink lots of water.
Set up a sleep schedule and get plenty of rest.
Exercise 3 to 5 times a week, that's how to look good.
Pay attention to personal grooming habits like barbering, skincare, and manscaping.
When you're sexually active, use protection to prevent getting STDS.
Maintain a healthy physique and an attractive appearance that makes you a suitable mate for a good-looking lady.
How do you know if a girl likes you will be evident when she wants to maintain close proximity to you during a first date, and if she doesn't frown upon your first appearance, then everything is good.
Where You Should Take Her on a First Date
If you're brainstorming about the best place for a first date, you don't have to sweat this! You have many local places where to go on a first date that is either free or low-cost, which should help you relax and enjoy the evening. One option is to Google a romantic place for couples in your city or a nearby city. Another option is to choose from the following suggestions for a romantic place to visit.
Hang at the Comfy-Trendy Coffee House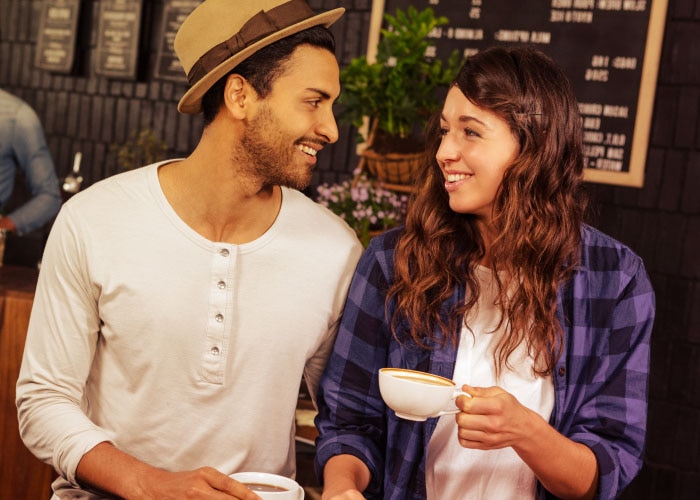 When you pick a trendy coffee house near her home or yours, there is a casual atmosphere that encourages conversation. You and your date should plan to dress casually, meet at a time when neither of you are in a rush, such as on your day off or right after work, and relax over coffee. A coffee house typically has relaxed seating to be a romantic place for couples, such as couches, leather armchairs, and lots of open space, even board games and books to share, which creates a good mood. If the conversation goes well, you'll be chatting on the couch for hours as you learn more about each other. You might even have a backup plan of where to take her to dinner if things are going well. How to fall in love starts with moving in baby steps towards earning her trust and making her feel wanted.
Dine at an Asian Cuisine Restaurant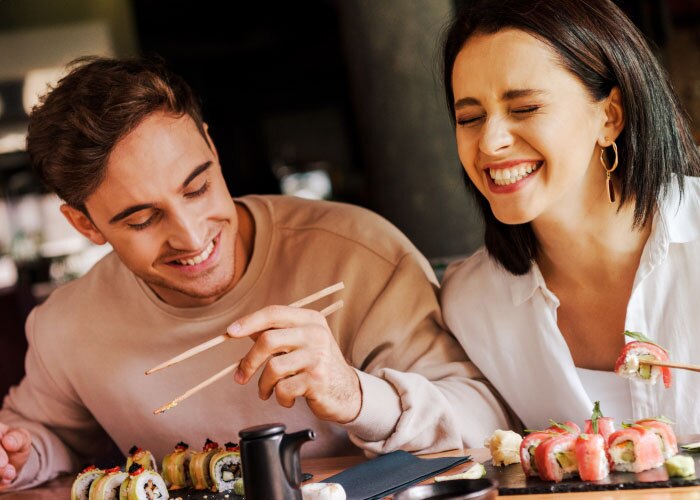 Another way to impress her on a first date is to research the best three or four-star Asian restaurant in the neighborhood – one of the most romantic and unusual places to visit. Eat there first alone to ensure that the service and cuisine are excellent. There is a range of options, including restaurants that specialize in Thai, noodles, Japanese, and Chinese cuisine. Other options are Korean barbecue and sushi. Ask her to pick the evening when she has the most time to spend with you so you can linger over a sumptuous meal and catch a show or go for a walk around the city afterward.
Visit an Art Gallery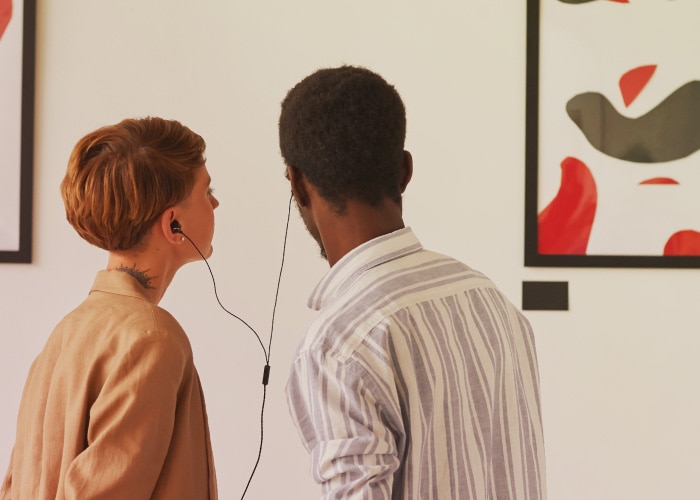 Some women are less inclined to want a romantic meal on a first date, especially if they are self-conscious about eating in front of strangers. They prefer an outing where they are engaged in an activity that offers a source of conversation. That's why going to an art gallery opening is a great option. Here's an excuse to get dressed up for a great place with the highbrow audience and mingle with a colorful mix of guests, and observe the newest creations of featured artists. This outing might be short, like a half-hour, or it could take a few hours, especially when you both meet art aficionados and get into a deep conversation. When you are with a lady, and she's enjoying the evening, decide whether it's appropriate to hold her hand. Have a backup plan for where you can go for drinks and dessert. She might not want the evening to end. If there's strong chemistry, she might suggest that you come back to her place for a drink. If you're ready to get intimate because you're feeling a strong attraction, then you will know how to seduce a woman. Don't be aggressive and be the one to suggest going back to your place. Don't create the impression that sex is your primary goal for taking her out, as for a relationship to flourish, you should be in love with the best friend, and that romantic friendship will be much more successful than wooing a random single woman.
Pay Attention to the Little Things to Impress her
In the end, your own self-confidence, personality, and openness to new possibilities will greatly influence the potential of falling in love and starting a relationship. So, how to impress a girl? A woman wants to be treated with respect and appreciated for her diverse attributes, but she will sense if you're merely trying to woo a girlfriend, so do better if you want to know how to impress her. A special lady is also hesitant to let her guard down until she feels that you're not trying to hurt her or use her. For example, successful women with their own home can feel vulnerable that a man wants to move in with them, but soon they become financially responsible for someone who just pretends to love them. Women don't want to take on another child; they want to find an equal partner or a provider who enriches their life, so pay attention to her situation before commiting.
Make Her Laugh and Feel Happy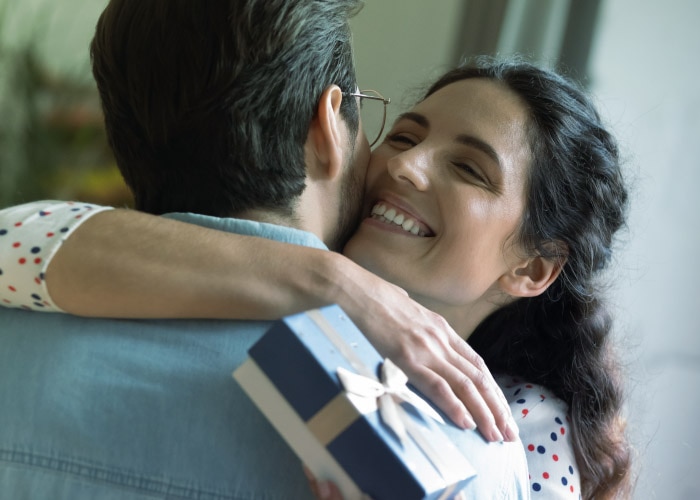 When you plan to meet a single woman and gauge the potential for a relationship, remember she's capable of taking care of herself. She can choose whether she should engage in emotional dependency, an internal feeling that her happiness is tied to a romantic relationship. If she is with a man who makes her laugh and does little things to make her life easier, she feels good about investing in a relationship much more, than if you simply give her best compliments for a girl. Being part of a couple requires much time and energy because when you start planning your life around a significant other's needs, there is less time to focus on your personal well-being. It's all about finding a balance with the person who is a good match. It's never a good idea to stay connected to a partner who cannot or will not meet your emotional needs or when there is a power imbalance that affects your self-esteem.
Even if that's not your first relationship, ask yourself, do you believe in life after love? If so, then use our advice, live your love life yet again, keep an eye on your appearance, and true happiness will be just around the corner!