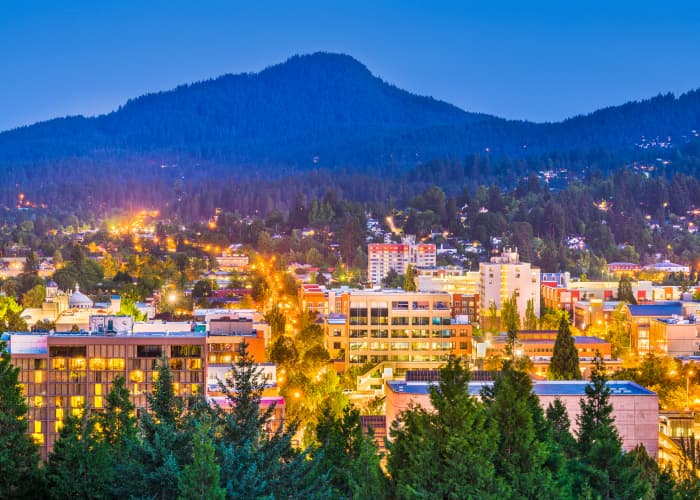 Exciting Date Ideas in Eugene – Tips for Good Date Spots
Places to Meet Women in Eugene and Dating Guide for Lovers
Wondering, where are all the cute places to search for women? Those include the Cascades Raptor Center, where you can see injured & orphaned birds of prey, and show the girls your caring side. Or find yourself a smart partner at the Museum Of Natural & Cultural History, which is one of the most prominent museums in Oregon, which lets you see American lifestyle & historical exhibits. Fun things for couples to do in Eugene include going to the Autzen Stadium, an outdoor stadium where you can see football matches. Partners going out can make plans to go to The Jordan Schnitzer Museum of Art, which has a collection of more than 3700 good artwork pieces and a gallery of work of ancient American origin. Where can I go on a date in Eugene? We can guide you to go to the McKenzie River National Recreation Trail for an adventurous walking date involving biking, hiking, or climbing the beautiful Mount Washington. The walking trail is encompassed with sights such as bridges & waterfalls to create a romantic environment. You can also go hiking to the Mount Pisgah Arboretum, a botanical garden situated between the Mount Pisgah & Coast Fork of the Willamette River to see Oregon's perfect landscapes.
Unique Date Ideas for People of All Lifestyles in America
Don't have lots of time? Write down places to see in Eugene in one day:
The Science Factory will take all your day, it is a 10,000 square foot building featuring a museum with interactive events for exploration.
The Hult Center for the Performing Arts offers activities like a gallery, ballet, choirs, operas, musical groups & tours to experience the center.
You can make plans to go to the Eugene Saturday Market to experience the outdoor markets of America & buy handcrafted items for sale.
Furthermore, the Oregon Air & Space Museum lets you see a variety of aviation & catch a glimpse of the country's aerospace history.
Things to do in Eugene in a day include going to the Skinner Butte Park, which is 100 acre long & couples can make plans to do things like biking, hiking, picnic areas, or climbing areas. The Owen Rose Garden should also be visited for its fantastic scenery, which makes for the perfect photo opportunity. You can also explore its garden, which has over 4500 different types of roses. The Shelton McMurphey Johnson House is a major attraction - a Victorian-era house open for public tours. A true landmark in lifestyle & history. It also lets you participate in different activities.
Romantic Things to Do in Eugene for Fun Experiences
Romantic date ideas in Eugene city for you & your partner include going to the Cuthbert Amphitheater, which is an outdoor concert venue that holds many popular performances. Entertainment is a guarantee & you can also see fireworks after shows at midnight. The Cornbread Café should be visited at day for its cute & vintage look, catering to vegetarians' organic food options. Romantic things to do in Eugene at night involve going to the Sweet Life Patisserie to try the delicious items such as cakes, cookies, muffins, eclairs, pies, & cheesecakes. Try the desserts at midnight, the ambiance & look is bound to help make some love spark during your date. You can go to Hendricks Park, one of the oldest parks in Oregon and home to a beautiful plant garden. The Fifth Street Public Market contains numerous boutiques, cafes, shops & bars for you to visit with your partner. Most romantic places to go to during the day or night are King Estate Winery, where you can taste fantastic wine together. Or go to Cornucopia pub if you want your date to be friendly and simple, it serves some of the most delicious burgers, Mac & cheese, & chicken pot pie in town. Additionally, the Maude Kerns Art Center contains some creative art for you and your date to enjoy.
Best Date Restaurants – Ideas for Activities at Bars
One of the Best date spots in Eugene is The Ambrosia Restaurant & Bar, a famous Italian cuisine restaurant with a warm décor & pleasant atmosphere for you to enjoy the perfect setting for your date night or day.
Want something less expensive? Go to the Hot Mama's Wings Restaurant in the day, which is notorious for its chicken wings & several sauces.
And if you want to share a drink, then Ninkasi Brewing Company houses some of the finest beer made from ingredients sourced locally.
Date night ideas for some special dates include going to Marche, one of the well-known culinary restaurants in the city, which contains seasonal & fresh ingredients in their dishes. The Oregon Electric Station is open till midnight & the best place to go for special occasions, the vintage décor & jazzy music will make you have a memorable night. Romantic spots include The Vintage, the ideal restaurant to go to for a fun night or day lunch filled with yummy food options & drinks to spice things up. Party Downtown has an excellent vibe allowing you to enjoy different cuisines while having some fun. Beppe & Gianni's Trattoria offers an excellent romantic spot for partners seeking a unique night by offering some tasty handmade pasta & handpicked wine.
First Date Ideas Eugene at the Best Locations in America
The best first date spots in the city are Cinemark 17, a perfect location for a first outing where you can avoid forced conversation while having some fun watching a movie. The venue also offers an arcade in the lobby with games such as air hockey; these activities can help break the ice on the first outing while letting couples engage in some friendly competition. The Townshend Eugene tea house is a fantastic place for singles going on their first outing at day together to get to know each other comfortably. Other ways to spend the first date include looking for unique events such as concerts at the HiFi Music Hall or attending a seminar at the University of Oregon.
Eugene day activities include going to:
Bijou Art Cinemas for some fun & games, visiting the PK Park for a stroll, bike ride or a picnic.
River Road Park & Recreation District to participate in exercise classes or have some fun relaxing.
Dare Escape & Adventure Rooms and using your intellectual capabilities while enjoying some time-solving puzzles together.
Blairally Vintage Arcade - it lets couples enjoy unique arcade games while engaging in some friendly competition.
Demolition Zone, which provides unique experiences where you can do something different together.
Meeting Girls in Eugene Online In America – Search Instantly
What do you prefer when it comes to online dating vs. traditional dating? It is a fact that you are more likely to end up with the person of your choice when you meet them online. It's because you both are already aware of how compatible you are mentally & physically. There are no forced conversations or mixed messages as you both can communicate openly. Once you get in the habit of communicating with people online, there is no going back. You will not want to waste your time on the old school approach anymore. That is why it is so much better; there are no chances of getting bored when you have so many options available to search every day. Dating sites let singles search the people of their preference & style. It's easy to think that you can find a partner you will love in real life, but the execution is difficult, & that is where online platforms step in. Why do you make things difficult when there is a shortcut available that everyone around you is already using? Search, meet singles online, start chatting with them & fall in love just to find out whether you both are on the same page. If you are, then the aspects of traditional dating become so much more appealing! You can try out all the fantastic places, restaurants, bars & locations in the city without worrying whether you are wasting your time. It is a win/win situation & result for everyone involved & a must-try for singles searching for women in Oregon. So, no need to worry about whether you will find love your whole life or not? Start online dating in Eugene & meet the perfect match for you today. It is a simple process to get started with online platforms compared to traditional dating. All you have to do is make use of this guide & you will be able to see all the options available to go out with you. The best part is that those options will be in your neighborhood, & you may have not even known they existed!