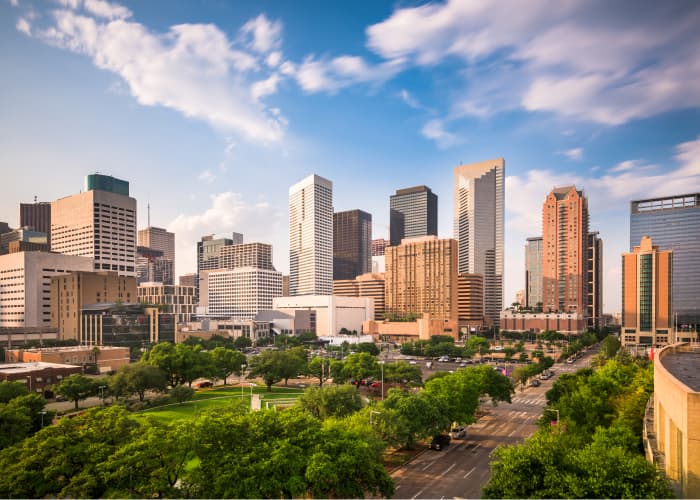 Date Spots You Won't Want to Miss!
A Dating Guide of the Best Places to Meet Women in Houston
Ask yourself, "where can I go on a date in Houston?" and we have good news for you! There are plenty of fun things for couples to do in your city. Since it's the most populous city in Texas, one would assume that it would have a lot to offer. You will not be disappointed! This city is a great way to experience America & offers everything from museums, aquariums, & zoos to bars, nightclubs, and brewery tours. It's easy to find a place to go on a date, & with this many options, you can be sure you will both have fun. Take your partner and become one of the many couples enjoying their first date in cute places, special events, or while enjoying new experiences. There are many unique places in this city, so you should find it easy to develop date ideas. A good date idea will keep you busy until midnight, and your date will be sure to love. Don't make the mistake of planning your date around the things you want to do - plan it around your dates' interests. By doing this, you will ensure that they will have a good time, and you will know precisely what you will do.
Try These Unique Date Ideas!
There are too many places to see in Houston on one day, but that's ok: this just means that you will have loads of good ideas for future dates! This Texas city has many unique places to explore. You can try something standard like a bar, but there are loads more to find beyond the surface. There are many things to do in Houston in a day, so we broke them up into four sections for you.
Animal - Most girls love animals. It's just a fact, so why not take your date to a place full of animals? Some great options are The Zoo, the Downtown Aquarium, or the Cockrell Butterfly Center.
Parks - If walking sounds like a perfect date, choose somewhere special to spend your day. The city has many different parks, such as Levy Park & the Sam Houston Park.
Museums - If learning is your idea of fun, feel free to visit one of Houston's many museums. Search for knowledge in the Museum of Natural Science, the Space Center, or view art at the Museum of Fine Arts.
Nightlife - Like most cities, Houston has a lot you can do at night. Although not the most common for dates, many people flock to clubs and bars such as Barbarella, Spire, or the Kung Fu Saloon.
There Are Loads of Romantic Things To Do In Houston
If you're looking for romantic date ideas, tendermeets.com has you covered. There are many places to go & romantic things to do in Houston. At night there are plenty of clubs, bars, & restaurants to check out, but if the party lifestyle isn't your thing, there are many other things you can add to your plans instead. One of the most romantic places to check out is Texas' own James Turrell Twilight Epiphany Skyspace. This is a great little place for people to have fun while being entertained by light shows or music students who often play music here. If you don't feel like being out until midnight but still want to enjoy America, check out Buffalo Bayou Park. There are loads of romantic ideas you could play out here. You can enjoy walking, biking, or just spending time together here. If this isn't your kind of activity, consider adding the Jess H. Jones Hall to your plans. This venue has many events & live music performances, so it's a perfect stop on your love quest! These are just a few of the many options that Houston has to offer. You can also enjoy dance performances and musicals at the Hobby Center for Performing Arts, try a couple's spa treatment, or go to the movies, just to name a few.
Trying to Plan the Best Date? Restaurants & Bars Are Essential!
If you're looking for the best date spots in Houston, look no further! We have compiled this list of the perfect romantic places to help you come up with date night ideas. Enjoy the Texas night (or day) at one of these unique date locations.
Savoir is a French bistro that is set in an old warehouse. This unique venue has a lovely interior decor, has high-quality food, & is the perfect setting for a romantic evening.
Another restaurant with a beautiful interior is the Rainbow Lodge. As long as your date does not align with vegans' ideas, this place will be a great choice for a fun night! This log-cabin restaurant serves various games such as elk & wild boar.
If you're searching for something sleek and classy, consider giving the State of Grace a try. This restaurant offers a seven-course tasting menu in addition to an oyster bar & a giant wine guide. Be prepared for a large cheque!
If the bar seems like the ideal activity, try Brenner's on the Bayou. This bar has a steakhouse, a waterfall, a two-story dining room for you & your date to take full advantage of.
If you're looking for something cheap and vegetarian, give Govinda's Vegetarian Cuisine a try. This buffet won't leave you hungry, and at only $11 for lunch ($13 for dinner), you won't want to miss out on eating here.
Need First Date Ideas? Houston Has Many Options to Try
If you're in Houston, day activities can be some of the best first date spots. It's easy to have a fun day in America if you take some tips from this date ideas guide! If your date loves animals, some popular locations are The Zoo (a park spanning over 55 acres and containing over 6,000 animals) & the Downtown Aquarium, which offers a perfect way to see marine life while enjoying the food and rides available here. Love the shopping lifestyle? Consider visiting one of the many shopping malls like Citycentre or the Willowbrook Mall. Mall dates offer a great chance to talk about life while walking around the city. You can easily find a place to eat here. If not, you will have plenty of time to make plans for later, as a mall date is more of a "start" than an "ending." When you go out at night, there is a wide variety of places to go as well. If you two prefer a casual bar, check out The Cellar Bar on Richmond Ave. Would you go clubbing instead? Try Etro if you enjoy 80's music or Club Tropicana for Latin music. If you prefer to go all out, you will definitely want to visit the Wortham Theater Center to watch one of the Houston Grand Opera's many performances.
Start Meeting Girls In Houston Online Today!
Many people debate on the advantages of online dating vs traditional dating. Traditional dating offers the chance to meet someone in person, but the problem is that you only get one first impression. If you meet someone when you are having a bad day, chances are you won't make the best impression. This is the advantage of dating sites - you can meet singles at your own pace when you are ready. Dating Houston singles is already stressful, so you'll want to look your best when looking for a potential life partner. Every day is a great time to search for love, so let an online dating website guide you in the right direction. It has already worked for so many couples, so you can be confident it will work for you too. You don't have to be single forever! Online dating works so well because it allows you to filter through potential single partners so you won't waste any time. Find someone who matches your lifestyle & has had similar experiences as you. The more you two can relate to each other, the stronger your initial bond will be. Just remember to follow the advice and tips included in this article, and you will be among one of the many happy couples online living life to the fullest - together!