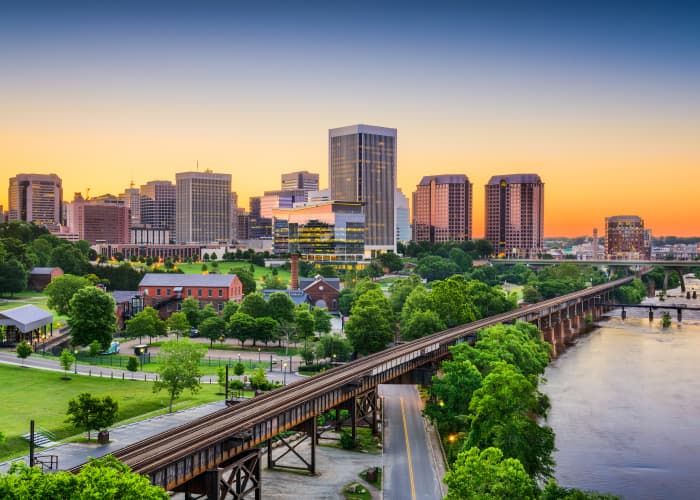 Explore Hot Date Spots in Richmond and Try Cool Date Ideas
Our Dating Guide Includes the Best Places to Meet Women in Richmond
Discovering the heart of the city and its surrounding areas is part of enjoying the single life. Attending events is how you stay busy over long weekends and vacations. There isn't time to focus on being alone with so many cute places to explore with friends. When you try online dating, you can make new friends, and, eventually, one of them will desire fun things for couples to do in Richmond. Instead of scratching your head and asking where can I go on a date in Richmond, check out our dating guide. We believe it's a foolproof idea to explore an outdoor place with a new acquaintance from online.
If she prefers hiking for a long day in the mountains, you might drive a few hours inland to enjoy the Blue Ridge vistas, which form part of the Appalachian Trail.
If she wants to stay closer to home for local events or dates, take her hiking at Old Rag Mountain, which lies within Shenandoah National Park. The forest views are unmatched anywhere nearby.
Try These Unique Date Ideas to Wow the One You Adore
She has a busy schedule, and she will get multiple invites for dating experiences from other site users. You want to be the one she will kiss until midnight. Try to stand out without seeming pushy. If your game plan is sticking to places to see in Richmond in one day, then suggest outings at local museums and tourist attractions. We picked these fun things to do in Richmond in a day:
The Virginia Museum of History and Culture - This is where couples can move through centuries of history to see how much this original state of the Union has changed since the Revolution.
If she has children of her own, she might not agree to evening dates. Suggest that the whole group spend the day feeling young again at the Children's Museum. There are three locations and hands-on play activities for ages 0 to 8.
Art and science engage the mind, but so can the written word. See if she plans to engage her mind on the weekends, such as investigating one of the darkest writers from the recent past. Take her to visit the Edgar Allan Poe Museum.
Meet for walking, shopping, and unique snacks at one of the city's three big farmers markets - South of the James Market, Carytown Farmers Market, and Farmers Market. There are also smaller ones nearby, including Gallmeyer Farms and The Berry Patch.
Romantic Things to Do in Richmond Virginia Don't Have to End
If you are lacking a place to meet and need romantic date ideas Richmond, get out and explore random locations at night. While the Virginia capitol is quieter on the weekend because it's not humming with state business, there are many romantic things to do in Richmond at night. Some of the most romantic places in America are found by walking around and trying venues. And, of course, there are always the laid-back clubs open after midnight:
For a unique clubby lounge, stop in at The Top. It's the place to be seen and stands out for offering music and comfort foods. With many couches included in the floor plan, it's easy for guests to relax here.
For sipping good cocktails indoors, meet her at the Tobacco Co Club, which used to be a tobacco warehouse. They have modernized their unique facility to provide a trendy meeting spot for people walking by and regulars too!
For comedy, you two can visit Groovecat Comedy. The best-laid plans for laughter can provide years of memories.
Discover The Best Date Restaurants and Bars in Town
Going out and about is the way to get your blood flowing and interact with your new love interest around town. In the tips below, we share the best date spots in Richmond - cool restaurants and bars that are lively and satisfying to the palate:
If your plans are impressing her with Old-World ambiance, meet for cocktails or a quiet dinner at Lemaire, which is located in the beautiful Jefferson Hotel.
She might be into trying new or different ethnic restaurants in town. A good option with a modern bistro-esque atmosphere is Stella's, which offers Greek cuisine for moderate prices.
For Southern fare and a selection of Virginia-made wines, take her to The Roosevelt. This cooking style is popular in the region and represents something different for people from other parts of the U.S. Date night ideas can push both of you out of your normal activity pattern.
Some of the best date spots in Richmond are not obvious romantic places. They are lesser-known and given to quiet conversation and the people-watching lifestyle. You could try a bit of the patio life as recently featured in Richmond Magazine and invite her to Sunday brunch at The Mosaic.
Use These First Date Ideas Richmond To Secure Your Future
In America, we are used to being entertained. During your search for love, trying to keep your prospect engaged during a first or second meeting feels like a challenge. If you are armed with the best first date spots, then you won't run out of Richmond's day activities. For example, your prospective girlfriend might be a huge history buff, and this area is ripe with old battlegrounds and historic sites. We recommend a day trip to Richmond National Battlefield Park, which celebrates activity at 13 battle sites from the Civil War when America was torn in two. This city actually became the capital of the Confederacy during the war. When you visit the RNBP, which is operated by the National Park Service, get access to the beautiful countryside and the outdoor lifestyle. You and your friend can spend the whole day getting to know each other without missing the hustle and bustle of city life. There are also state landmarks in this capital city of Virginia she will love as well.
Meeting Girls in Richmond Online or Offline? The Verdict
In fact, many singles living in America go through the debate of whether to search for a partner using online dating vs. traditional dating. They know finding a great partner is the end result. They want someone to enjoy an activity with whenever they crave couples time. It depends on what your goals for a relationship are. If you want to meet several people on fun outings and regularly pick someone to date, online dating in Richmond is a great option. Or, try hanging out in a bar. Do it as little or as much as your busy lifestyle allows. Unlike other dating sites where you might have to pay a fee to join and start to message and meet singles, our site for dating Richmond is free. We make it easy for you to communicate via different tools on the platform. Once you start feeling comfortable in online chats, you and your new friend can decide whether to meet in person. Let your intuition be your guide. If you want to start a great relationship based on shared goals, it's essential to first consider your wants and needs for this type of connection. Also, consider what kind of time commitment you can make to a partner. For example, you could hang out in bars or venues like we described above and meet a nice woman organically, or you could facilitate the introduction process using the app. With so many choices when you're swiping left or right, however, you might get overwhelmed. Some users focus on one person at a time, while others will cast their search wider and meet several prospects within a short time. Find what works for you online and offline. Hopefully, with these tips, you will set the bar high and match with a like-minded single woman living near you! You can find love through online search in Virginia if you just let it happen!