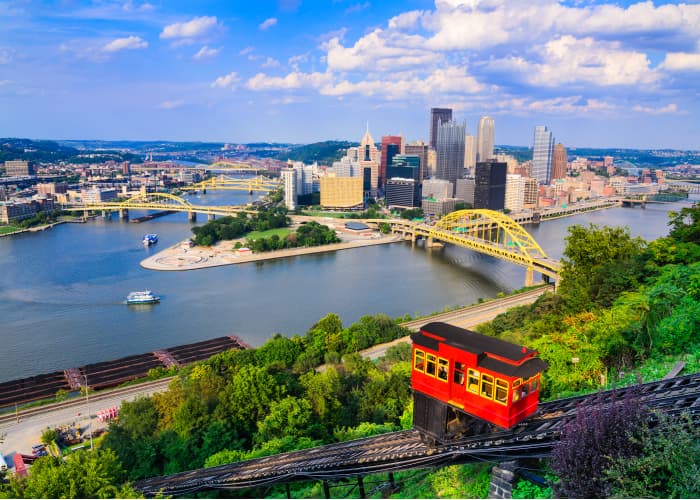 Date Ideas in Pittsburgh - The Best Date Spots in America
Dating Guide to Seek Best Places to Meet Women in Pittsburgh
Cute places include the Pittsburgh Zoo & Aquarium, where Asian forests & Polar ice caps can be explored. There are more than 400 species that couples can interact with. The Carnegie Museum of Natural History lets you explore America's ancient fossils while learning about the history & education value of the exhibitions. Some of the fun things for couples to do in Pittsburgh are going to Mount Washington, which are breathtaking views of Pennsylvania & its rivers. Couples can also experience the railways on the mountain & have a day snack or lunch at the Restaurant Row. You can also go to the Phipps Conservatory to see the stunning greenhouses of America, good blooming gardens & exhibitions of art pieces, and the perfect lawns & ponds off the location.
Where can I go on a date in Pittsburgh?
You can go to the National Aviary to see the beautiful bird sanctuaries, one of the first made in America. The location also lets visitors interact with animals by feeding them or getting to take pictures with them.
Or visit the Carnegie Science Center, situated around the gorgeous Ohio River, packing various attractions and many features in one place, such as the Buhl Digital Dome, Rangos Omnimax Theater, Cold War submarine & the robot world.
Unique Date Ideas for Couples in America – New Events to See
What is only Steel City may offer you in terms of dating? Check out unique places to see in Pittsburgh:
Carnegie Museum of Art, which is full of dynamic modern art of more than 20,000 pieces. From paintings to videos, you can experience it all.
The Carnegie Museum of Natural History is another good place that offers some educational insight into the history of America.
The Frick Art & Historical Center lets you explore the exquisite collection of artifacts, vintage items & antique carriages.
You can also go to the Three Rivers Heritage Trail for a breathtaking view of the Pittsburgh rivers & communities. You can use the trail for walking, biking, hiking, or rollerblading. Going to the Pittsburgh Zoo & PPG Aquarium is one of the things to do in Pittsburgh in a day, if you are in with a short visit. Participate in the education programs to gain some education about the zoo & its inhabitants. You can also explore the Pitt by taking the exciting Food Tasting & Historical Walking Tours, such as the Strip District Market Tour. Couples can go to the Heinz Hall for the Performing Arts to find some stunning orchestra & other events which make for the perfect way to spend your time. And don't forget to visit the Historic Market Square downtown to have a quick bite at the numerous restaurants, coffee shops & bars; you can enjoy some vibrant shopping or attend one of the many events that take place throughout the year, such as the Farmers Markets.
Romantic Things to Do in Pittsburgh & Tips for Singles
Pittsburgh's romantic date ideas involve going to Sienna on The Square, an exquisite city restaurant where you can enjoy Italian cuisine in a romantic & casual environment. Schenley Park is a beautiful place to go with your dates, where you can enjoy nature, landscapes, scenery & woodlands. Romantic things to do in Pittsburgh at night include going to Casbah; a restaurant opens till midnight, where you can enjoy a variety of drinks & eat Mediterranean style food. The Hartwood Restaurant Is another restaurant where couples can make plans to go for a fresh twist to their food since the menu changes every day to keep up with Pacific Rim cuisine. The Great Escape Room may very well be one of the most romantic places for you! You & your partner can work on escaping a locked room while testing your creative thinking & teamwork, adjusting together and being a team - just like in a relationship. As for the food: Grab your male or female partner and make plans to go to the Commoner. It is a modern restaurant to enjoy a midnight dinner with your partner, with yummy dishes available such as steak ribs, & countless desserts. The Morcilla is a restaurant that you & your date can go to when you cannot decide what to eat. The locations offer a wide variety of menu items & serve Spanish wines with the food.
Best Date Restaurants & Bars for Love & Fun Experiences
The Hyeholde, which is a romantic restaurant located on stunning woodland gardens, a sight that will leave your dates swooning;
The Back Porch Restaurant is an antique structured restaurant where you can have a cozy dinner while enjoying American cuisine;
The Eleven where you can go for some fantastic ambiance while having an elegant dinner & enjoying some exquisite food.
The Stone House Restaurant & Inn - it offers a chance to have a beautifully served dinner where you can also choose to stay in their inn if your trip extends past midnight.
And, of course, The Spoon is a modern restaurant that is lively & offers a warm selection of local food. Couples can also enjoy unique flavors of drinks.
Going to Frick Park is one of the top Steel City date night ideas, - it is one of the biggest regional parks in America. You can enjoy the trails & parklands of the area & escape the noise of the central city, offering you an excellent opportunity to chat with your partner. There are also several activities at the park, such as sports & an environmental center. Romantic spots in the city include Cure, a restaurant that is home to great local dishes that will leave you & your partner's mouthwatering for more. Other locations include the Franktuary eatery, a tour of the City Brew, & visiting the Tako for a glimpse of the Mexico street food.
The Most Perfect & Fun First Date Ideas Pittsburgh, America
Best first date spots include the Dinette, a casual location to visit with your partner during the day or night for a wide variety of foods. You can also visit the Mattress Factory, a modern art museum offering a unique exhibition of paintings & interactive features. The Pittsburgh Glass Center should be visited for a view into the field of studio glass art. There are many showcases of exceptional art pieces at the location which will leave you & your date awestruck. Another spot to visit is the Randyland, where several public art features range from historical to contemporary sculptures. Pittsburgh day activities involve going to the Wigle Whiskey Distillery for a tour to find the barrelhouses of the distillery. You can go to the Heinz History Center for a fascinating insight into the lifestyle & history of Pennsylvania & Pittsburgh. The Andy Warhol Museum is a place that must be visited for those interested in modern art. Witness the collections dating back to 1987 & find exhibitions from other artists. You can also try some Bavarian beer & food at the Penn Brewery, offering a taste of the German flavors that influence Pittsburgh's culture.
Meeting Girls in Pittsburgh Online for Love is the Best Idea
Online dating vs. traditional dating is a lifestyle; what will you choose? Traditional dating has been around for decades; everyone knows what to expect when they go out on a traditional meeting. The online platforms are where the fun is. Everyone is hyped about online dating & all the exciting things it has to offer. Dating sites provide a fantastic opportunity for singles to meet like-minded people. Who does not want to match a person with whom they can share their daily thoughts & beliefs? The chances are overwhelming & never-ending! You can meet your partner set per your lifestyle online, no matter how old you are. Everyone wants to settle down with someone without having to comply with the formalities of traditional dating, so get started. Meet singles online & be in love with someone in your life within days. There will be no more anxiety about when you will meet the right person because you can do it NOW online! The stress & worry in your routine will decrease when you meet someone who connects with you on all levels & aspects of your life. People can search & love partners with the same background as them or the same interests as them within minutes. After reading this guide, don't miss the chance to get ahead of the game & start dating in Pittsburgh. Now you know all the tips & have the complete guide you need to have a successful date with your partner, you will not need to worry about Pennsylvania locations' intricacies, so search for the one for you today & start exploring!