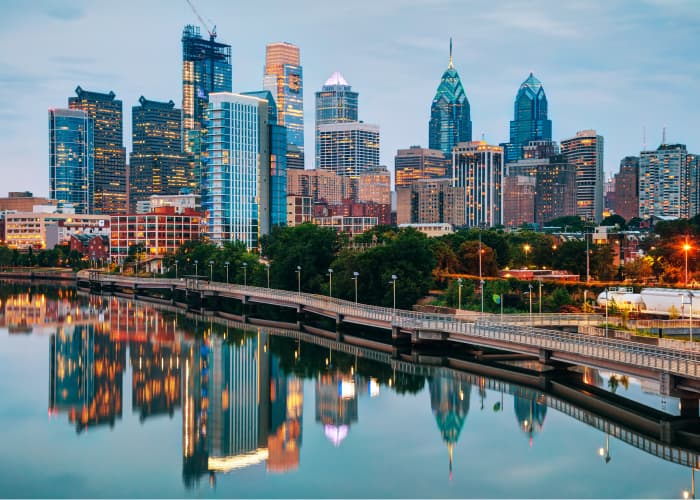 PerfectSearch for Date Ideas in Philadelphia, Tips for Date Spots
Best Places to Meet Women in Philadelphia - Love Dating Guide
One of the most obvious places to meet for a date is Independence National Historical Park, where America's democracy was born! It is home to the popular attraction of Liberty Bell, as well as other famous buildings such as the Independence Hall, Congress Hall, Franklin Court & New Hall Military Museum. Does it fall under a category of cute places? If you love history then it's the best you can find. And if you seek fun things for couples to do in Philadelphia, then go to the Philadelphia Museum of Art for a fantastic chance to see some stunning artwork, international & local heritage, and contemporary art. Another must-try is Philly Cheesesteaks, an iconic dish served all over the city in various steak shops, food trucks, delis & pizza shops, start a conversation over cheesesteak and see where it leads.
Where can I go on a date in Philadelphia? you may ask. Our excellent dating guide encourages you to go to:
Franklin Square for exciting activities such as mini-golf courses, picnic spots, burger joints, & the Liberty Carousel.
The spooky Eastern State Penitentiary to see the prison where notorious criminals were held, such as Willie Sutton & Al Capone. A tour can be taken of the facility to understand how prison life was during the 1800s.
Shane Confectionery for some sweet delights decorated in classic style as the shop is one of the oldest in the city.
Unique Date Ideas & America Day, Night, Midnight Events to See
There are many unique places to see in Philadelphia in one day, such as The Oval, where there are events dedicated to outdoor fun like games of chess, checkers & Connect Four. There are also some refreshing food items waiting to be tried, available at the food trucks after you have had an adventurous day. Another cool place to see is the Battleship New Jersey which can be toured to get a feel of how the life on the ship must have been during its importance in American naval lifestyle & history. Things to do in Philadelphia in a day include going to see the Liberty Bell at Independence Hall. See if you & your partner can spot the defect on the bell, which has been there since the first time. Another place to visit is the Rocky Statue & the Rocky Steps, where the filming for the famous movie Rocky took place. Spot the monument of Rocky Balboa & run up the steps to feel like you are a hero yourself! You can also go to the Adventure Aquarium to see the fascinating exhibitions of the state's biggest shark collections. You can see hippos, turtles, stingrays, penguins & various other aquatic animals in the large 65,000-gallon pools.
Romantic Things to Do in Philadelphia for Fun Experiences
Explore one of the most interesting national heritages and try going to the National Museum of American Jewish History, which is home to more than 15,000 artifacts more than 250 years old, bringing back the lifestyle & history of America & its Jewish people. The stories of immigrants & interactive media displays make this an educational & informative date idea! But if you are looking for romantic date ideas for Philadelphia, your best bet will be to go to LOVE Park (it's all in the name!), which is also called the John F Kennedy Plaza. It has some food trucks where you & your partner can grab some food to eat after taking some unique pictures at the monuments. Romantic things to do in Philadelphia at night involve going to the Fairmount Park - quiet and well-lit, it is a fantastic spot for holding hands and taking silly pictures together. Or dine in a love-filled luxury atmosphere at the XIX restaurant and midnight supper may lead to something more. But what are the most romantic places in Philly? If it isn't your first date, then go to Philadelphia Zoo, which is home to more than 500 cute animal species & has the honor of being one of the first zoos in America to be charted. And for a unique experience you can visit the Liberty 360 3D Show at the PECO Theater for a particular date. The adventure is a unique one with a 3D experience.
Best Date Restaurants & Bars for Philadelphia Partners in Love
Best date spots in Philadelphia include going to the South Philly Barbacoa for the best tacos in great Pennsylvania state. You can go walking to the Hiroki for a Japanese feel to your dining experience where you can also enjoy the art exhibitions on the walls. Make plans also to visit Parc, which will make you feel like you're in Paris. The restaurant has a warm, lit ambiance & vintage feel, which will make you feel like you are at home with your partner. The Kalaya Thai Kitchen should also be visited to enjoy some of the fantastic Thai specialty foods in Philadelphia with some fiery & fresh taste. The Fork is another restaurant that couples can go to for a relaxing midnight dinner served with style, with delicious sauces made of sunchokes & seagrass. Date night ideas include going to the Sister Cities Park at midnight to enjoy the fountain, coffee shop, boat pond, or educational garden. You can make plans to go walking to the Valley Forge National Historical Park, which is full of monuments & statues, such as those of muskets, & offers a nice place to relax & have a picnic. Another place to visit is the Academy of Natural Sciences of Drexel University to see some fascinating objects. Romantic spots in Pennsylvania are the Independence Seaport Museum, which has boat shops & exhibits of local craft shops. Other romantic spots include walking in the Waterfront Winterfest at Blue Cross RiverRink, a boat ride at the Boathouse Row, & a picnic at the Fairmount Park.
Tips for First Date Ideas Philadelphia for Romantic Partners
Best first date spots in the city are:
Going to see the AMOR Sculptures in the Sister Cities Park, where you can take selfies with the six-foot-tall sculpture.
Visiting the Barnes Foundation to see the stunning gardens overshadowing Benjamin Franklin Parkway, where you & your partner will be awestruck by the paintings inside the building.
Spend time with your partner at the Blue Cross RiverRInk event held in winter & summer lets couples have a romantic evening at the locations with activities such as roller-skating, ice skating, or enjoying some time at the bonfire while cozying up with blankets.
Philadelphia day activities include going to the Boathouse Row for biking, rollerblading, or a simple stroll. The boathouse is near Fairmount Park, where you can relax afterward by grabbing a bite to eat. Another activity is the Bowman's Hill Wildflower Preserve, where couples can go for a hike & a picnic & have some chill time. The Chanticleer lets couples relax while exploring the exquisite cultural sights of the locations. The Cherry Street Pier offers attractions to couples such as a variety of foods & drinks, art, markets, events & concerts, all outdoors & by perfect scenery.
Meeting Girls in Philadelphia Online, Best Fit For Your Life
When it comes to online dating vs. traditional dating, the online platform is the winner. In traditional dating, you have to find people you like based on physical attractiveness & what your eyes find appealing. Whereas when you are online, you search for people & your first impressions are based on a multitude of factors like the age, career & hobbies of the other person because you cannot see that person in real life. Dating sites have been searched & tried by more than 40 million users from America. Most relationships now start online & there are numerous success stories from people who have started relationships online. There are also people available within your neighborhood & outside your geographic location with similar interests as you. You can meet singles efficiently online & chat with others 24 hours, without feeling like you are on a time restriction. You can easily see your matches & search for profiles that can be your potential dates. Furthermore, you can find potentials with mutual connections with you, making you feel much more comfortable when chatting with people online. Singles do not have to worry about the pressure of sharing the wrong information or misleading others as they will be on the same page as the people they meet online. Dating in Philadelphia is easy - the city is large but not as busy as some of the biggest cities in America, so finding a partner, male or female, is not a problem. The city's numerous activities all cater to couples & offer a variety of fun activities for people on dates to participate in. Wherever you go, you will see couples having a great time; there are many places to visit in Philly, so decide what you want to do & with who you can get started!