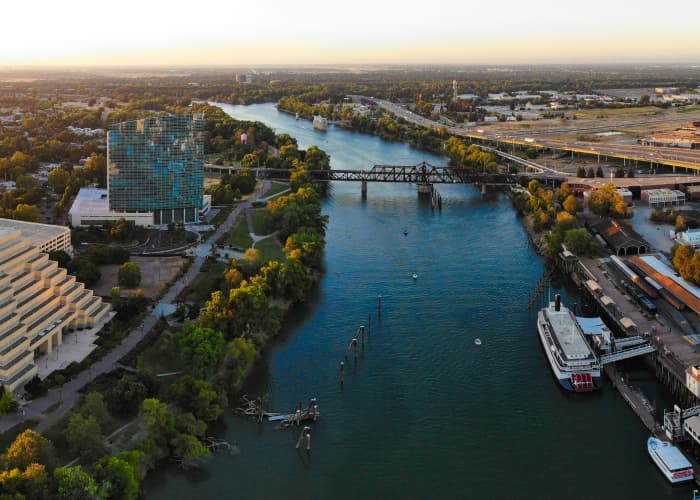 Attractive Date Spots and Date Ideas in Sacramento, California
Dating Guide on the Best Places to Meet Women in Sacramento
Do you want to feel romantic today? Find cute places where you can go on a date and enjoy it to the fullest. We also bring you great suggestions for the best places to meet hot single women and men to find out if something intimate can cook between the two of you. There's more to do and delight in than just sit around watching Netflix the whole day. Here are some of the fun things for couples to do in Sacramento.
West Wind Drive-In – From screens to snacks, this spot is truly vintage. Bring some pillows and blankets to cozy up before the multiple screens. The snack bar is more affordable, and there is even a playground for kids too. It doesn't matter if you're alone as you might just find someone to share your pillow and blankets with.
Jim Denny's is a tucked-away restaurant that has existed since the 1930s. Everybody flocks there to enjoy the family-friendly traditions and plenty of menu items.
Such-a-Deal Lace & Trim – Visit this exciting shop featuring trimmings of all types and various sewing supplies. From ribbons to bridal accessories, you won't miss on topics to discuss with your potential partner.
Wells Fargo Center – This spot is located in Capital Mall – the tallest building in the city. Go and take in history from the baking giant, followed by window shopping. You can head to Melting Pot afterward for a delicious meal. There are many people to interact with at this charming building.
Unique Date Ideas in Sacramento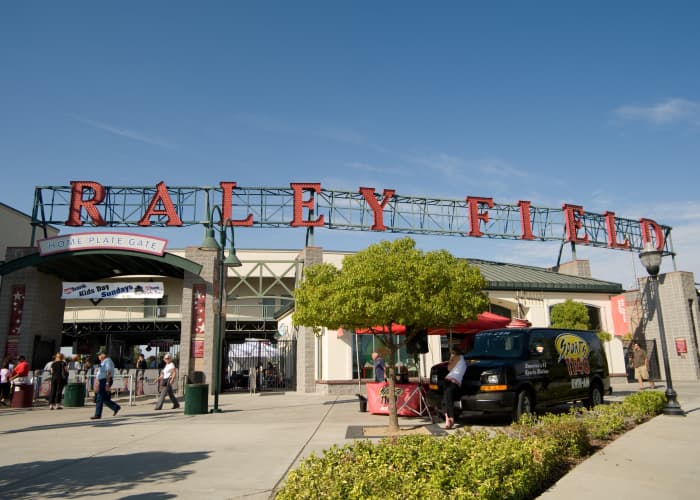 Let's help you to choose charming spots to visit in one day in the city. Spicing your love life with calls for planning surprise events and visits to breathtaking places with your half. From historic theatres, museums, parks through bars and restaurants full or lovely ambiance to concerts and events venues, there are lots of things to do in a day.
Crest Theatre offers various film festivals, live entertainers, and more. For a great date, you won't forget, check out their current schedule and plan ahead.
Why not enjoy classic desserts that go beyond delicious at Rick's Dessert Diner? They also offer specialty cakes that can be ordered for birthdays, weddings, and more special occasions.
Have you tried shopping at the Evangeline's? Anything from costumes, novelties, and gag gifts are enticingly explorable here. You'll also grab a dose of history as you walk through the doorways.
Enjoy live entertainment at Fox & Goose. If you're into it, throwing down some pints at this spot would just feel lively. There are fabulous drinks, late-night bites, and great beers on tap.
Catch a game or two together at ComedySportz, 2230 Arden Way. Just make sure to eat and drink before you hit on this spot.
If you have time, spend the evening inside A Murder Mystery on the Delta King. The theater offers mystery, suspense, and comedy in which you will feel part of it all.
MIX Downtown is just a sleek place to throw back tasty handcrafted cocktails while dancing all night. It's more of an exclusive Vegas lounge.
Go and feel the butterflies as you experience a sexy show at Sizzling Sirens Burlesque Academy. The unique shows at this place mix theater, satire, sketch, and thrilling dance. They also offer classes which you can gladly try.
Romantic Things to Do in Sacramento, California
There is really no shortage of romantic date suggestions in this city. The only challenge you could face is how to choose the most exciting places that would leave you totally satisfied and strong in love. Here is a list of romantic things to do and enjoy.
Go and get Caffeinated at Temple Coffee Roasters – There's no better place to have coffee all over the city than this spot. They have spread three branches in Sacramento, two of which run until 11 p.m. They're thus perfect for a late-night caffeine buzz.
Go wild and naughty together at Badlands – With a giant disco, fantastic DJs, crazy dancefloor, and great visuals, you could easily get into your bad selves and just enjoy the time.
Enjoy the best concerts at Sleep Train Arena – It hosts world-class acts where you can both grab a fabulous night. There are hundreds of events annually in this fantastic arena. No matter when you visit, you'll find something entertaining.
Take a thrilling hand in hand walk at Hysterical Walks and Rides – This beaconing spot in the downtown of the city doesn't offer a familiar average walking tour. There is punctuated with hilarious, side-splitting comedy for those 18+. The scary ghost tours may send you hugging each other in fear.
The Best Date Restaurants and Bars in Sacramento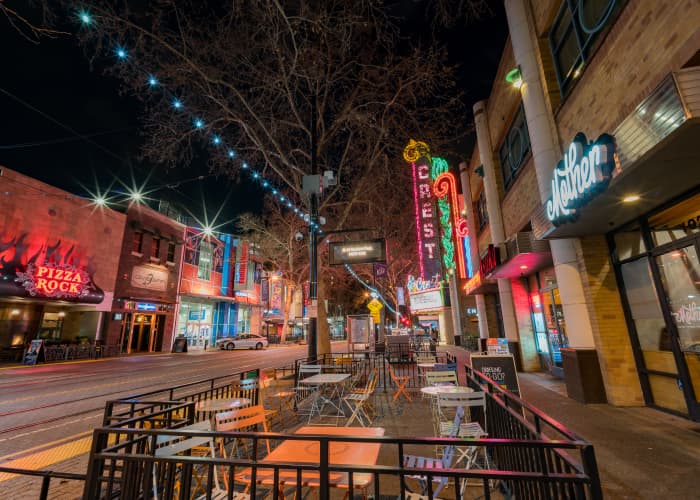 Let's help you sort through the best first date spots and day activities from all the options that this great city offers you. Even if you're a local resident, new joints may have popped up without you noticing. The nightlife has exploded in recent years. Brewpubs, nightclubs, and wine bars have mushroomed downtown and midtown. Streets of London Pub, BarWest, 58 Degrees and Holding Co., Faces, and The Park Ultra Lounge are some of the outstanding bars to hit.
Spend your time at one of the lively musical venues. The Swabbies is just outstanding, more like Coin-Op Game Room. They are filled with fun activities for exciting weeknights and weekends. For coffee, tea, wine, and beer under one roof, take your seat at Morgan's Mill. Aside from the wine, beer, and drinks, you will be surprised with super cute interiors.
Jamie's Broadway Grille also offers the best garlic steak sandwich, salads, chowder, and fresh roasted turkey. Head there to enjoy patio dining. Other great American dive bars and restaurants include Elixir Bar & Grill, Public House Downtown, Pitch and Fiddle, Sac City Brews, and Field House American Sports Pub. Most of these places offer lively fun, great drinks, and decent foods.
The First Date Ideas in Sacramento
There are many interesting day activities to do for dates here. These adventurous instances provide great opportunities to grow together in new and unexpected ways. Some of the best first spots for dating include:
California Highway Patrol (CHP) Museum – This is a great choice to spend the first date as you wander around and observe the attractions together. Go for the moving history of the CHP along with an insight into the Academy Training Facility.
Subtile Sculpture – This little spot has wonderful scenes that will captivate both of you. The massive disco-ball like sculpture has lively electronic movements that follow an algorithm that mimics the growth of trees. Afterward, you can meander along the River Walk to see other public art pieces.
Rancho Bowl is newly remodeled with 32 lanes, coffee tables, couches, and touch-screen consoles that just make it a great spot for those who enjoy bowling arts and games. If you still want something more, there's an in-house restaurant and bar with entertainment DJs.
Raley Field – This is a top-notch baseball park complete with plenty of shades and ample parking. The field also hosts occasional concerts, festivals, and community celebrations. You'll also get to enjoy the fireworks during the River Cats game.
Club Pheasant – The West Sacramento icon offers a hearty Italian meal that has attracted many regulars. Try their happy hours Tuesdays to Fridays. The good service and quality meal could contribute to your great moments during the date.
Enjoy Meeting Girls in Sacramento Online
Many people are turning to online dating due to huge opportunities to choose what they want and the accessibility of exciting services and connections. Most dating sites are accessible through various internet devices like smartphones, while others have downloadable apps. Individuals have the chance to choose from various potential partners than they would have met through traditional dating. The battle of online dating vs traditional dating thus seems to lean more in favor of the latter. This is a digital age when people embrace getting to meet singles they admire through a few quick clicks. Our Sacramento dating site offers matching service concerning personal profiles. Thus, there are higher chances of getting matched with a compatible partner, unlike the face-to-face meeting where you have to take your time before you realize if both of you are compatible.