Main Reasons For Loving Someone And Entrust Your Whole Heart
Why do you love someone? What is it about the giddy feeling and the butterflies in your stomach that makes you want to jump with joy every time you see the object of your affection? Loving someone is an overwhelming feeling of joy, passion, intimacy, and connection. But is it all worth it? We know for a fact that many people got hurt because of love. So why go through with it? Can't we just continue to exist without falling in love? We can always protect our hearts and choose to stay numb for the rest of our lives. But without a doubt, that would be an extremely dull and uneventful existence.
Truth is, unless you are a psychopath or a sociopath, you crave to feel love. Many people even pretend to be in love just to experience this magical emotion. With all the risks of pain and suffering, there comes a stronger promise of happiness and forever. As human beings we opt to hang on to the hope of being happy rather than cower to the fear of heartbreaks. Indeed, there are millions of reasons why you should fall in love. But we can narrow it down to the top 10 reasons why "I love you" is the sweetest phrase in the world.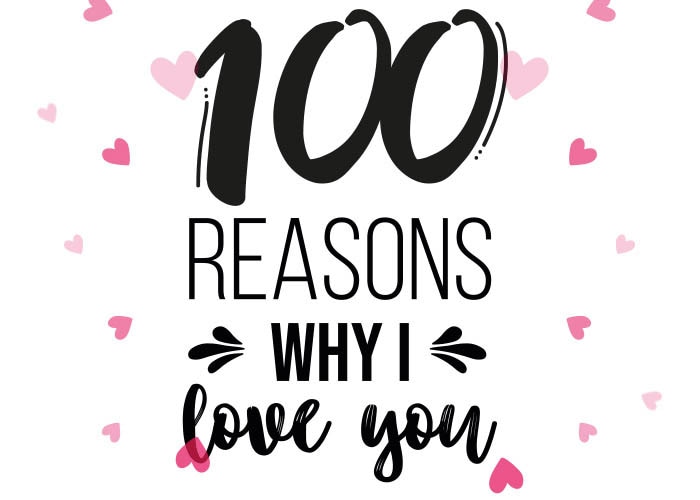 If you are looking for the best reasons to love someone, then consider a healthy love life. Finding a relationship is easy, but having one with the person you love is harder yet rewarding. It is quite fulfilling to share words of love with a partner whom you truly care for, rather than be with a person for other reasons than love. So whether you engage in online dating or opt for a traditional dating, it is best to find reasons to love someone to make the bond worthwhile.
The Top 10 Reasons To Love Someone For Eternity
The reasons for loving someone can be summed up to 10 factors. Each rationale is valid and essential to the journey of love between men and women. And when like-minded people meet, they talk, chat, date, and fall in love for the right intentions. One day soon, you will meet your match and later on start a happy family.
Happiness - it is the one thing that people in the world longs to experience. Being happy is the ultimate motive for falling in love.
Intimacy - a very close connection with a person does not need to be sexual. It can be about feeling emotionally intimate, where men exercises their masculinity and women feels good about their femininity.
Commitment - if stability is important in your life, then fall in love with someone and make a commitment with the person.
Passion - single people want to meet other individuals in order to look for a strong emotion called passion. This feeling makes you giddy and more alive. It is such a wonderful feeling that you never want to miss.
Connection - it feels so good to be connected to someone in a romantic sense. Somehow, life is not complete without having a love bond with another human being.
Loyalty - another ground to love someone is to feel strong faithfulness to a person. Life has meaning when you have fierce loyalty to the one you love.
Belongingness - no one can truly live a good life without belonging to someone. You could belong to a group of friends or family, but much better if you belong to someone special.
Partnership - as you go through life, having a partner in all that you do is simply amazing. You share your life and heart with someone, and you feel happy beyond words.
Motivation - every person in the universe needs motivation, no matter how successful they are. And when you are in love, you get inspired every day by your lover.
Marriage - for serious people, marriage is the ultimate goal for a relationship. But before you settle down, you must fall in love and be in a romantic affair.
Want To Know The Top 10 Reason Why I Love You?
Of all the reasoning for loving a person, there are top 10 things you love about someone that you can easily point out. So when your lover asks you why you feel this way, you can always check the list below if the person you adore has the same traits.
Good heart
Physical appearance
Kindness
Generosity
Good humor
Cooking skills
Faithfulness
Caring nature
Sweet acts
Ambition
For men and women, love is a powerful emotion that brings waves of happiness to those who feel it genuinely. The level of love may differ for both genders, but the reasons for loving another human being is quite similar. Let us explore the common reasons for a man to love his girlfriend, and what emotions are behind the love of a woman towards her man.
The Major Reasons Why I Love My Boyfriend So Much
Are you ready to create your "reasons I love him list"? It is vital to know exactly why you feel the emotions you have in your heart. That way, you can easily express your feelings for the man you cherish. It is known that women are not shy about showing their true emotions, so it is best to label what you feel in order to seamlessly convey your message.
List Of The 20 Things I Love About My Boyfriend
Now that you are ready to enumerate everything you feel, why limit yourself on just a list of 10 things you love about your boyfriend when you can have 20?
He makes me laugh.
He encourages me to become the best person.
He loves me even when I sometimes turn into a monster.
He tries to understand my mood swings.
He pushes me to be successful.
He respects my limits.
He never looks at another girl the same way as he looks at me.
He tells me everything.
He is serious with our relationship.
He knows how to calm me down.
He is patient with me.
He inspires me to stay in shape.
He is attractive and funny.
He is gentle and caring.
He is my rock.
He tells me great stories that motivates me.
He writes a blog about how much he loves me.
He strives to keep our relationship healthy all the time.
He loves with all his heart without boundaries.
He will clearly make a good husband someday.
If you think that the 20 reasons why "I like him" is not enough, then feel free to include more. Anyway, it is not a contest for a longer list. What is crucial is you write down your genuine emotions only, and never the pretend ones.
5 Reasons To Love Your Boyfriend To Strengthen Your Bond
Relationships are not easy. Mostly, when the honeymoon stage is done, reality emerges and couples start to see what is behind the cool facade of the other. And so it is very important to find the best reasons to love your partner even more. Plus, you need to express all the reasons and tell your boyfriend why you love him. Doing so can strengthen your bond and keep the affair for long-term.
You crave for happiness - love your boyfriend because you want to be truly happy in your relationship.
It feels right - when you are with him, it just feels right. You feel like you belong together for eternity.
He is the right one - well, if he is the one, then love him more and never let him go.
Kindness is his middle name - not all guys are kind, so hold on to him if he is one of the good ones.
He is a mama's boy - a man who loves his mother so much is someone to love forever. He will treat you like a princess as a husband in the future.
Reason Why I Love My Girlfriend From The Very Start
Now that we have looked through the objectives of women why they choose to fall in love, it is time to explore the logic behind the beating heart of a man. When a man loves, he is passionate though he often hides his emotions. But you need to find the reasons to love your girlfriend and let her know how you feel. Women in general likes to hear the words of love and not just see it in action. So go ahead and make your girl happy by creating a "list of things I love about her".
Primary 10 Reasons Why I Love Her And No One Else
As a man who is serious with his relationship, you can pacify the slight turmoil of your woman's heart by showing her your list of "reasons I love my girlfriend".
She showed me that I can change.
She understood my past and still chose to love me.
She never nags.
She trusts me and rarely doubts my actions.
She takes care of me whenever I get drunk.
She inspires me to be a good person.
She never fails to appreciate even the little things I do for her.
She is faithful and not the kind to cheat.
She is simple and easy to please.
She loves me unconditionally.
5 Things I Love About My Girlfriend That Makes Me Happy
Why do you love your girlfriend? Was it your choice to fall in love with her or your heart simply skipped a beat when you saw her? Or is your love a work in progress? Whatever your reasons are, loving a single woman should have the following parameters:
She makes you laugh.
She completes your life.
She loves you dearly.
She motivates you.
She turns you into a better person.
It is quite clear that love is good, and men and women love for different reasons. Women are more emotional and men are more practical. To make a relationship work, a compromise is definitely essential. So, are you ready to fall in love? Start by creating a free online dating profile at TenderMeets and meet singles for serious dating. And remember that love that leads you to the right path is something to treasure.
Jennifer Lorusso is a recognized dating and interpersonal relationship expert. As a woman with Psychological degree, she utilizes both her whole life training and her incredible life experiences to serve her readers. She is known for her approachable manner and empathetic abilities. She trully believes that everyone can find true love as long as they believe it is available to them.
Sign in