Wondering What the Best Lesbian Songs Are?
Hayley Kiyoko wasn't joking when she sang, "young ladies like young ladies like young men do." Love, interest, and fascination between ladies is the same old thing - and it's not a curiosity like some media may propose.
While there are endless love tunes and melodies about connections, including heteronormative pronouns, we've arranged a playlist of class spreading over LGBT songs from eccentric, lesbian, pansexual, and sexually open ladies who have composed and sung about their sentiments towards different ladies. From Janelle Monáe to King Princess, commend eccentric craftsmen songs about girls loving girls with these 25 tunes underneath.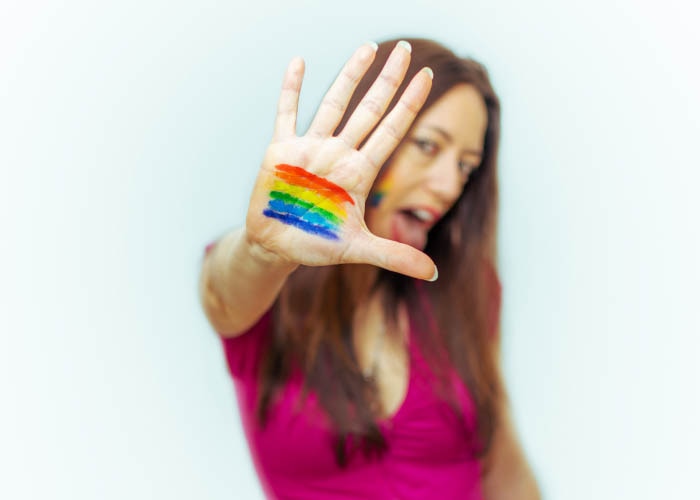 Here Are Top Five Best Lesbian Love Songs
Baum | "Hot Water"
"You look so nice
Can I kiss you?
Smell like Secret
Teen Spirit."
Baum's "Heated Water" is an electric tribute to the joint energy and anxiety surrounding finding one's sexuality.
The strange pop-upstart opens the track, her voice supported by a pad of extravagant synths. Afterward, she concedes her freshness on the hymn: "However I've never done much…/I'm in major trouble."
Gia Woods | "Only a Girl"
"Only a girl
Knows how a girl feels
Only a girl
Can make me feel this way,"
Gia's hot presentation single isn't only the artist's very own coming-out letter in pop structure. It's likewise a gradually moving salute to ladies who love different ladies all over the place. The lesbian pop artist sings over a distraction of trap thumps and electronica. "Everything is new to me, I like what you do to me."
Ames | "Flowers for Anna"
"I've always been the weirdo
With flowers in my hands for Anna
Her little brother who liked me
I'd pretend he was her"
Independent artist lyricist Ames' smooth "Blossoms for Anna" is a terrible and generally very relatable record of youthful, blooming eccentric longing almost smothered by the mistreatment of cultural assumptions.
Rina Sawayama | "Cherry"
London pop phenom Rina Sawayama's perky "Cherry" is all splendid, bubbly eighties-period fly on a superficial level. However, underneath the reflexive sheen is a hazardous skillet/sexually unbiased arousing song of praise for ladies simply finding their sentiments:
"Down the subway, you looked my way
With your girl gaze, with your girl gaze
That was the day everything changed
Couldn't stay the same"
Asiahn | "Like You"
Asiahn is exotic and smooth on "Like You," a mixed late-night R&B jam that handles a girl's prospering affections for a puzzling darling she meets in the club - even though she's as of now "got a girl" back at home.
"But then there's you, looking like you do
Giving all the vibes, the ones that I'm into
You know I got a girl, and I can't get with you
Maybe another lifetime, this just ain't the right time."
Songs About Girls Loving Girls That Everyone's Know
King Princess | "Pussy Is God"
Brooklyn-reproduced King Princess is brilliantly sincere on "Pussy Is God," a superbly rebellious lesbian love melody that serves as a supplication to her sweetheart. The genderqueer artist praises her heavenly same-sex sentiment over a startling synth-pop soundscape, her NSFW songs accentuated by an astounding bassline.
Kelala | "Truth or Dare"
"Truth or Dare" can surely be perused as a rumination on strange yearning and sexual strain. Over a shaking plane of skittering new wave beats, Kelela's song is about the sensitive dance between two would-be, could-be sweethearts, developing more certain and decided with each sexy section.
Beatrice Eli | "Girls"
Swedish alt-pop star Beatrice can't quit contemplating young ladies on this humming electro-pop banger.
"I've seen this girl on the tv
See this girl in the mall
I see pictures in my head
Of my head between their legs."
Eli sings on the unruly, vigorous theme. At the same time, somewhere else on the track, she relates the way her sixth-grade educator's long, dim hair "It always works getting me aroused."
Kehlani | "Honey"
Kehlani likes her young ladies actually like she enjoys her nectar: sweet. The R&B-pop artist serenades her sweetheart on this marvelous, light-as-air ditty.
"Every one of the lovely girls on the planet
But I'm in this space with you,"
Kehlani sings her smoky voice drifting over a shimmering bed of acoustic guitar harmonies.
Alyson Stoner | "Fool"
If you like going for long strolls on the seashore with your better half, consider Alyson Stoner's blustery bop, your new summer love song of devotion. The peppy tune's cheerful music video, which discovers the artist entertainer kissing her femme darling as the Malibu waves crash around them, gives the generally sweet melody an additional sensation of closeness.
Keeana Kee | "You're Real"
Latvian pop star Keeana Kee portrays this boiling single as an "enthusiastic lesbian love (and desire) story," and she's not lying. "You're Real" is unadulterated enthusiasm, from the hypnotizing Latin-affected creation to Keeana's genuine decrees to her smash:
"You're the last thing I wanna lose
You're the thought I wake up to."
L Devine | "Little Girl"
In "Girl," English artist L Devine communicates her heartfelt dedication by addressing her darling's mom, who doesn't exactly acknowledge her girl's sexuality. Set over a fantastic synth-pop soundscape, it's a delicate, sympathetic love tune that catches the perplexing difficulties that accompany exploring the unaccepting group of one's accomplice. It's passionate and cheerful at the same time.
Tipsy Fae | "Her"
Eccentric artist Dizzy Fae opens up about the first occasion when she encountered succumbing to another lady on "Her," a woozy, exotic cut of alt-R&B that investigates the unavoidable weakness that accompanies experiencing passionate feelings for. Bleary-eyed's vacillating vibrato is charming as she sings about finding the extensiveness of her blooming sexuality.
Studio Killers | "Jenny"
Studio Killers' Cherry needs to "ruin" her fellowship with the nominal "Jenny" on this muggy Europop-meets-EDM undertaking. Over a summery Mediterranean depression, the frontwoman concedes her not-so-dispassionate sentiments towards her best bud, proclaiming:
"I wanna ruin our friendship
We should be lovers instead
I don't know how to say this
'Cause, you're really my dearest friend."
The Girl In Red | "I Wanna Be Your Girlfriend"
Norwegian room pop performer Girl in Red, a.k.a. Marie Ulven, weaves a clashing confession booth about high school eccentric sentiment on this fluffy non-mainstream rock tune about solitary love. " I don't wanna be your friend, I wanna kiss your lips," Marie's Ulven song is about a girl named Hannah on the throbbing breaky ensemble, which seems like it was torn straight out the pages of her journal.
Tegan and Sara | "Closer"
Twin sister pair Tegan and Sara, both straightforwardly gay, revel in getting "closer" with their individual darlings on this elevating, rambunctious electro song of devotion. It's a glittery dance floor banger that praises love in the entirety of its bright cycles.
"All you think of lately is getting underneath me
All I dream of lately is how to get you underneath me"
Mary Lambert | "I'd Be Your Wife"
Mary Lambert is beguiling and captivated by this sweet non-mainstream pop tune.
"It started with a feeling, then you had me dreaming
Now you never leave my side
So can you give us a try?
'Cause I'd be your wife," she coos genuinely over a whirlwind of acoustic guitar harmonies and a shimmering song.
Songs About Forbidden Love And Their Heroes
Lucy Whittaker | "Inquisitive"
A pounding thump and skittering synths equal the fretful shuddering of Lucy Whittaker's heart on this electro-pop bop about frantically needing to take away a kid's better half from him. The London-put-together artist's glasslike vocals detonate concerning the lavish theme, which catches the exciting surge of succumbing to somebody and being interested in your sexuality.
Janelle Monáe | "Cause Me To feel"
Self-announced "free-ass mother lover" Janelle Monáe, who openly recognized as pansexual in 2018, conveyed a moment song of devotion for bi/dish ladies wherever when she delivered the music video for "Cause Me To feel," which included the pop star creeping between ladies' legs and crushing on both a man and woman love interest (the last being Tessa Thompson) under pointed sexually unbiased lighting. It was an amazing message of fortitude for any individual who's always felt themselves unfit to contain the smoothness of their sexual fascination, with Monáe not too far off with them, singing her heart out over a delectably flimsy thump:
"Is that okay? Okay
Tonight is me and you alone
Won't take a call, won't even write a song
This'll be a personal private…"
Zolita | "Like Heaven"
Arising alt-pop artist Zolita, who transparently recognizes as a lesbian, is unquenchable on this dim, synth-soaked tune about erotic nature, yearning, and accepting one's actual longings, the judgment of others be doomed:
"The weight of their eyes can't bring us down
Can't stop staring when we're around
Kiss on the subway we're heading to my place
And I've been waiting all day now your skirt be on my face."
Emily Burns and Olivia Nelson | "Vanilla Sundae"
English vocalist lyricist Emily Burns' "Vanilla Sundae" is an equivalent sex people pop two-part harmony that discovers Burns and R&B artist Olivia Nelson exchanging sections and blending about an interminable languid Sunday spent together.
"I just need one more vanilla sundae with you
When we got nothing to do but watch the day go by
So tell me, did you want one more vanilla sundae with me?
Then we can call it history
If that's what you really want."
The two warble pleasantly on the track, which feels more like a warm, hot cinnamon bun than its nominal crisp sweet.
Hayley Kiyoko | "Young ladies Like Girls"
Hayley Kiyoko pines over another girl on this emotive synth-pop song of praise about strange love. While going with a music video is a balance of sad and artistic, Kiyoko's verses normalizing same-sex sentiment are strong amazing:
"Girls like girls like boys do
Nothing new"
Beth Ditto | "Love in Real Life"
Eccentric music symbol Beth Ditto sings about unqualified, straightforward love on this broad, synth-helped Southern stone tune off her collection Fake Sugar.
"Nothing ever is perfect
There's the good and the bad
Though it's never on purpose
Sometimes I make you sad,"
She chatters, celebrating both the good and bad times that accompany being seeing someone.
Halsey ft. Lauren Jauregui | "Outsiders"
Halsey's first melody to utilize expressly female subject pronouns, "Outsiders," track down the sad wellspring realm artist and Lauren Jauregui, two of pop's straightforwardly sexually open stars, exchanging refrains over a rich soundscape of throbbing '80s new wave beats. Padded inside the whirling synths, the two ladies sing of the anguish, disappointment, and desire erupting from an apparently destined relationship.
Melissa Etheridge | "Come To My Window"
The music symbol's first single delivered after coming out as a lesbian in 1993, for quite a long time, "Come To My Window" has been legitimately perceived as a strange song of devotion.
"I would dial the numbers
Just to listen to your breath
And I would stand inside my hell
And hold the hand of death
You don't know how far I'd go
To ease this precious ache
And you don't know how much I'd give
Or how much I can take"
Melissa Etheridge belts on the stone exemplary's scaffold, effectively dismissing any individual who doesn't perceive her relationship with her sweetheart as legitimate.
Whatever your mental status is, it doesn't matter how deep your fears are, to reveal yourself, love, and don't bind yourself to the rules you don't want to accept. Just be yourself, stay happy, and listen to those cool lesbian love songs that can warm your heart.