How to Get Rid of a Hickey
Hickeys are bruises gotten from a soft bite; it happens when tiny blood vessels under our skin burst. It is harmless, and many people enjoy getting or giving one. The bruises are easy to treat, and home remedies or essential oils are all you need. You can always cover them with scarves, collars, or make-up. Hickey can disappear within a few days, and this can be done using these treatments
Peppermint oil: this essential oil is effective for bruises. But can also cause skin irritation. To apply, you have to combine peppermint oil with a carrier oil. Use a tiny cup and add 1 or 2 drops of peppermint oil and 15 drops of carrier oil (almond or jojoba oil), mix well. Apply the mixture gently on the bruised spot; the carrier oil would help against skin irritation.
Cocoa butter: cocoa butter is used for almost every skin reaction, and it is helpful with a hickey. Apply the thick cream gently on the surface of the bruises; avoid using pressure to cut off any extra bruises.
Pineapple: Yes! The regular sweet fruit contains a type of enzyme known as Bromelain. Bromelain helps reduce soreness and pain when applied to the skin. It also helps cut on swelling and skin inflammation. To use, cut a piece of pineapple and rub it on the affected area. You should use it three to four times daily. Pineapple can also cause skin irritation, so be careful when using it on your skin.
Vitamin K Cream: vitamin k is essential to the skin, and it is helpful to treat Hickey. It can be found in food such as soybeans, poultry, and leafy greens. Apply the cream gently on the spot twice a day for better effect.
Banana peel: banana peel contains many vitamins and nutrients that are good for the skin, and it is effective against Hickey. To apply, take a slice of fresh peel and place it on the spot until the peel turns brown or wait for 30 minutes.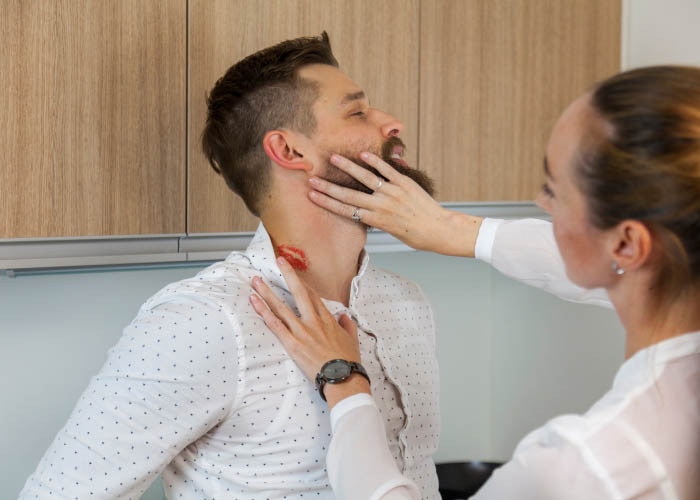 Best Treatment for a Hickey
Hickeys are signs of good love and pleasure, but nobody wants to see how much love you got last night at work or in the library. You can cover up the Hickey, but the treatment would be much appreciated, and to do this, you can try these treatments today
The cold spoon trick: the best way to heal a love bite is to quickly clear the burst red blood cells under the skin as soon as possible. Experts have recommended a cold object to treat bruises, and they have been effective for ages. Put a spoon in the fridge for an hour, then apply it gently on the affected spot.
Toothpaste: toothpaste contains an anti-inflammatory ingredient known as Triclosan, and they help in calming the skin. But most toothpaste no longer contains Triclosan, so confirm before you apply.
Massage: massaging the spot immediately the Hickey is building up is an excellent way to clear the red blood cells under the skin. You can massage with essential oil, coins, and your hands.
Natural Ways to Treat Hickey
Hickey can be embarrassing in office and school. Some people might think you got hit by your boyfriend and start saying awkward things. Here are some biological ways to deal with Hickeys
Aloe Vera gel: aloe vera gel help reduce the sensitivity of the skin. If you have the plant, you can squeeze out some pulp, then apply it to the affected area. Gently rub it on your skin and let it sit for 10 minutes.
Hot towel: using a hot towel is super helpful, especially when the Hickey is 3-4 days old. Put a towel in hot water and used it to press the hickey spot for 4 to 5 minutes, gently; repeat the process for 2 to 3 days.
Some Vitamin C: vitamin c is good for our body, and it helps build our skin. There are vitamin c enriched creams and supplements that can be used to treat Hickey.
Use of banana peels: as mentioned earlier, banana contains nutrients that are essential to our skin. Apply a banana peel to the affected area can solve the problem.
Pineapple: pineapple contains some vital nutrients for the skin, and you can apply it on your skin for a couple of minutes, beware, as it can cause skin irritation.
How to Get Rid of Hickey Immediately?
If you have an interview or an important meeting in the morning, the last thing you want anybody to see is love bites which are proof of how flirty you were last night. Getting rid of a hickey can be challenging, but here are a few ways that work almost immediately:
Ice packs: applying cold stuff on the Hickey tend to make it heal faster. This is because after the burst of the blood vessels under your skin, the blood is still circulating under the spot, and when you apply an ice pack or a cold spoon on it, they start circulating, and the vessel heals up. Apply for 10 to 15 minutes after it occurs.
Toothbrush: using of toothbrush to gently brush the hickey spot is commonly used, but it has not been medically approved. All you have to do is take a new toothbrush and gently rub it on the surface of the Hickey immediately it occurs.
Massage: massaging the Hickey's spot is one the fastest way to heal it. For more immediate results, immediately your partner finishes sucking your neck, you can start stroking it. Massage gently for about 10 minutes.
How to Quickly Hide Hickeys?
Hickeys are bragging rights to your close friends, but not your boss or client. If you are in a hurry and can't wait for 2 to 3 days for the Hickey to heal, here are a few tricks to cover it up
Make-up: it doesn't matter if you are a guy or a girl; you aim to cover the Hickey as quickly as possible, so you don't get queried by your boss. With a simple trick of finding your correct skin tone, you can hide it with make-up. The green-tinted concealer is perfect for this as it negates the red tones of skin.
Bandages: honestly, you should cover it up with a bandage, so people will feel like you got an injury instead of looking at you like you just made love in the toilet.
Scarf or turtle neck: this is one quick way to cover it up when you are out of time. Cover it smartly with your scarf, and don't forget while you have the scarf on in the first place.
Best Home Treatment for Hickeys
Home remedies have always found a way to help us better taking mediation or visiting the hospital, and hickeys are not out of the picture. Home remedies are easy to use, and they can quickly solve a hickey. Here are a few home remedies for hickeys
Arnica: This herb can be found in Canada, Europe, East Asia, and the United States. It is commonly used as a remedy for swelling and bruising. You can buy the Arnica ointment if you can't get the plant. The percentage of arnica should be above 18 for it to work well on the Hickey. Gently massage the Hickey's spot with Arnica ointment for 2 to 3 minutes, apply a day thrice three days for maximum result.
Comfrey: Comfrey is a herb known very well to native European and can also be found in the U.S. The leaves and roots of comfrey are effective against bruises, inflammations, strains, and arthritis. Comfrey is available in oil, gel, and cream form. Applying regularly on a hickey would heal it within three days.
Banana peels: applying a fresh banana peel on hickeys and leaving it for 10 to 15 minutes or turning green is effective.
Ice pack: gentle massage of the Hickey's spot with the cold item is effective and works pretty fast.
Peppermint oil: peppermint oil with a carrier oil like almond oil is effective against skin bruises. And they can quickly heal a hickey within three days if applied regularly.
How to Get Rid of Hickeys on the Lips
Lips Hickey does exist, but they are scarce. It happens due to sucking on the lip for too long. Hickeys occur quickly on the neck, breast, and thighs because of the skin textures in those places. The lips hickey is more of swelling than bruises, but it is also easier to treat. A few ways to get rid of Hickey on the lips include:
Lips Balm: lip hickey can be caused by biting or sucking, and the lips are very soft, so using a product with skin irritation is a bad idea. Use a lip balm on your lips and let them rest for a while.
Toothpaste: toothpaste was designed for our mouth, and it is effective as a cooling agent. Apply some on the lips for 2 to 3 minutes, then rinse.
Ice packs: cool it down with a packet of ice or a cold spoon. Apply gently on the lips for 2 to 4 minutes.
Hot towel: melt it down with enough heat. The towel shouldn't be too hot that it burns your lips. It should be hot above room temperature.
What's the Best Way to Treat a Hickey?
Treatment is subjective since everybody has a different skin tone and texture. You can hardly see a hickey on a black person. But some methods seem to surpass another kind of treatment for hickeys, and they include:
Vitamin C and K: Vitamin c and k are nutrients that are essential to the skin. They help in building the skin and treating blood clots. You can find them in food like soybeans, orange, pork, leafy greens. The creams can be bought online and are affordable.
Cocoa butter: This butter helps heal a lot, including scars, stretch marks, wrinkles, and bruises. Applying it constantly on your skin would make you glow.
Cold and hot towel: Using hot or cold temperature effectively against bruises, swelling, and pain. Massage gently with a cold or hot towel to reduce the bruise mark.
Can Hickeys Heal without Treatments?
Yes! It would take a hickey 10 to 14 days to fade away without any treatment. Your body will heal itself by breaking the blood clots under the skin and reabsorbing them. As time passes, it becomes darker and smaller, and soon it starts changing color until it fades away.