A Good First Message to Send on an Online Dating Site
Knowing the best things to say to prospective partners we meet on online dating sites is undoubtedly the most convenient method of securing more days and more dating action with like-minded people. In today's world where online dating is more popular than ever with men and women spanning all age ranges, it's never been as important to know the best things to say on an online dating site, the best first message to send to singles and the best way to curate you're dating profile in a way that shows you in your best light.
Men and women from all corners of the world now visit online dating sites every single day, searching for like-minded people to show them what passion really is. Thousands of long-lasting relationships begin online; isn't it time you upped your game and began yours?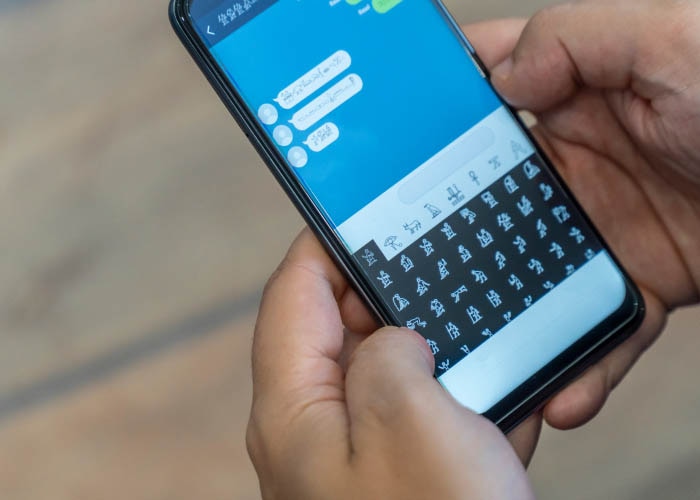 Perfect First Message: The Best Online Dating Examples
Depending on the type of dating experience you're seeking on your preferred dating platform will alter the approach you need to have when sending your first message to singles online. For example, if you're searching for a flash in the pan romance or passion-fueled one-night stands, then your introduction needs to be much shorter than if you're on an online dating site where longevity is the focal point.
"Hey there, after looking at your dating profile, I think you're a very interesting person who I'd love to get to know further! I'm new to online dating, and I'm searching for a long-term relationship, hopefully, but I'm open to ideas. I also find walks in the country relaxing; it's one of my favorite things to do! Maybe we could try sometime? I'm 27, straight and have no children. How about you?"

"Hello, I'm Emma. I'm looking for a serious relationship! I'm recently single, love sport, running and evening cycle rides. I see you're into sport too! Do you like soccer? My favorite team is LA Galaxy! What about you? I love to cook but rarely have a chance, although I'm free this weekend."
What Makes these Examples Special?
Example 1
See, this message has everything necessary to create a further conversation and makes a perspective date feel valued and important. The questions included give me plenty of room to reply, they aren't too forward, but they are strong enough to divulge information. The message isn't too long and can be read quickly, easily and contains no spelling errors. Overall, it's easy to see the features we have in common, making for a stress-free dating experience online.
Example 2
Here is another great example of a perfect introductory opening message for online dating. This message is shorter than the previous but still contains enough qualifiable information to enable a further conversation. With many possible avenues for a response, it's easy to see why this message got me to reply.
How You Can Create Your Own Perfect Message
Creating your own perfect introductory message can be completed in under a couple of minutes. It shouldn't require too much effort. Allowing your natural creativity to shine through, taking the lead directing the chat anyway you desire is a quick trip to dating success. But, if you're unsure of what to do, we've got some great online dating messaging tips you can use immediately.
Online Dating Messages Tips
Despite your level of online dating experience, we can all brush up on some new tips and tricks to improve our dating game! Here are some of the best tips for sending messages to new partners on online dating sites:
Be Direct - Don't waffle one sending that first message; instead, be concise and straight to the point.

Stand Out from The Crowd - Standing out in a sea of singles is essential if you're wanting to succeed when trying your hand at online dating. Thinking outside the box asking personal questions is a fantastic way to make someone think twice about you.

Suggest a Date - After chatting for a while, it's best to suggest meeting for a date quickly, so you're not placed in the friend zone. Ensure video chats take place before you secure your safety at all times.

Comment on Their Profile Information - These days, online dating profiles contain a wealth of information that we can use positively. Endeavor to read over the dating profile of your dating interest to gauge an insight into who they are before you chat. Then, you can use the information to your advantage when you comment on the information in a private
The Art of Perfect Execution When Sending the First Message
Quality > Quantity
Unsurprisingly, most people attempt to some more and golf hot singles with a wealth of information in their introductory message, rather than being concise and straight to the point. On online dating sites, boxes of singles are usually very full, so people quickly grow tired of seeing pages of texts before then; instead, they prefer to see short snappy introductory messages full of informative content. When you're sending your first message online, remember short and sweet is the way to go!
Include Some Well-Thought-Out Personal Questions
Before getting in touch online with a prospective partner, you must first check out the dating profile and read the information they've included. Then, you can use their information to tailor the questions you're going to ask them in your introductory message. Women especially love men who take the time to read their profiles rather than just jumping in and sending a flirty message.
Within your first message to someone new, include some interesting personal questions to answer in their next message. Aside from giving them plenty of things to respond to, they gain insight into your personality is showing that you're not self-centered and you're willing to learn about other people, also it's making you a more attractive potential date.
Final Grammar Checking Your Content
Once you've completed your opening message, use a site like gramley.com or ask somebody close to you to check your message for any grammatical errors or spelling mistakes. Weaning out any mistakes makes you look more intelligent to your date; the chances that they will want to get to know you further will increase drastically. There's nothing worse than somebody expressing their interest in a paragraph laden with spelling mistakes.
Best First Message Content for Eternal Dating Success
If you're struggling with ideas on the content you should include in your first message, here are some great advice from the experts.
What to Include in Your First Message?
Within your first message to someone new, include information that shows you read their dating profile and that you're compatible with them. If they say they like bowling, let them know you do too, as common interests are what makes a relationship develop!
Including your name is not essential but is recommended, followed by great questions that provide avenues for replies. While the first message you sent to everyone will be different, the information found in their profiles usually gives you plenty of room to maneuver and conjure up a great first message.
The Things You Must Avoid When Online Dating
Being too "full-on" - People trying to escalate your relationship online to the next level too soon or receiving quick declarations of love from singles is a huge warning sign. Real people with good intentions don't move so fast!

Meeting People Without Video Chatting First - Always ensure you've enjoyed multiple video conversations with a prospective partner before meeting face-to-face. It enables you to verify that they are who they claim to be, their profiles match their face, and you're in much less danger.

Sending Money - There have been cases of huge financial loss occurring on online dating sites through romance scams. Romance scams are highly dangerous and pose a huge threat to anyone using an online dating site, especially when conversing with people from abroad. There have been thousands of cases of people posing as someone else, lying about illnesses or all manner of other life events to extract money from an unsuspecting party. Never send any money to anybody online!

Revealing Personal Information - Never reveal anything personal to anyone you meet online until your fully comfortable. Scammers often pose as real people to entice unknowing users to reveal personal information later used for identity fraud or financial theft. Always have your wits about you and your cards close to your chest when chatting with anyone online
After reading this article, you now have all the information you need to create the perfect first message, to send to anyone if you're interested in dating online. Why not share this content with your friends struggling with their online dating successes?