The Sweetest Things To Tell Your Crush To Capture His Heart
When a guy captures your attention and eventually your heart, you would need to find cute things to say to your crush. You will never be happy if you will not try to catch his affection as well, so do well and find ways to make him see you as a woman.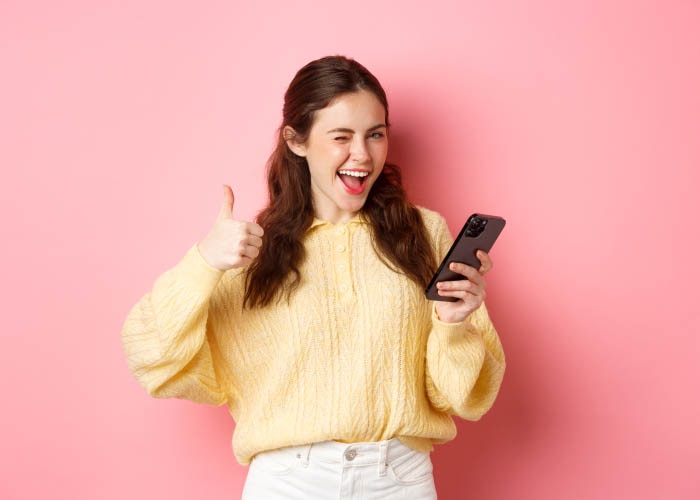 Cute Things To Send To Your Crush Through Text Or Chat
Looking for cute things to tell your crush to let him know you care for him? Look no more. We have everything you need here in this blog.
Sweet Things To Say To Your Crush To Catch His Attention
Let us look at a couple of sweet things to tell your crush when you are texting him, or when you are talking to him in real life.
Happy birthday! If I can fulfill one wish for you today, what will it be?
Wow, how can it be? I just woke up and you're the first one I think about!
Let me know if you have not fallen for me yet. I will walk past you again.
What do I have to do to get on your favorite people list?
Hey, I'm sorry I missed your call. I was just in the shower.
I think you're very tired now, are you? You've been running through my head all day.
Can you please stay out of my mind? I'm trying to sleep here.
What To Say To Your Crush To Keep Him Interested
There are so many nice things to say to your crush to make him notice you. But the best things can only come from the depths of your heart.
You know, I saw you smile the other day and I thought I saw a rainbow behind you.
Silly me, but I had a wicked dream of you last night. Believe me, it was not innocent at all!
I was just telling my friends about the most handsome, kind, and funny guy I know. Guess who? It's you.
There is something about your eyes that make me feel like I'm the prettiest girl in the world.
You have the power to haunt my dreams, tickle my senses, and make me swoon with happiness.
If you have time, come over to my house. I have pizza and beer just for you.
You are absolutely amazing! I wish I could get to know you more.
Super Cute Messages For Your Crush To Intensify His Interest
In order to create interest in your crush for you, compose cute things to tell your crush over text. Never be afraid of your own own feelings. Rather, face the reality and be bold enough to let him know how you feel.
Cute Quotes To Say To Your Crush To Keep Him Thinking Of You
For something cute to say to your crush, dig deeper in your heart to find the cutest words. Let him know you think about him often and how his presence make you feel.
You are rubbing your goodness in me and I love it.
Thanks to you, I want to be a better version of myself.
So far, you are my most favorite person in the whole world.
Why whole universe is filled with you.
You are the colorful rainbow in my gloomy days.
Romantic Things To Say To Your Crush To Convey Love Messages
You will never lack of the romantic things to say to ur crush as long as you feel love in your heart. Loving someone comes with risks, and you must be brave enough to face the consequences of your feelings. In you own way, convey to him what your emotions are through sending him text messages that speak of your heart's desires.
If you hang out with me tonight, I will make sure you have superior time!
I'm quite bored, just lying in bed. Care to join me?
If you and me are together right now, what do you think would we be up to?
Whenever I close my eyes, I long for the sweetness of your voice.
I don't know why, but I cannot stop smiling whenever you are around.
The Cute Things To Say To Your Crush In A Text Message
Texting is a form of communication that is probably never going to grow old. And so it is crucial to know exactly how to play your cards in texts when you are having a conversation with your crush. Have the presence of mind to say the right things, but not too formal as to scare him away. Choose sweet and cheesy phrases that make him feel giddy and nice.
Sweet And Cheesy Things To Say To Your Crush Through Text
Looking for cute things to say to ur crush that will make him smile? Choose among the cheesy things to say below and start making your special someone smile.
Hey! You were just thinking about me, right? I bit my tongue!
Spare me some of your energy later, okay? Don't use them all on work.
When you stole my heart, I watched you leave with it with a smile.
I don't think I can feel for others what I feel for you.
With just your presence, you make my world go wild.
Since the day I met you, you became the torch in my dark days.
My goal in life is to care for you and always be there whenever you need someone.
I am thinking about you right now. How about you? Are you thinking of me too?
How is it possible that I go crushing on you more every day?
Something Nice To Say To Your Crush To Boost His Manly Ego
You man has an ego, just like any other men in the world. Make it a point to find something sweet to say to your crush that will make him feel good about himself. Choose your words carefully, and never lie about his features. Instead, accentuate his good sides and make him feel special.
Your mere presence lifts a huge load in my heart and now I am free to love.
I miss you. I wish I can see your bright smile again tomorrow.
Your hand is strong, just like your spirit. You are extremely reliable.
No matter what I do, your handsome face always finds its way into my dreams.
If only I could sleep in your arms, I would surely know what heaven feels like.
Cute Things To Say To Your Crush Over Text That Lead To Love
Create a list of good things to say to crush over texts. But make sure that the stuffs you say clearly conveys your intention to have a romantic bond with him. Of course, you cannot be too forward. But a subtle move would not hurt either. So go girl. Get your man.
Cute Stuff To Say To Your Crush To Keep Conversation Going
It is sometimes hard to keep a conversation going especially if you are talking to someone who occupies your heart. But try to go on, so you will not end up having regrets later on. The worst thing that could happen is to have a dried up convo. When that happens, it would be extremely hard to bounce back. So keep up, no matter what.
If you can turn yourself into anyone n the world, who would that be?.
Whenever I listen to my favorite music, I always think of your sweet smile.
Every day I get to spend with you is perfect.
Male celebrities are no doubt handsome. But why can;t they compare to you?
Something To Tell Your Crush To Eventually Yield True Love
When you communicate with your crush, it is always in order to have some hope of romance. So make sure that you send him messages that will help him think of you as someone he could date, and not just be a friend.
There is nothing I would not sacrifice or do for your happiness
The way you make me feel special is something that I will cherish forever.
No one is sadder than me when you feel down.
I could always drown in your tantalizing eyes and never want to emerge from your depth.
Crushing on someone is the first step in finding a serious relationship. Whether you like online dating or the traditional way of meeting new people, it is best to always know what to say to a person you like most. Good thing is at TenderMeets, you have thousands of options for single men and women to be friends with. If you are not so confident in talking to your crush through texts, then you can practice chatting with site members until you gain the confidence to say what you want to say to the person you like. Plus, it is free to register at this online dating site. So join now.