Lesbian Advice: First Dates, Tips and More
Going on a first date is a nervous experience, especially if you have just recently discovered you are attracted to women. Questions such as what to wear, how can I get her to like me and what if we kiss all come running at you. But don't worry, with this article we got you covered. We are here to help you overcome those nerves and have a successful first lesbian date.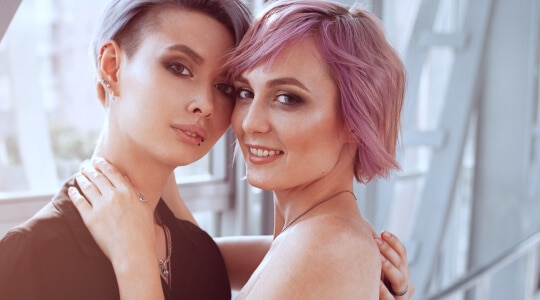 How to Get a Lesbian to Like You
Dating a girl comes with a whole new set of questions, especially if it is your first time dating a lesbian. There is the question of is she really into you, or does she just want to be friends? But like in all aspects of dating, there are certain things you can do to help your chances of having a successful date.
Be Confident. Having confidence may sound a bit cliché, but that is because it is true. Don't confuse confidence with cockiness or flashiness. Confidence is visible and is attractive.
Be Subtle. Showing an interest or letting her know you are attracted to her are not bad things. But how you might deliver them can be. Don't throw yourself at someone, be subtle, take your time and leave a little out.
Make her Laugh. Making a girl laugh is always a good thing to do. This doesn't mean you have to work on your stand-up comedy, but showing you have a sense of humor or being showing some social awkwardness will work.
Be Yourself. You shouldn't have to change who you are for anybody. If being yourself is not good enough, then she isn't right for you.
What to do on a First Date with a Girl
The simple answer to this question is this: Something you feel comfortable doing that gives you the chance to get to know her while also having a good time. This will be different for each person. But you didn't come here for simple answers. So, here is a list of Do's for your first date with a lesbian girl.
Lower your expectations and take pressure off yourself. Going on a first date can lead to a lot of pressure and potentially self-doubt. Let all that go. A date is only spending time with a stranger to figure out if it is worth meeting again.
Talk on the date. If you have met this person on a dating app then it is best to keep your answers short. This can then give you more to talk about on your date and it is a better way to get to know the girl you are meeting.
Pick the right place. The right place has to be somewhere you can talk one-on-one and has parameters. Going for coffee or a drink works for a reason: if it goes well, you order another round and if it goes bad, finishing the first one is a good conclusion to the conversation.
The conversation is allowed to get a little awkward. Remember, you are meeting a stranger or maybe someone you have known for a while but in a strange situation (a date rather than work for example). This means conversation might get a little awkward sometimes, and that's okay. Laugh it off and carry on.
Be yourself. This point is pretty self-explanatory, but don't go out of your comfort zone to try and impress someone.
Trust your feelings. If you don't feel something is right, there is no shame in acting on those feelings. And the same applies if you feel it went well, text her to say you had a good time and see what happens next.
Questions to Ask a Lesbian You Like
Every person, regardless of their sexuality, is different, so there are not set questions you can ask in order to get to know them. However, you will benefit from choosing questions that show you are interested in getting to know them. Here is a small list of stuff you can ask her about:
Family
Hobbies
Tastes in music/film
If they have done or want to do any travelling
Avoid asking questions about past relationships!
Mistakes to Avoid on Your First Date
The do's on a first date are important. But just as important are the don'ts. If you want a successful date, these are some key mistakes you need to avoid:
Oversharing. Telling someone you are meeting for the first time about your whole relationship past is oversharing.
Answering your cell phone. Unless it is an emergency, ignore your cell phone.
Talk about Ex's. Enough said.
Getting Drunk. A bit of liquid courage can take the edge off the awkwardness of a first date but know your limits or run the risk of making a fool of yourself.
Taking her where your friends are. You want a place where it can be just you two. Not you two and all your friends.
Maudlin. Keep the conversation lighthearted. There will be time for serious conversations if things go well.
Planning too long of a date. Keep it short and simple, and with a getaway option if things aren't going well.
High expectations. As we said before, avoiding putting pressure on yourself with high expectations
Playing games. Just no!
Being rude. Again, Just no!
Conclusion
While first dates are nerve wrecking, it is the same for everyone. Avoid putting pressure on yourself with high expectations and be yourself. Those are the two main things you should take away from this article if nothing else. That being said, applying what you have learnt from reading this will definitely help you have a successful first date.