How to tell if a woman is flirting with another woman
Most women are very sociable people. They are likely to have a wide friendship circle, with varying groups of acquaintances, female and male, depending on the activities they are enjoying at the time. It's not uncommon for girls to flirt with their friends. This could cover everything from admiring how a new outfit accentuates their curves, to getting tactile and kissing after a few drinks. Does this mean they have suddenly developed lesbian tendencies? Not at all. Women are far more likely to contemplate a bit of fun with another female than guys in a similar position. If they happen to be single, then the likelihood of this sort of behavior increases significantly. Every friendship group will have stories to share, describing good nights out that ended with individuals behaving outrageously. There is never any reason for those concerned to feel guilty because they flirted openly with a friend rather than a guy. Sexual tension can be fluid, dependent on the person, not their gender.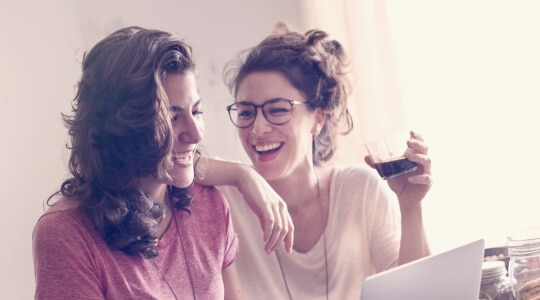 What are the key lesbian flirting signals?
When a single girl is up for a new relationship, you'll be able to tell she's aspiring to a great life. Many lesbians are known to embrace a passionate outlook, so rather than appear like a shrinking violet, she'll be investing in the latest trendy clothes and heading off to the local singles bar to get acquainted with someone who'll show her a good time. You can spot amiable lesbian couples the moment you stroll into your local bar, they'll be gazing into each other's eyes and chatting about anything and everything, all the while toying with their hair or fiddling with bracelets. They could be discussing their future lesbian marriage prospects, or what they intend on getting up to that night. When lesbians get talking, absolutely nothing can be considered out of bounds. The only time they're liable to take a break is when the time comes to replenish their cocktail glasses! If you want to get in on this flirting action, all you have to do is be friendly, humorous, and self-effacing.
Signs a woman is interested in another woman
A woman who is keen on lesbian action with someone won't exactly hold back about making her intentions known. When the situation is occurring in an online environment, she will get onto the messaging service and send a series of intimate communications that will make the recipient blush with passion. Even females who seem to be in a contented straight relationship are no strangers to flirting with the lesbians they might encounter, either at their local wine bar or while they are browsing through the personals on a dating site. The virtual environment is the perfect place to embrace the lesbian community, with many women setting up websites or blogs for all sorts of topics. This is where they can describe the type of a person they are eager to connect with. If you are curious about finding out if you have any potential matches on a dating site, all you have to do is check out the personal profiles, keeping an eye out for lesbians waxing lyrical about their ideal relationship. Once you come across someone who appears to fit the bill as far as your passion is concerned, all you have to do is take advantage of the secure communication channel and send a series of intimate messages. You will be surprised how immediately receptive another lesbian single can be.
Ways to tell if a woman is flirting with another woman
There are many obvious signs a woman is flirting with another woman. The body language will be a dead giveaway. When someone is uninhibitedly running her long fingernails through her partner's hair, gently caressing her knee beneath the table while they chat, and laughing uproariously at everything being said during their private conversation, you can be sure there's a lot of shameless flirting going on. If you feel like getting into something like-minded, all you have to do is think about what you'd like to do to your girlfriend when you're alone together, then let the love flow! It can be uplifting making connections and flirting with another woman when you've both reached a point in your relationship when you feel totally at ease in each other's company.
How to react if a femme is really into you
Lesbians are always receptive to taking dating tips on board. If they are relatively new to flirting, especially in the online environment, they might be apprehensive about what to do when a femme is giving an indication she is eager to make contact. What you need to do immediately is ditch any sense of doubt or apprehension you might be feeling. Life is short, and when it comes to relationships, you might as well grab your love life by the horns. Chances like this are not going to come your way all the time, and if you hesitate when a femme seems to be into you, she could well lose patience and move on to someone else. So if you're a single woman and you're into that gorgeous and seductive feminine lesbian who keeps flashing alluring looks, simply give in to temptation and reciprocate. It's highly unlikely you are going to regret taking the plunge. You might even be on the right course to discover love.
Conclusion
The most important thing to remember when you are in the early stages of forming a lesbian relationship is to relax. Don't overthink the situation you find yourself in when another female begins flashing her eyes at you in your local lesbian nightspot or sends an intimate message via your favorite website. Whether you're in the mood for something serious or casual, just go with the flow. If you meet someone on your wavelength, you're in for a tremendous time.