Everything you must know about how to seduce a straight man
By definition, gay men are attracted to other men. When the object of their desire shares their sexual inclinations, the relationship is straightforward. But what happens when their prospective partner is bisexual, or even straight? Can a gay man ever seduce a straight guy? In this article, we provide advice to guys who are interested in healthy partnerships with straight men.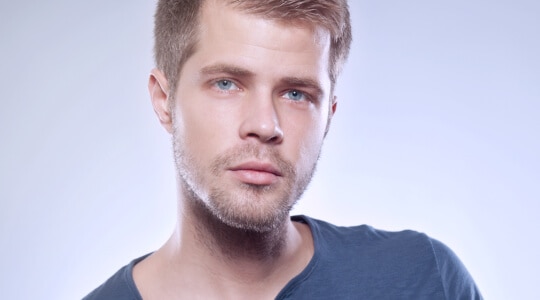 Is male bisexuality common, and are there any causes?
There seems to be a widely-held notion that bisexual men are in a minority. After all, so many aspects of life today involve declaring your sexuality. You might be applying for a marriage certificate or a civil partnership, where you need to be specific about your status, whether you're straight or gay. Bisexual men are less likely to be 'out.' In fact, according to a recent survey conducted by Stonewall, the organization championing LGBT rights, almost half of all bisexuals chose to hide their identity. This was compared to the figure for gay guys, which was a mere 7% (and 4% for lesbians.) This denial makes it hard to work out how common bisexuality is, although research carried out by Cornell University came to a startling conclusion: most men are bisexual! Their survey measured how men reacted to pornography, both male and female, by examining eye dilation. Most men responded to a variety of stimuli. Guys are less likely to fall into the broad categories of gay, straight or bi, and more likely to see sexuality as a spectrum. Many straight males admit to having had homosexual fantasies, while gay porn is routinely enjoyed by straight guys (according to YouPorn, around 25% of the time.)
Is it common for guys to want to experiment with male partners?
Viewing male sexuality as a spectrum rather than something cast in stone is crucial to providing advice to any guy seeking a great relationship with a like-minded individual. Many straight guys will instinctively deny they have anything other than straight urges, but like, and especially sexuality, are far more complicated and nuanced. The commonest type of bisexual activity is for casual connections. Straight men seeking sex with a male are not likely to enter into a long-term partnership. But they'll certainly entertain the notion of a physical encounter. At one end of the scale, this could be as innocuous as the football team stripping off for communal showers after a grueling physical encounter where they have shared in adversity and have spent the past hour bonding. They'll think nothing of getting naked, often becoming tactile. At the other end of this scale is the well-documented sexual activity in male-only environments. Prisoners or military personnel are known to indulge in gay sex, but this doesn't necessarily equate to sex between two gay individuals. It's down to necessity. Males, driven by their hormones, often reach a stage where they must have sex. If there are no available girls, then it's sometimes necessary to improvise.
Do straight guys ever fall for other men?
There is ample evidence to reveal the answer to this question is most certainly in the affirmative. In report after survey, males have admitted to having contemplated sex with someone of their gender. If anything, the numbers acknowledging attraction to those of the same sex are much higher than people identifying as gay or as bisexual. What this all goes to show is that the term 'straight' is the most misleading of all. Just because a man has feelings for men doesn't necessarily mean they are gay. Not at all. Since this is not a case of either/or, it would be far more accurate to describe them as not 100% straight. There are several reasons why straight guys fall for men. For some, it's down to curiosity, and this is especially the case for younger men who are still eager to experiment with various possibilities. The idea of getting sexual with guys might fire their imagination. Other men might be drawn to the 'forbidden' aspects of gay sexual experiences, such as anal sex or BDSM, and would be more comfortable exploring scenarios with a willing guy than a girl.
Tips for enticing a straight man into bed
Your seduction should commence with a mundane conversation. Exchange details about what excites you, whether that's a particular band, movie, or computer game. Leading on from this, you can develop this sense of excitement to take in what turns you on in the bedroom. But if you want to entice a straight guy into bed, the key point to keep in mind is honesty. The worst thing you could do would earn his confidence, turning on the charm and flirting a little, only for them to inadvertently discover your true sexuality. From the outset, let it be known you're gay, especially when you're making innuendos or brazen comments about what you enjoy when you get intimate. As well as flying your colors to the mast, you should display a sense of confidence. Straight guys react well to exuberance and alpha male behavior, so you're far more likely to get a favorable result if you show how much you're in charge. If you come across as hesitant or half-hearted in your approach, forget it.
What are the likely complications for this type of male to male relationship?
Most guys who experiment with male on male encounters are doing so because this is the ultimate expression of no-strings-attached sex. They don't want to break up a marriage and end up as someone's husband. They're not seeking a long-term partner. This is all about fun and romance but without commitments. If they do find themselves falling in love, they normally appreciate this is an emotion that will need to be tempered. Their sexual partner might have a wife and even children, and will not be looking to commit either.
Conclusion
Straight guys developing a crush on guys is age-old, mentioned in Ancient Greek literature, and common in the animal kingdom. It would be ridiculous to partition male sexuality into neat little compartments of straight, gay, bi, or other. The true situation is that males, especially straight ones, are more likely to be gender fluid.