It's important to commit to your first lesbian relationship
When you're a lesbian seeking a partner for your first meaningful sexual get-together, it would be worthwhile listening to some of the stories your friends might be exchanging on social media about their own lesbian experiences. They can always provide a lot of good advice about what to do, and what not to do when you are reaching out to a prospective girlfriend. There could be a good reason why certain relationships failed, and if you can pick these up in advance, you can avoid making the same mistakes. The initial question you need to ask yourself is what type of person are you hoping to connect with? At this stage, you aren't necessarily seeking a life partner; even so, you'll have a much better chance of launching a great partnership if you aim to make the most of even the most casual encounter.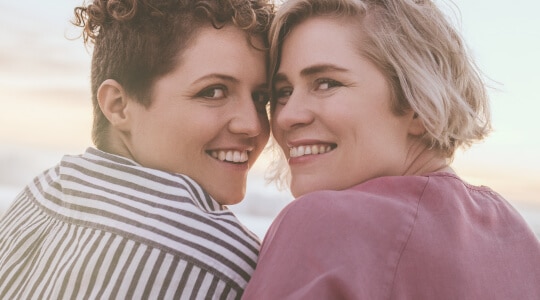 How should your lesbian relationship progress?
Are you happy to talk to a potential new partner over some time, gradually uncovering aspects of their personality while you connect? Or are you like many lesbian couples in that you are eager to get into a healthy physical relationship as quickly as possible? This can certainly be your starting point, but as your connection intensifies, you might decide to go off on a different path, particularly if you are new to a lesbian relationship and are still at the stage of experimenting. You might commence by intending to embark on something relatively low key, but within a short space of time, you find yourself wondering about the possibilities of meeting a wife who would be perfect for same-sex marriage. If the latter is the case, then you'd be entitled to take a break from simply talking about an intense connection, and going for it.
How do you find a lesbian girlfriend?
There are singles bars and nightclubs popular with lesbians. But if you would prefer a much more diverse range of partners to choose from than a few hundred punters dancing in a club, why not opt for a lesbian dating site and be faced with tens of thousands of possible partners. Most sites are free to join, and once you have provided your profile details, you can begin browsing through the personals containing the background information of the lesbian singles. This is likely to be the place where you will encounter many possible partners for you to whittle down to a shortlist of the most desirable individuals. You'll also find it incredibly easy to reach out and strike up a conversation by sending direct messages, the more intimate the better.
Reasons you would put your girlfriend off
When you are getting to know someone for the first time, there is a time and place for enthusiasm. Much as you might feel desperate to meet a particularly exciting female for fun and sex, you always need to be aware that some people prefer taking things at a more relaxing pace. So don't appear to be too keen when you are making smalltalk. Throw the odd innuendo into your conversation, but avoid coming across as overly lecherous. The early stages of this lesbian courtship should be all about making a positive impression. By all means, give in to shameless desire once your relationship has progressed to the point you know a physical encounter is exactly what you're both looking for. Until then, exercise a modicum of restraint.
How to keep a girlfriend happy
The last thing you'll want to do as you're in the early stages of a partnership is making waves. Rein in your natural excitement and exuberance, and try playing it cool, even if you are sorely tempted to do otherwise. This will have the effect of stoking the attraction that exists between you both until your like-minded partner reaches the stage they are as excited as you to take things to the next level. Connections are all about two people finding the right moment to be in synchronicity with each other, at which point they can really unleash their emotions and have a wonderful time together.
What makes a good girlfriend?
If you have a preference for connecting with single women in the online environment, you'll most likely have developed confidence in using dating websites. You'll appreciate you can readily find love once you begin exchanging discreet messages via a site's private communication channel. A good girlfriend is one who remains loyal and trustworthy, despite the ongoing temptation of countless other lesbian singles clamoring for attention. You should also be someone who listens as much as engages in a forthright conversation, taking everything on board when your partner is divulging their feelings and emotions.
Best lesbian sex advice
Whether you are looking for a casual date or two in your neighborhood or a long-term relationship with someone who could turn out to be a serious lesbian love interest, you are bound to come across someone sharing the same goals if you exercise restraint and discernment. Never be tempted to plunge into anything with the first person you find yourself attracted to when you begin exchanging messages. It could be the case you get so far along the line, only to decide they aren't the right person for you after all. So, the best advice to take on board is to remain open-minded about where your relationship might be headed. Be confident, and ever afraid to speak your mind either.
Conclusion
Whether you're into serious lesbian dating or would rather take a step at a time, remember that online dating puts you in the driving seat as you are seeking a partner. You are in charge when determining the pace of events, and if you feel you wish to push things on a bit, that's entirely up to you.